YES! Magazine provides internships for qualified individuals in the editorial  departments (both print and online), the education department, and the media and outreach department. Each internship offers a valuable work experience in a supportive and motivating work environment. Here is our current crop of amazing interns:
Isabella Garcia, Solutions Reporting Intern
Isabella Garcia is a narrative journalist with a passion for feature writing, solutions journalism, and community news. Garcia is a recent graduate of the University of Oregon School of Journalism and Communication with a B.S. in journalism and a minor in computer information science. Prior to joining YES! as an editorial intern, Garcia worked as a general assignment and enterprise reporter for the Malheur Enterprise in eastern Oregon via the Snowden internship, a program focused on ethical journalism. In her role as a journalist, Garcia is concerned with accurate reflections of community in local news coverage and reader trust.
Ananya Garg, Solutions Reporting Intern
Ananya Garg (she/her) is a queer Indian woman dedicated to art, community, and healing. She has previously worked as an Educator with the WA-BLOC Freedom Schools at Rainier Beach High School, Director of the University of Washington Queer Student Commission, and as a reporter with The Daily of the University of Washington. Ananya is also a poet and spoken word performance artist who has performed at Tasveer's Yoni Ki Baat, Queer Youth Pride hosted by Gay City, Seattle Poetry Slam, Youth Speaks Seattle, and will be embarking on the 2020 Sister Spit Tour with RADAR Productions. Ananya graduated from the University of Washington, Seattle where she studied Gender, Women, Sexuality Studies and Comparative History of Ideas with minors in Anthropology and Diversity.
Katie Juhnke, Education Intern
Katie Juhnke is a climber, peer educator, and community organizer in the Seattle and Tacoma area. She is a recent graduate from the University of Washington Tacoma with a B.A. in Ethnic, Gender, and Labor studies. She has mentored students at UW Seattle and high schools in the surrounding region. Outside of her paid work, she takes an active role in organizing the Chinese diaspora and building transnational solidarity against U.S. imperialism. Katie enjoys eating noodles and cooking with Sichuan peppercorns.
Iman Mohamed, Digital Intern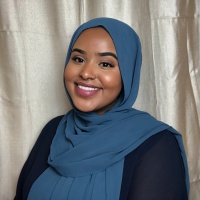 Iman Mohamed (she/her) is a media enthusiast with a degree in Journalism and International Studies from the University of Washington. As a Muslim, Somali woman, she cares about all social issues that hit close to home due to her intersectionality. She has reported for Seattle Globalist and UW Daily and interned at Real Change Newspaper. She typically spends her days reading and attending community events that center arts, social activism, cultural celebrations, and/or religious advocacy. She describes herself as a mentor, an educator, an organizer, and above all, a storyteller.