The climate crisis, growing inequality, reproductive freedom, reparations, gun violence, LGBTQ rights—so many issues are on our radar heading into 2024.
YES! is connecting readers nationwide to community solutions for the biggest problems of our time, and we need you with us.
Jump to:
About the Campaign
Take Action
What Your Support Will Do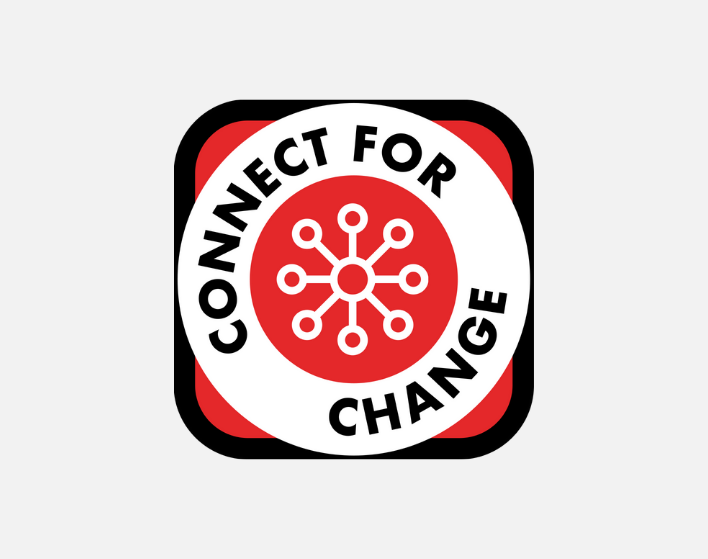 About the Campaign
For 27 years, YES! has rigorously reported on positive community solutions to social problems. Today, as another election year awaits us and climate activism rises throughout the nation, we know that social change requires connection—and as a media organization, we have a responsibility to foster it.
As an independent, solutions journalism nonprofit, YES! pierces through the passivity of journalism by connecting readers with the solutions, thought leaders, activism, and ideas they need to organize and get involved. Data shows that our reporting inspires. It changes readers who then change their communities.
While our focus on solutions and independence from corporate influence are what make YES! powerful, it also means we don't get nearly the same amount of exposure that mainstream outlets do. And right now, YES! is facing some harsh realities that revolve around one thing: there is a world of people still unaware of YES! and the solutions we publish—and that needs to change.
We're launching our #ConnectForChange Campaign to connect more people with YES! ideas and solutions than ever before, raise awareness of our mission, and fundraise to meet our year-end goal. The funds we raise will be used to:
Cover the costs of producing our next YES! Magazine issue ("Elders").
Support our evolution as a multimedia outlet so we can reach a wider audience.
Expand our YES! community and impact by working more closely with social change organizations and others who are advancing solutions.
If you believe in the YES! mission, now is the time to act on it. With your help, we can not only continue publishing the stories that provide blueprints for a better world, but expand our storytelling formats so we can reach more communities in the upcoming year and beyond.
We need to connect in order to empower action. You can help ignite that change.
Take Action to Ignite Change
Whether you can donate your money or time, attend an event, share our content, or all of these, each action is key to connecting more people with YES! solutions and igniting change. Click on any of the listed actions to learn how each one makes a difference.
Donate

We have a limited time to reach our goal, and every dollar counts. The best way to uplift our mission is with a monthly donation. We are ad-free and independent, and rely on monthly donations to continue our work. When you start a monthly donation, we'll send you free copies of YES! Magazine and email updates. Even if you cannot commit to a monthly donation, a one-time donation is still very appreciated.
Join the #ConnectForChange Movement on Social Media

Use your platform to ignite change throughout your community and networks. Expand YES!'s reach on social media by raising awareness about the solutions we provide for our world's most pressing issues. Post and share with the hashtag #ConnectForChange. Remember to tag us in your posts!
Attend An Event

We host virtual discussions for readers and donors that dive into our coverage areas, connect like-minded folks, and leave attendees inspired to build a better world in their local areas. Invite your friends to attend as well!
What Your Support Will Do
Ignite Generational Change
with Our Upcoming "Elders" Issue
I've been a YES! reader for many years, and love the publication's hopeful and inspiring tone even in the face of so much to fight against in the world."

YES! Reader
There's a reason why readers keep coming back to YES! Magazine—the stories we publish reframe the biggest problems of our time in terms of their solutions. "Elders" will bring forward the stories of elders on the frontlines, eldercare, equitable life expectancy, and so much more. And by collaborating with Third Act, a collective of people over 60 mobilizing elders to build a better tomorrow, we'll connect more elders beyond our readership with inspiring stories of other elders making a difference.
In our world, we often notice a gap in solidarity between younger and elder generations. Our "Elders" issue answers to that call. We want to inspire the multigenerational impact our world needs. But each YES! issue is a huge expense, and costs more than $200,000 to produce, publish, and print. And with the realities YES! is currently facing, we need more financial support to help offset these costs.
3 Reasons to Help Fund the "Elders" Issue
Especially within mainstream media, it's rare we see stories of empowered elders working together within and outside their age groups to build a better world. But this work is happening all around us, and YES! is determined to spotlight it. The more this work is shared, the more people who can know how to come together—across generations—to yield the world we seek.
We're collaborating with Third Act, an empowering collective of people over 60 mobilizing elders to use their life experiences, skills, and resources to build a better tomorrow. By partnering with Third Act on this issue, we'll be able to connect more elders with inspiring stories about other socially active elders making a difference. With more funding, we can get this issue into more hands.
Like with all of our issues, we pay writers and artists fairly for their work. Our digital edition remains free and ad-free to maintain our accessibility and complete editorial independence. And we make free copies of YES! Magazine available to teachers, community organizations, incarcerated individuals, and others. These standards are expensive to upkeep, but we wouldn't have it any other way!
Our world needs solutions that empower every generation—we're working to provide them. Help us do so by contributing today!
Empower Social Action
through Multimedia Stories
So many truths about life beyond oppressive systems don't make the broadcasts because of who has the power to tell stories and decide which stories to tell. For years, Sonali Kolhatkar has risen above this unequal footing to tell stories that protect the dignity of marginalized people as host of her own broadcast show, Rising Up With Sonali, and more recently as our racial justice editor.

This fall, YES! and Sonali joined forces to create YES! Presents: Rising Up With Sonali, a weekly broadcast lifting up solutions for justice. Because one thing is clear: to spread solutions, we can't just write about them, we need to produce them in ways that people can see and hear them—and do so in a way that prioritizes and protects the dignity of marginalized people around the world.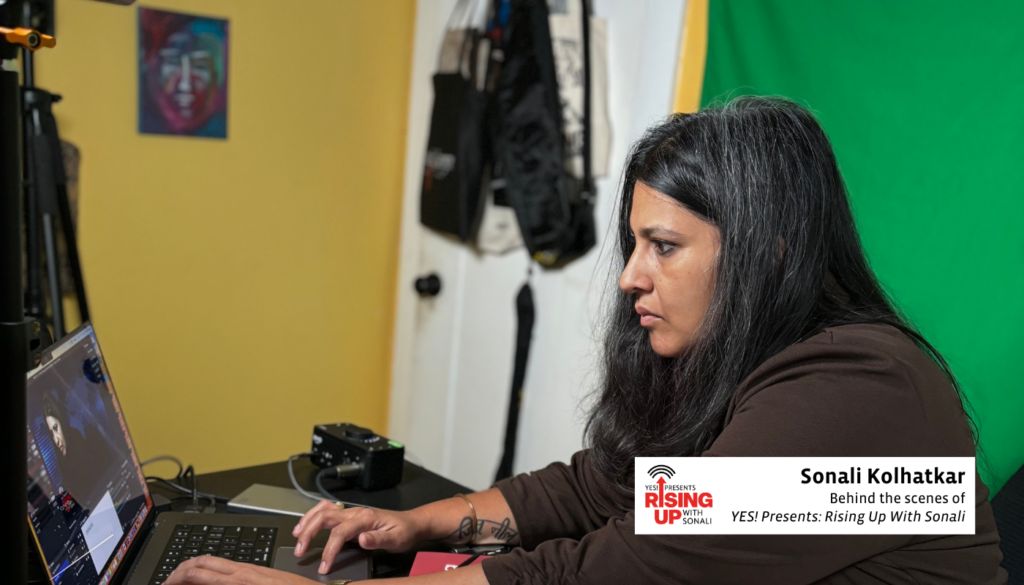 YES! needs multimedia to engage more individuals in the advocacy, organizing, and community work described in our stories. When you donate today, you'll fund YES!'s efforts to expand into a multimedia outlet, and reach the individuals whose possibilities are being shaped right now by what they see and hear on their TVs, tablets, and phones.
A better world is possible.
Media that shows us how to get there is vital.