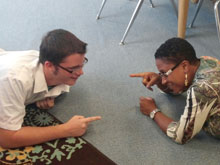 I can teach anywhere. My credentials speak for themselves. The education I'm privileged to hold, however, is intended for service, for function, for life. I have chosen Iroquois High School because I am called to teach in a school population that compels me to respond fully to the lives of each student in my classroom. Friends and relatives wondered why I didn't use my "talent at a school where kids would appreciate it." A veteran teacher asked, "Did they tell you about the kids?" I replied, "Did they tell the kids about me?"
Children need different things from different people. Iroquois resembles my childhood playground. Beautiful languages, accents, colors, cultures, religions, creeds, sexual orientations, and gender identities in one big box: my school. My students inspire me with their resilience, their warrior spirits. They inspire me with the absolute love and grace I receive from them.
"Do not pray for easy lives. Pray to be stronger. Do not pray for tasks equal to your powers. Pray for powers equal to your tasks."—Phillip Brooks
My students come from environments that enhance, enrich, and empower our classroom experience. A child who witnesses her mother's murder, a child who has been raped in front of her mother and her mother in front of her, a child whose father beats him because he is gay, a child who lives in a car with three other boys because he is homeless, a child who witnesses his father being tazed and murdered by police. This child comes into my classroom and brings with him everything that happened, brings with her everything she has seen.
This child has a positive impact on the entire classroom and me. How? They choose to. They come to school when they can barely walk as a result of the night's brutality, the early morning's disruptions. Sure, I teach students who do not endure the aforementioned atrocities, yet all of the students bring all of who they are into the room, and this is exactly why I teach at Iroquois. In our classroom, we make room at the table for everyone. My life couldn't be more full.
"Am I Strong Enough to Teach You?"—Mr. K. Joey Riddle
A veteran teacher asked, "Did they tell you about the kids?" I replied, "Did they tell the kids about me?"
This question is written on my desk at school. Mr. Riddle is my former principal, and in a mid-year faculty meeting, he encouraged us to be resilient for the children, to persevere, to challenge ourselves to stay with our most challenging kids. He said, "Some of the kids want to know, 'Are you strong enough to teach me?'" Every single day, I read that quote. Since it is inscribed on my desk, that challenge is ever before me. That challenge is tested daily.
"Would I learn from me?"—Dr. J. Blaine Hudson
In his formidable baritone voice, my professional and personal mentor, the late Dr. J. Blaine Hudson from the University of Louisville, offered this advice to me as a new teacher: "Ask yourself, would I learn from me? Would I want me for my teacher? Would I want me for my children's teacher?" Each day, each moment, and each student requires and deserves my excellence and the excellence our profession demands.
When I question my effectiveness as a teacher, I call my former senior English teacher, Mrs. Sue Story. Before I stepped into my first classroom I called Mrs. Story. She was the only teacher I ever went back to visit in high school. She may not have smiled before Thanksgiving, but Mrs. Story was fair. She was evenhanded. Every student I have ever taught knows about Sue Story. Every student I teach must experience the safety I felt in her class. Though I smile before she advised me to, I play by her rules in every other way—fairness and high expectations for each student's best.
Students from Aletha Fields 2012 AP English class brought lunch to her and ate with her every day for weeks after her son was murdered so that she wouldnt be alone.
My students will not tolerate disingenuous people, especially adults. I share my testimonies—the difficulties I've conquered, the huge mistakes I've made, the cost of poor choices and decisions, and the penalty of an undisciplined life. I keep it "trill" (true, real) with them, as they say. My students require my transparency, honesty, ability to connect, and willingness to see them. Mother Teresa said that we cannot serve those whom we cannot see. In order to build relationships of trust—authentic, meaningful relationships—I am real with my students. My excellent reputation as a teacher frontloads some of their expectations of me, and for this I am grateful.
My "old school" wooden desk is carved with the appreciation of students who have graffitied their names and love messages all over that desk. These children, now over 2,000 of them, are a part of me. To be their teacher is a lifelong commitment. An alumni cadre of former students visits my classroom still, to demonstrate what success can look like: a tattoo artist, a Naval officer, an award-winning poet. To my current 150 students and to my former students, most of whom are adults up to the age of 35, their children, and their families who are dealing with death, job searches, college applications, and finding food and clothing, I am other mother, friend, confidant, minister, life coach, and advocate. This is what it means to be their teacher.
I must take care of me.
Beautiful languages, accents, colors, cultures, religions, creeds, sexual orientations, and gender identities in one big box: my school.
Many of my colleagues here and around the nation do not stop to care for themselves, but I do! When I look at the work before me every single day, I know I cannot meet the needs of my students if my own needs are not met. I am not a martyr for the cause of teaching. This is not necessary—not at all. If I die from not taking care of myself in the environment in which I teach, I am of no use to any children, including my own sons. I want students past and present to keep turning the pages of inspiration that we have written together.
"Be really whole, and all things will come to you." Tao Te Ching, Chapter 22
I recharge with a very close-knit group of loyal, supportive friends. From this inner circle, I draw inspiration and strength to do my work. I rely on my inner circle for personal and professional support. I cannot work in isolation—no one can do this and be effective in education.
Students family and friends are part of Aletha Fields network of support. Fields proudly stands with Iroquois Class of 2014 co-valedictorian who also happens to be her son Mark Harvey Jr.
One of my best friends, a martial arts master teacher, works with me to breathe properly in order to manage my stress. Each kata I learn in our art helps me channel my energy and appropriate it in a way to keep my life balanced and healthy. Another inner circle friend who is CEO of a successful construction company flies from Sacramento to Kentucky to have relevant and critical conversations with my students about positive first impressions, career preparation, turning a mistake into a victory, interview skills, and appropriate social behavior.
My pastor, the Rev. Ronald L. Gadson, Sr., is a tremendous faith support for me. Pastor Gadson asks probing questions to help me get to the core of the difficulties, challenges, and heartbreaks I often face in the classroom of my predominantly male academy.
My parents, William and Linda Fields, provide undying support for my students and me. They visit my school frequently, and my students get to see for
In order to build relationships of trust—authentic, meaningful relationships—I am real with my students.
themselves the two people who raised me, who made me who and what I am. My parents adore my students. The diversity of support is extremely important for my success and for my students' success.
And the next day, I teach.
My religious beliefs help me to cope, and I ask God for the strength each day to reach for and meet my students' needs. My own children inspire me. What we do as educators is physically, emotionally, and spiritually draining. Every night before I sleep, and as I pray, in my mind I look into the eyes of each child I am privileged to teach. I look a long time. When I do, I see myself. And the next day, I teach.