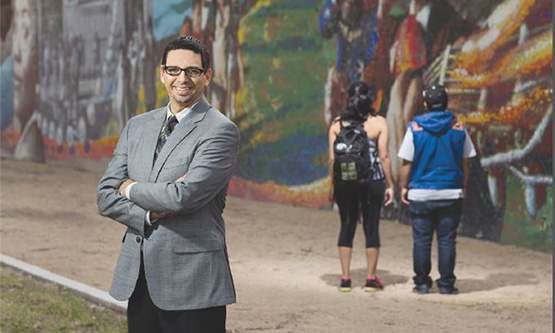 Jennifer Aguilera, a student of Amy Schlessman at Cristo Rey St. Martin College Prep in Waukegan, Illinois, read and responded to the YES! Magazine article "When This Teacher's Ethnic Studies Classes Were Banned, His Students Took the District to Court—and Won." In this interview with Curtis Acosta, the Tucson teacher activist takes you inside his former ethnic studies classroom. Acosta shares how his school district's "rehumanized" Mexican American Studies Program helped empower students by connecting their learning to their history and who they are. Dropout rates fell to almost nothing—until the Arizona Legislature banned it.
Writing Prompt: Describe a teacher or a classroom experience that helped make learning joyful and meaningful for you. Conversely, what message do you have for teachers and administrators who make learning tedious, even painful? How could they make learning more interesting and inspiring?
If You Give a Student a Voice
Classroom, apple, board. This is how society imagines "teacher," but the apple and the board are all just materials. The tools required for teaching do not come from a store. These tools include dedication, the desire to make an impact, and patience to know that change does not happen overnight. My very first teacher taught me important, valuable lessons without using a chalkboard, or even a classroom: when we were little, my older sister Karla would have me write small journal entries, or draw my favorite animal and explain its characteristics. She taught me that learning does not start on the first day of school; it begins with alphabet soup and curiosity. Since then, I have been fortunate to find other teachers who, like my sister Karla, inspire me to learn.
I was nervous and frightened but surrounded by new energy when I entered a new school in seventh grade. Everyone made me feel important and treated me as a new mind to cultivate. I noticed how the teachers worked to grasp our focus. Mrs. Vitaioli, my language arts teacher, assigned essays to help us develop a love for writing, and her feedback was pure gold. Before seventh grade, I never had a teacher who engaged in my work the way she did. She was accessible and would not hesitate to leave school later to help us. Mrs. V had a Harry Potter- themed room and was not afraid to make jokes and laugh. Conversations with Mrs. V were fluid and honest, like the ease of a wave. Her projects were full of imagination, such as creating monsters and describing how reckless they can be. They were genuinely fun! Her assignments helped me learn about myself, which is what a good assignment should do. Her optimistic attitude with students was her greatest asset; it is what made her Harry Potter-themed class a room of magic.
Not all teachers are as positive and engaged as Mrs. V—I have also been shut down in other classrooms. My sixth grade teacher constantly told me to put my hand down, saying that I was not giving others an opportunity to answer. This had a significant impact on me. Is it bad to have the answer? I guess I'll just stop raising my hand, right? It was easy for me to do this, and I began to lose all interest in the class.
There have been times where a teacher has had no hope in me, telling me to limit myself because I am "incapable" of reaching higher expectations, and that it's better to stay at my "level." Teaching approaches like this have scared me away from a classroom, draining my enthusiasm for trying new things that take me out of my comfort zone. On the other hand, these experiences have helped me realize that I shouldn't let anybody tell me how far I can or cannot go—not even myself. I decided to dedicate myself to my constant rhythm of what I believed was okay as a learner, to keep pushing myself to be present in a classroom.
I share these experiences to help teachers avoid them. Instead of telling students to stop raising their hand, let them answer. Do not tell a students they cannot do something; instead, help them reach their goals. When we ask for help, it's because we need it. Although it may be something a teacher has covered numerous times, it is brand new material to our minds. It only takes one shrug to make a student never ask a question again.
As a student, I look forward to learning from teachers who are engaged with their classes. I want teachers to greet me with smiles on their faces rather than a pile of worksheets with instructions on the desk. I want teachers who are not afraid to laugh at themselves even if it means breaking the hierarchy—teachers who are not afraid of diminishing the authoritative wall between them and students. Teachers whose passion and enthusiasm are contagious, who do not hesitate to relate to the vibrant minds walking in the hallways of a school building.
Classroom, apple, board. My sister Karla and Mrs. V do not fit into these stereotypes, and they have influenced me more profoundly than these objects ever could. Many teachers have had such a huge impact on me; they have inspired me to express myself and to learn as much as possible. If I have learned anything from Curtis Acosta's story, "When This Teacher's Ethnic Studies Classes Were Banned, His Students Took he District to Court-and Won" it is that, "Knowledge is power." Everything I own could be snatched from my hands, but nobody can take away the knowledge and beliefs I have in my mind. They are mine to keep.