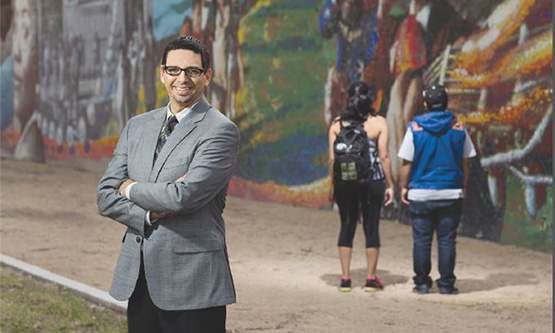 Nancy Cullen, a student of Laurie Hornik at Ethical Culture Fieldston Middle School in New York City, read and responded to the YES! Magazine article "When This Teacher's Ethnic Studies Classes Were Banned, His Students Took the District to Court—and Won." In this interview with Curtis Acosta, the Tucson teacher activist takes you inside his former ethnic studies classroom. Acosta shares how his school district's "rehumanized" Mexican American Studies Program helped empower students by connecting their learning to their history and who they are. Dropout rates fell to almost nothing—until the Arizona Legislature banned it.
Writing Prompt: Describe a teacher or a classroom experience that helped make learning joyful and meaningful for you. Conversely, what message do you have for teachers and administrators who make learning tedious, even painful? How could they make learning more interesting and inspiring?

Someone Like Me
Learning is most meaningful to me when I can relate my life to what I'm learning about in some way. A class is meaningful to me when it's more than just memorizing something I'll never hear about again. A class is meaningful to me when I learn something new about the world, or when I learn something I'm going to use for the rest of my life. A class is meaningful when I connect with it, when I can compare it to something I already know, something that will help me become who I want to be, and teach me how to get there. As Curtis Acosta suggests in his interview in YES! Magazine, "When This Teacher's Ethnic Studies Classes Were Banned, His Students Took the District to Court—and Won," meaningful education should start with self-reflection.
A meaningful class conversation does not have to be all positive. It is meaningful to consider hardships, both past and future. I learned this lesson in fifth grade, when a visitor to my class taught me something important.
My teacher Hazel invited a man to class. We were not told what he was going to say. He looked like a normal, white middle-aged man with short greyish-blonde hair, maybe 5'11" in height, with beige slacks, and a light yellow button-down shirt. His shoes were brown and slightly fancy. He was not unusual.
The first thing he said was this: "I have ADHD and dyslexia. ADHD is short for Attention-Deficit-Hyperactive-Disorder, and dyslexia is a term to explain difficulties in learning to read." He told us about his disorders. How he couldn't concentrate very well, or for a long time. How someone with his disorders is always moving in some way, twitching, scratching, playing with his shirtsleeve. Reading and writing came slowly. School was a nightmare. Now, however, he is a lawyer. He is a success in his field, even though everything he writes still needs to be checked by someone without dyslexia. It was possible to turn that nightmare around.
Something that he and my teacher didn't know was that last year I was diagnosed with ADD, which is the same thing as his disorder, except that I'm not hyperactive. I'm not always moving. I just can't concentrate, no matter how hard I try.
Because of modern medicine, I am able to take a pill that helps me concentrate. I decided to share my secret, and raised my hand. When he called on me, I talked about how school was challenging for me when I was younger. I told the class about the facts I knew about my disorder—how it's easier to find ADD and ADHD in boys than girls. As I talked, I looked at the other students who were completely quiet.
Everyone looked stunned. Their looks weren't ones of horror or disgust, just curiosity and bafflement. They were surprised that I, a normal girl, one of their classmates, had a secret struggle. They were surprised that someone who they thought of as smart had a learning disorder.
My classmates and I learned a lot that day. It's a day I don't think I'll ever forget. I understood things about my own disorder that I hadn't even known before.
This man, whose name I do not remember and probably never will, taught me in one class period that, to get to where I want to be, I will just have to work harder. I have to push through the bad parts, push through the parts that I don't like, to get to where I want to be.
A teacher can teach you only what will be on the quiz next week. A teacher can teach you only what you will need to learn this year. But a person who teaches like this is not a true teacher.
A true teacher is someone who not only teaches you what will be on the quiz next week, but also teaches you why this is important to learn. A real teacher will teach you something that you'll hold on to the rest of your life. A memorable teacher will teach you more than one perspective, and how to find it. They will help you find your own definition of what is right and what is wrong. And that probably won't be on the quiz next week.