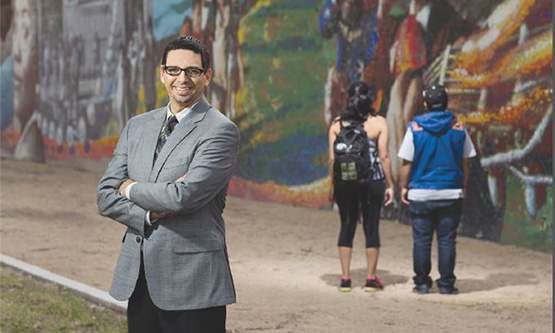 Annabel Paul, a student of Lauren Porosoff at Ethical Culture Fieldston Middle School in New York City, read and responded to the YES! Magazine article "When This Teacher's Ethnic Studies Classes Were Banned, His Students Took the District to Court—and Won." In this interview with Curtis Acosta, the Tucson teacher activist takes you inside his former ethnic studies classroom. Acosta shares how his school district's "rehumanized" Mexican American Studies Program helped empower students by connecting their learning to their history and who they are. Dropout rates fell to almost nothing—until the Arizona Legislature banned it.
Writing Prompt: Describe a teacher or a classroom experience that helped make learning joyful and meaningful for you. Conversely, what message do you have for teachers and administrators who make learning tedious, even painful? How could they make learning more interesting and inspiring?
What We Learn Tells Us Who We Are
I always try to listen in class and in school, although sometimes it's hard to pay attention, especially on Friday afternoons. During a particular unit in my English class, we were reading stories about different types of people. I soon noticed that some of the types of people I know and love weren't included.
When my dad was younger, he married a woman and had two children with her. They later divorced, for complicated reasons, and the woman he was formerly married to became a man, or what you could call transgender. My dad then fell in love with my mom and had me and my younger sister. I am close with all my family, including my half siblings and their mom, who is now like a second father to me.
Unfortunately, the topic of transgender people seems to be avoided in schools. We never read any stories, articles, or books about transgender people, nor do we learn about them in any classes. I want to learn more about this subject, but whenever I try to bring it up it seems to make teachers uncomfortable. In the English class I discussed earlier, I explained my situation and asked my teacher if there were any stories on transgender people, but she just looked away and blushed.
In my community, we learn that most people will still accept us if we are gay or lesbian, but we never learn about being transgender. Transgender people are, unfortunately, part of the null curriculum in schools, which truthfully is not fair. It's the same as not covering the topic of white people and focusing on black people, or vice versa. We should learn about everyone, and hear every perspective. Transgender identity is a topic that many people avoid, but in order to fully understand it, teachers need to tell their stories. My experience is sort of like the students of Curtis Acosta, who Jing Fong interviewed in her YES! Magazine article, "When This Teacher's Ethnic Studies Classes Were Banned, His Students Took the District to Court—and Won." Finally something they wanted to learn about was pulled out of the null curriculum, to become received curriculum, then only to have it put back in the null curriculum again. The stories of their culture and different types of people were being told and it was something they really needed and wanted to learn about.
I believe that everyone's stories should be told, even if you have to fight for it.