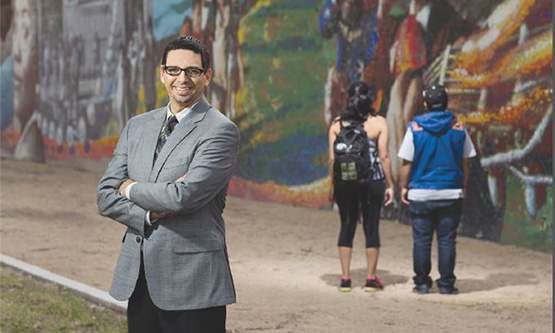 Salma Arredondo, a student of Ana Barrera at Everett Alvarez High School in Salinas, California, read and responded to the YES! Magazine article "When This Teacher's Ethnic Studies Classes Were Banned, His Students Took the District to Court—and Won." In this interview with Curtis Acosta, the Tucson teacher activist takes you inside his former ethnic studies classroom. Acosta shares how his school district's "rehumanized" Mexican American Studies Program helped empower students by connecting their learning to their history and who they are. Dropout rates fell to almost nothing—until the Arizona Legislature banned it.
Writing Prompt: Describe a teacher or a classroom experience that helped make learning joyful and meaningful for you. Conversely, what message do you have for teachers and administrators who make learning tedious, even painful? How could they make learning more interesting and inspiring?
Teaching Students to Shine
As more people choose to go to college, college admissions are becoming more competitive. Many of those deemed below average, or even average, early on in school simply give up trying to succeed academically. The majority of students that fall into the categories of "average" or "below average" are students who have absent parents, usually due to long working hours. In my community, many of those who fall below average are those who do not receive help from their parents, largely because their parents are agricultural laborers who do not have the time to help them. Many students become focused on the grade rather than the learning, and eventually fall behind. This is a barrier that school institutions have created that prevents learning. I appreciate teachers who focus on the learning aspect of school rather than the grade.
The classes in which I have learned the most have assignments that push my learning and are student-centered, rather than grade- and teacher-centered. Specifically, my junior English class has been the best learning experience I have ever had. The teacher, Mr. H, gives his students a lot of freedom to decide what, and how, they want to learn. Mr. H also gives us multiple options for how to do an assignment. We can choose which assignments we want to do, where we'd like to do them (at home or in class), and who we'd like to work with— a group, a partner, or individually. We can even choose what we want to read. Every week we can do optional assignments (drawings, pictures, poems, essays, stories, novels, etc.) that will add more points to the grade book. These optional assignments are my favorite part of the class because we get the chance to show Mr. H our unique skills and creativity, and get points for doing it.
As a Mexican American in an American English class, I feel that I already need to catch up to everyone else due to the limited English vocabulary I've been raised with. However, in that same class I have also learned new words in English that come from Spanish words that I am familiar with. When I become familiar with the root words and etymology, many derived from Latin and Spanish, I can connect with the words I didn't know before. The experience I've had in that classroom has given me the confidence to reach for my goals: to be accepted into Stanford University, become an oncologist, and join Doctors Without Borders. Mr. H is the first teacher to tell me, "School isn't for everyone. Some people learn more and get more out of life by traveling. College is just a building." While I still hope to go to college, I know I'm not a complete failure if I don't. I can succeed in other ways, as long as I let my light shine, and not be dimmed by teachers who tell me I don't have what it takes to succeed.
I have also been in classes that have brought me down, and taught me how to stand up again—by myself. Teachers need to realize that they are instructing the future leaders and movers of America. They need to teach their students to become connected not only to this country but also to their roots so they can know that success is out there, for everyone.
In his YES! Magazine story, "When This Teacher's Ethnic Studies Classes Were Banned, His Students Took the District to Court—and Won," Curtis Acosta states, "The students are the present-future. It is like blood pumping through our veins, constantly moving. If I know who I am, and I know who my students are, and I know what all my heroes and all of my ancestors had to go through, how can I not do this?" Here, Acosta refers to the content he is teaching his students, and his struggle to continue to teach it. All teachers need to teach their students where they came from. Students need to know that they can achieve success in so many ways, and that leaders aren't only born in America. By doing this, teachers create strong relationships with their students, and they show their students that they can achieve anything they put their minds to, just as their ancestors have done.