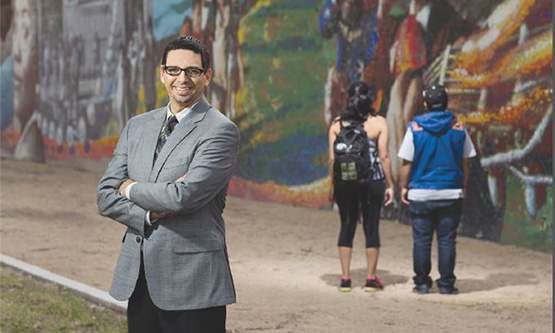 The YES! National Student Writing Competition is an opportunity for middle school through university students to write for a real audience—not just you, the teacher—and the chance to be published by an award-winning magazine.
Each quarter, students are invited to read and write an essay on a selected YES! Magazine article. We divide contestants into four categories: middle school, high school, university, and Powerful Voice (for authors whose essays are powerful and passionate). Winning essays in each category are published on the YES! Magazine website and in our online education newsletter.
Read recent featured essays here.
Register here. Registration is closed. See you in Fall 2015!
Learning That Matters
This spring, students will read and respond to the YES! Magazine article "When This Teacher's Ethnic Studies Classes Were Banned, His Students Took the District to Court—and Won."
In this interview with Curtis Acosta, the Tucson teacher activist takes you inside his former ethnic studies classroom. Acosta shares how his school district's "rehumanized" Mexican American Studies Program helped empower students by connecting their learning to their history and who they are. Dropout rates fell to almost nothing—until the Arizona Legislature banned it.
We recommend viewing the accompanying trailer for the documentary film Precious Knowledge, inspired by the story of Tucson's Mexican American Studies Program.
The Writing Prompt
Curtis Acosta's Mexican American Studies (MAS) classes gave his students pride in their heritage and inspired them to do well in school.
Describe a teacher or a classroom experience that helped make learning joyful and meaningful for you. Conversely, what message do you have for teachers and administrators who make learning tedious, even painful? How could they make learning more interesting and inspiring?
NOTE: In addition to the writing prompt, students may discuss a time when their ethnic identity has or hasn't been addressed in school. How did this inclusion—or exclusion—affect your "joyful, meaningful" learning?
Who is eligible?
You must be a classroom teacher—homeschool cooperative, resource centers, supervised writing groups, and schools outside the U.S. included—for your students to participate.
Student writers should be in grades 6-8, grades 9-12, college/university, or adult continuing education.
How does it work?
Complete the competition registration form by March 6 (see link at bottom of page).
Students respond to the YES! article with an essay up to 700 words.
Submit up to three essays per class period, along with student release forms, by April 8.
For each of the following categories, YES! staff (and possibly the author of the article) will select one essay that we feel is well-written, compelling, and captures the spirit of the article:

Grades 6-8
Grades 9-12
College/university
Powerful Voice (for an author whose essay is uniquely powerful or thought-provoking)
The selected essays will be featured on the YES! Magazine website and in our online education newsletter, reaching thousands of YES! readers, including over 30,000 teachers.
Common Core State Standards:
This writing competition meets several Common Core State Standards for grades 6-12, including W.9-10.3 and W.9-10.4 for Writing, and RI.9-10.1 and RI.9-10.2 for Reading: Informational Text *
*This standard applies to other grade levels. "9-10" is used as an example.
What are the essay requirements?
Respond to the article and writing prompt provided by YES!
Provide an original essay title
Reference the article
No more than 700 words
Must be original, unpublished work
Teachers must read and submit their students' essays.

Remember, the limit is three essays per class period! Please take time to read your students' essays to ensure they have met essay requirements, including correct grammar. Unfortunately, we cannot accept essays sent independently by students.
In addition, we are evaluating essays for:
Grammar
Organization
Strong style and personal voice. We encourage writers to include personal examples and insights.
Originality and clarity of content and ideas
How do I submit the three best essays from my class?
You must be registered for the competition by March 4.
E-mail your three best student essays as word-processed document attachments (please no pdf or scanned documents) to [email protected] no later than April 8.
Include a scanned, completed student release form with each submitted essay. Please make sure student email addresses are legible.
The next YES! National Student Writing Competition is in fall 2015.
Questions? Please email [email protected], and thank you for joining us!
Get Started Here: