StoryCorps: On Black Friday, Don't Shop For Loved Ones—Listen to Them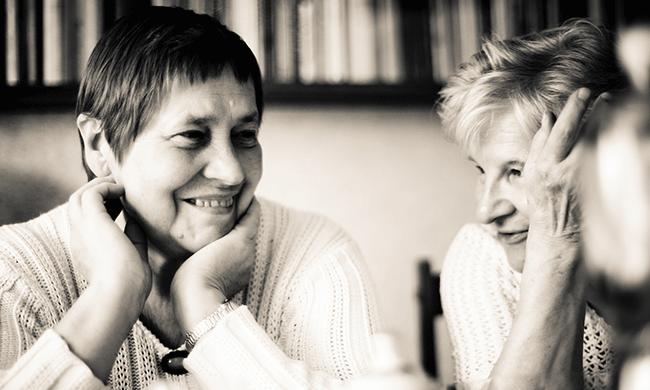 Finish out the holiday week by taking a few minutes to record the story of someone you love. We guarantee it will mean more to you than shopping.
---
There's something special about Thanksgiving. Sure, like many holidays it's been commercialized: You've got the butterball turkeys, the extravagant parades, and the ads rolling all throughout the football games. But at its heart, Thanksgiving is about family, food, and gratitude. It's a time to be with the people you love and to bask in shared tradition.
And then there's Black Friday, the hyped-up mad dash to stores (or the Internet) to snag deals.
I understand that this too is a kind of tradition, beloved by many, but it's a jarring contrast to the warmth and love of Thanksgiving. As we crowd into stores instead of each other's homes, we are missing an opportunity to spend real quality time with friends and family—often the very same people we're in the stores to buy presents for.
Thankfully, there is a perfect antidote to Black Friday: National Day of Listening, a day to connect to the people around you; to listen, to love, and to celebrate being together.
Previous StoryCorps participants. Photo courtesy of the Contemporary Jewish Museum.
Started by StoryCorps in 2008, The National Day of Listening has a simple premise: Listening is "the least expensive but most meaningful gift you can give this holiday season." To participate, all you have to do is sit down with a loved one and record a short interview. It's an easy task with so many phones and laptops around, but not something we might think to do.
How many stories are told around the Thanksgiving table, but go unrecorded? How much of our oral history is told and retold at holiday gatherings like this?
The Day of Listening gives us an opportunity to capture some of our families' rich oral history while we have the chance, surrounded by our loved ones on the day after Thanksgiving.
So skip the shopping and start listening. At the very least, carve out some time on November 29th to record an interview.
On the National Day of Listening website, you can browse the Wall of Listening for inspiration, get some helpful how-to tips, and upload your completed interview when you're finished.
To share the idea with your family, tune in to PBS at 9/8c on Thanksgiving for the premiere of the StoryCorps animated feature, "Listening Is an Act of Love."
---
More Animated Interviews from StoryCorps
From Storycorps: "Kay Wang was a strong-willed grandmother who was reluctantly taken to a StoryCorps booth by her son and granddaughter. Though Kay resisted, she still had stories to tell—from disobeying her mother and rebuffing suitors while growing up in China to late-life adventures as a detective for Bloomingdale's department store. Kay passed away just weeks after that interview, and her son and granddaughter returned to StoryCorps to remember her gentler side, which she kept to herself."
"When Gweneviere Mann lost her short-term memory, following surgery to remove a brain tumor, she was forced to navigate life in a new way. But she wasn't alone. With the support of her boyfriend, Yasir Salem, Gweneviere found she could tackle the challenges her condition threw her way—and a few more."
"Blanca Alvarez and her husband risked crossing the border to immigrate into the U.S. and then struggled to make ends meet. They hoped to shelter their children from these harsh realities, but Blanca's daughter Connie reveals how much children can really see of their parents' lives—and the inspiration they draw from their struggles."