The Black Lives Issue:
From The Editors
Introduction: The Black Lives Issue
Introduction: The Black Lives Issue
Aug 26, 2020

---
May we never forget May 25, 2020, when we witnessed a public lynching as a Minneapolis police officer took the life of George Floyd. The video of Floyd's last eight minutes and 46 seconds alive—pleading for his life—went viral, and the outrage against police violence went global. That haunting image will forever be with us.
And it changed everything.
Floyd was neither the first, nor last. He was not even the first to have been killed by police on camera with millions of witnesses, in full view, unjust, and horrific. Yet, Floyd's death has been a tipping point, an opening.
As this issue goes to press, we're entering the 10th week of sustained protest in this reenergized movement for Black lives—across the country and around the world. Tens of millions of people have taken to the streets of nearly 550 cities to declare that "Black Lives Matter." They are calling for the defunding of police departments, and in some cases for abolishing them altogether. They are demanding justice for others who've been killed by police: Breonna Taylor, Rayshard Brooks, Tony McDade. We say their names. Countless names.
A few things are different about the fires in our bellies this time. First, the global pandemic has seized everyone's attention, making visible the interconnectedness between us all. And it's made us all available to physically, mentally, and emotionally respond to the injustices in our world. Second, the demands are not just for police accountability in the killing of Floyd, Taylor, Brooks, and McDade, but also for an end to anti-Black violence and White supremacy entirely. And third, the people unapologetically making those demands are from all racial and ethnic backgrounds—including White people of all ages coming to terms with their own race privilege and challenging racism where they live, work, and play.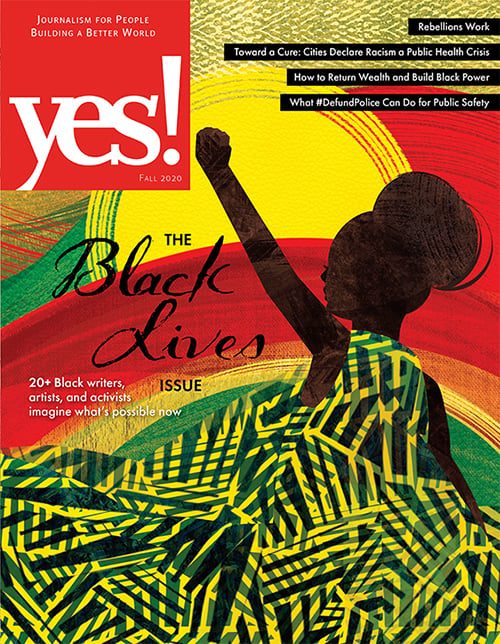 Ultimately people everywhere want change, real change—systemic, transformative, burn-it-down-and-start-over change—to finally make it so that Black lives really matter. And that's where YES! solutions journalism comes in: What do we mean when we say Black Lives Matter? What does that look like?
To answer that, YES! and Colorlines, a daily news site that centers race and racial justice, collaborated on this issue to let Black voices tell us. Our theme content features Black journalists, historians, policymakers, researchers, artists, and photographers who imagine a world in which public safety does not require racist and violent policing, where there are no racial inequities in health care, and the debts owed by this nation for Black labor are paid.
We thank the three co-founders of Black Lives Matter, Alicia Garza, Patrisse Cullors, and Opal Tometi, who had the courage to speak their truth—a collective truth—to provide the opportunity for this moment in history. Black Lives Matter is reportedly the largest movement in U.S. history. Let's make it more than a movement. Let's make it a reality.
Peace,
Zenobia Jeffries Warfield, YES! executive editor
Angela Bronner Helm, Colorlines senior editorial director

---
Photo: "I had to visit the site where 12-year-old Tamir Rice was killed by police officers in Cleveland, Ohio. I recall passing by the empty parking lot where a makeshift memorial marks where the blood soaked the ground. While still driving around in Cleveland, I happened to pass by this father and son lost inside of a moment that, in time, might lose its significance. Black folks are not allowed the time to harvest these occasions and ruminate over them. We walk up hill after hill, balancing out everyday indulgences."—Photographer Ruddy Roye
---
| | |
| --- | --- |
| | |
| | Zenobia Jeffries Warfield is the former executive editor at YES!, where she directed editorial coverage for YES! Magazine, YES! Media's editorial partnerships, and served as chair of the YES! Equity, Diversity, and Inclusion Committee. A Detroit native, Zenobia is an award-winning journalist who joined YES! in 2016 to build and grow YES!'s racial justice beat, and continues to write columns on racial justice. In addition to writing and editing, she has produced, directed, and edited a variety of short documentaries spotlighting community movements to international democracy. Zenobia earned a BA in Mass Communication from Rochester College in Rochester, Michigan, and an MA in Communication with an emphasis in media studies from Wayne State University in Detroit. Zenobia has also taught the college course "The Effects of Media on Social Justice," as an adjunct professor in Detroit. Zenobia is a member of NABJ, SABJ, SPJ, and the Ida B. Wells Society for Investigative Reporting. She lives in Seattle, and speaks English and AAVE. |
---