Global Voices Rising
by Kalpona Akter
When I was twelve, my family in Dhaka, Bangladesh, fell into poverty, and I started working in a garment factory. The life I had then is difficult to remember and nearly impossible to describe. For years, I worked day and night among other exhausted children, some as young as eight. I earned less than $7 a month, yet often worked eighteen hour days in a chaotic, unhygienic, and unsafe environment.
Becoming an activist has taken finding my voice and learning to speak up about my experience: the opposite of what women are taught in my country. Just a couple of years after I started working at the garment factory, I spoke up to my bosses because my co-workers and I were being denied overtime pay we were owed. Some of my co-workers and I decided to strike in protest. I was fired, but I kept speaking up. I could never have overcome my fear without my fellow workers who believed in me, who listened to my stories, and who shared stories of their own. I am also indebted to the union that took me in and gave me the labor rights training I needed.
My fellow workers helped me find the courage to stand up and speak out—the same courage that it has taken every person in this book to share his or her story. Through telling our stories we connect, we believe, and we might even come to care so much that we can no longer be silent.
As an adult, I've traveled around the globe, and I've spoken to audiences of thousands about the working conditions in my home country. I've spoken up to multinational corporations like Walmart and my own government, and my name has been in newspapers around the world. Even after I was jailed and tortured by agents of the state, and even after my friend and colleague was assassinated for standing up for workers' basic rights, I kept raising my voice.
Every week I hear of struggle, but I also hear of victories. Sometimes the successes are really small, but sometimes they are big enough that I can glimpse the changes that come when enough of us overcome fear and speak truth to power. The courageous narrators in this book are speaking their truth. Like myself, they have given their time, not just so that you would listen—although I hope that you listen carefully—but also so that you will seek change.
Around the world, workers and communities in crisis are standing up for their rights, against all odds, and winning. I feel connected to them even though I've never met them, even though I don't speak their language. There may be differences in our circumstances but we're united in our common struggle to seek justice, whether from our employers, multinational corporations, or the state.
Whenever I see workers or communities who are fighting for justice, and women who are fighting for their empowerment, I feel I'm part of the same struggle. When workers in other countries are jailed, it scares me but it also tells me that I'm not alone. When organized workers stay strong despite facing repression, it gives me inspiration. Each victory I hear of gives me courage to act. We are not alone in our struggle for human rights.
It was hard for me to tell my story for this book and to make my life so public. But I ask myself: How do I want to live? Suffer in silence from the trauma I have faced and the stories I hear from workers every day? Or speak out, be passionate, love and celebrate the beauty in life, believe in the goodness of humanity, and do what I can to inspire others to act? If my story touches someone's heart—maybe yours—if it lets another woman who has faced exploitation and repression feel that she is not alone, and even encourages her to speak up, then it is worth it.
We share our stories in this collection to engender outrage but also to cultivate an imagination of what is possible. Tell your own story. And take time to listen to workers that you encounter every day. For it is through story that we come to care, come to believe, and are ultimately transformed until we can no longer be silent.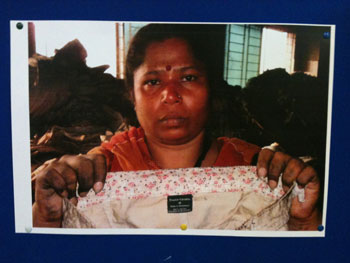 Kalpona Akter holds up Walmart-branded clothing recovered after a devastating factory fire that killed more than 100 workers. Photo by Christa Hillstrom.
Kalpona Akter is an internationally recognized labor rights advocate. She is the executive director of the Bangladesh Center for Worker Solidarity (BCWS) and is herself a former child garment worker. BCWS is regarded by the international labor rights movement as among the most effective grassroots labor organizations in Bangladesh.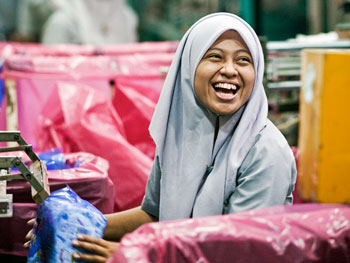 YES! interviews Voice of Witness director mimi lok

Ana Juárez has worked almost half her life in the clothing industry in Tehuacán, Mexico: she started her first job at the age of fifteen, as a sewing operator's assistant. In 2006, she was working at a local contracting company of global brands like Levi Strauss & Co. That year, senior workers began to organize … Read her story.
Clive Porabou was born on the Pacific island of Bougainville. Transnational mining company Rio Tinto was beginning to dig the world's largest open-pit copper mine, bringing in workers who displaced native residents. Armed conflict over the mine's presence started even before excavation began … Read his story.

Neftali Cuello: In North Carolina, when school gets out each summer, a stream of young people—nearly all Latino—head into the fields to help bring in the state's most profitable crop: tobacco. Neftali was twelve years old when she first accompanied her family into the fields … Read her story.

Hye-kyeong Han: While manufacturing circuit boards for Samsung, Hye-kyeong Han developed unusual symptoms that left her unable to continue working. After a string of visits to various specialists, Hye-kyeong was diagnosed with a brain tumor, leading her to undergo a number of surgeries and radiation treatments. She was 26. … Read her story.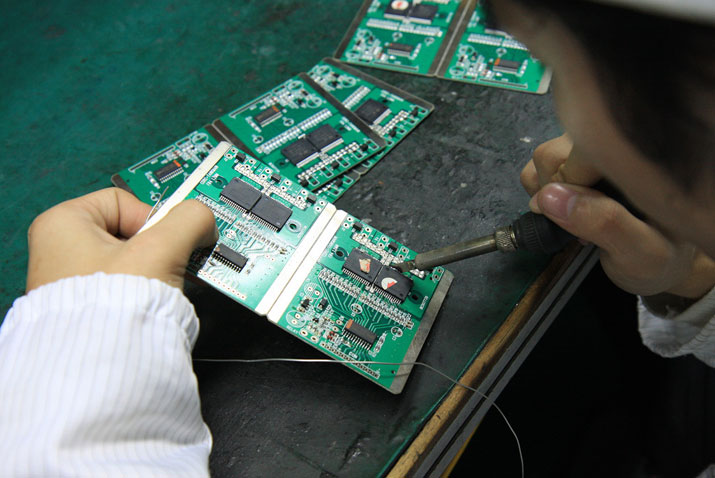 These articles are excerpted from the book Invisible Hands: Voices From The Global Economy.
Invisible Hands header graphic designed by Michelle Ney.
More from YES!
More from Voice of Witness


This project was produced by YES! Magazine partnership with Voice of Witness and is based on the book, Invisible Hands: Voices From the Global Economy.
The Voice of Witness Book Series depicts human rights injustices through the stories of the men and women who experience them. The Voice of Witness Education Program connects thousands of students and educators each year with these stories and issues through common core-aligned, oral history-based curricula and holistic educator support.