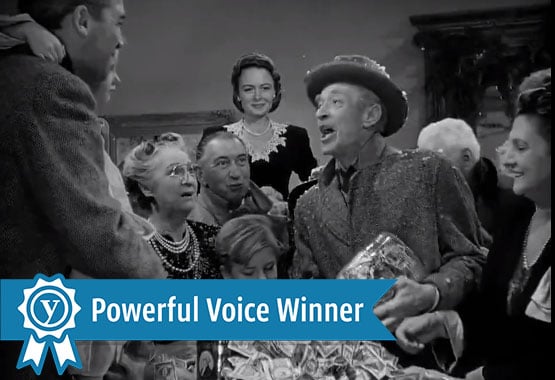 ---
Heriberto Nava, an eighth-grade student of Lacey Vargas at The East Harlem School in New York, New York, read and responded to the online YES! Magazine article, "Less Stuff, More Heart: 5 Gifts On a New Dad's Christmas List," by Christopher Zumski Finke.
Writing Prompt: Imagine you're about to celebrate a special holiday, milestone, or birthday. If you could ask for any non-material gift, what would you ask for? What would make this gift so special to you?
---
Same Dreams, Different President
As my fourteenth birthday approaches, a gift I would ask for is the ability to vote for a different president of the United States of America. I know that as a middle school student, I don't have the right to vote, but I need to do something to make my voice heard and stand up for others who are threatened. Among the many harmful decisions our current president is making for our country, he has chosen to end DACA. This decision directly affects my older brother, who is enrolled in DACA. My brother isn't one of those "bad Mexicans" our president talks about in his speeches. He is one of the almost 700,000 current DACA recipients, commonly referred to as DREAMers, in this country.
My brother is one of the most hardworking people I have ever known. He works 48 hours a week at two different jobs, one at a bakery and one at a butcher shop, to try and save up for college. College is very expensive in America, and students under DACA are not eligible for federal financial aid. One day, he came home tired after working late only to see Donald Trump on television delivering the news that DACA was ending. It hurt me when I saw him cry in shock. I can't even imagine one day being in a good mood and then hearing a news anchor tell you that you can't accomplish your dreams anymore because of a decision made by the president and other people in power.
The news anchor used the phrase "original country." He said my brother would have to go back to his "original country" if DACA was ended—this "original country" that he barely recognizes because he crossed the U.S.-Mexico Border when he was four. He has spent his life adapting to American culture and making friends here, just to be sent back to his "home country," confused and not knowing anybody or how to get around. Now my brother is scared to leave his family and have his dreams crushed.
This is an issue for the nearly 700,000 undocumented people across the country. Seeing the heartbroken faces on the news is just really sad. But in hard times like this, we need to have hope that our members of Congress vote to keep DACA alive. This country's economy will drop if our lawmakers choose to deport future surgeons, future engineers, and so many other immigrants and refugees who will make a difference in future Americans' lives. Instead of tearing families apart by deporting loved ones, Congress should protect the DREAMers—good people who contribute to the economy and work really hard just to provide for their family.
In the YES! Magazine article, "Less Stuff, More Heart," the author Christopher Zumski Finke suggests non-material gifts that are more meaningful than simple "stuff"—things like a family tree, donations in his name, or even a break. Since I don't have the gift of a vote, I have to use the gift of my voice to ask Congress to do the right thing. I'm using my voice to ask all readers to urge their senators and representatives to keep DACA, and also asking all those who can vote to elect politicians who will make responsible decisions for our country. If DACA is killed, my brother and the hundreds of thousands of people in his situation will be in a world of pain.