If we want the world to be a better place—who would argue with that?—it is critical for students to rethink from the limited lens of dates, battles, and famous heroes—to study "a people's history." YES! recommends the brilliant Zinn Education Project and its resources to provoke and engage your students as they try to make sense of race and the role it—along with class and gender—has played in shaping society. Here you will find a more accurate, complex, and engaging understanding of United States history than is found in traditional textbooks and curricula.
So many choices of activities, lessons, and books await you. These free, downloadable resources are searchable by theme or time period. Here are four essays that approach race from different perspectives, but all starting from a meeting point of asking questions that get to the heart of the matter. Be sure to check out other essays, from immigration to the Jacksonian era to social movements.
To download the free lessons, you will need to login. Registering is free, and please be assured that your email will not be shared. Please note that YES! Magazine does its best to provide educators with easily accessible teaching tools. We will recommend you register only when we believe the materials are worth your time and effort.
---
Reconstructing Race: A teacher introduces his students to the slippery concept of race
Nathaniel Smith teaches at a Pennsylvania high school where over 98 percent of his students are white and 95 percent are middle class. One young man captures the social mindset of Smith's students when he tells you with conviction that it's wrong to judge a person by his color, but also comments, "so damn ghetto" to describe a broken door handle at their school. Smith wants to help his students see how their whiteness shapes their lives, how they construct the concept of race through their own sense and vision. Read about the series of activities and no-holding-back questions Smith uses to help his students understand the concept of race.
GO TO TEACHING ESSAY: Reconstructing Race
---
School Days: Hail, Hail Rock 'n Roll
Image courtesy of The Zinn Education Project.
High school English teacher Rick Mitchell is a former journalist and music critic. So, it's with credibility and enthusiasm that he uses American music to reveal America's greatest contradiction: race. Mitchell points out that "black artists have done the lion's share of the innovation, while white artists (and white-owned labels) have reaped the lion's share of the financial rewards."
To Mitchell, music is just as important as photographs to document what people were thinking and feeling at the time. In this essay, Mitchell shares music picks that help his students connect with the times and the literature they're reading. You may be inspired to host "Hippie Day" after reading this essay. Put on your love beads and strike up James Brown's "I'm Black, and I'm Proud."
GO TO TEACHING ESSAY: School Days
---
What the Tour Guide Didn't Tell Me: Tourism, Colonialism, and Resistance in Hawai'i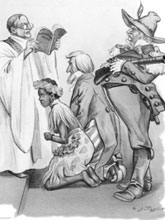 Image courtesy of The Zinn Education Project.
When 11th grade teacher Wayne Wah Kwai Au asked his literature and history students what images came to mind when he said,"Hawai'i," he got the ubiquitous responses, like beaches, coconuts, and palm trees. One male student shouted out, "Sex, hula, and naked ladies!" That's when Au knew he needed to expand his students' perception beyond the glossy brochure photos.
Au's curriculum asks students what kind of Hawai'i is defined by tourist brochures; to read Haunani-Kay Trask's Native view; and to learn about strong activists who have championed Native Hawai'ian resistance and survival. So, next time Au asks his students what comes to mind when he says "Hawai'i," it will be more than pineapples, Waikiki, and surfing. It will also be about proud and strong Natives, Lili'uokalani and sovereignty.
GO TO TEACHING ESSAY: What the Tour Guide Didn't Tell Me
---
Unsung Heroes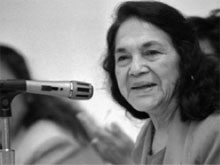 Image courtesy of The Zinn Education Project.
What about real, everyday heroes? In Unsung Heroes, Howard Zinn and Bill Bigelow encourage students to reach beyond the ubiquitous list of familiar and famous athletes, pop singers, and actors, and appreciate those who fought for social justice. And to ward off the alienation and gloom that students often feel after learning the real story of racism and exploitation, they are asked to acknowledge the unremembered heroes of the past and the unnoticed of the present.
Unsung Heroes lessons and activities bring to life past and present people who embody values of generosity, solidarity, anti-racism, and democracy. You'll also learn how to analyze strategies and aims of social movements—some don't always work. One memorable activity invites students to be unsung heroes at the end of their lives, writing a letter of last reflections on their triumphs and regrets to a child or journalist.
GO TO TEACHING ESSAY: Unsung Heroes
---
About the Zinn Education Project
More Zinn Education Resources
Zinn Education Project: More about the project.
Lesson essays by time period , by theme: More essays written by and used by classroom teachers offering activities and curricula on a spectrum of "people's history" topics. For middle school grades and up.
Teacher Resources: Intelligent and evocative books, teacher guides, films, and more to augment your exploration of social movements and history.
Howard Zinn's Talk with Teachers: Bill Bigelow interviewed Howard Zinn shortly before the beloved author and historian's passing with questions from teachers across the country.
Additional Lessons
Zinn lesson plan from Americans Who Tell the Truth: Robert Shetterly's series Americans Who Tell the Truth features Americans who have the courage to speak up for social justice. One of the vivid portraits is of Howard Zinn. Curriculum for the series is still in development, but the organization has generously provided a sneak preview with a lesson on this beloved author, professor, and social catalyst.