Resources from the Innocence Project and GOOD will grab your students' attention—and give them an inside glimpse of prison life.
---
The Innocence Project
VISIT WEBSITE: http://www.innocenceproject.org/
Studies reveal that around 2.3 to 5 percent of prisoners in the United States are innocent. To put this in perspective, this means that if just one percent of all prisoners are innocent, more than 20,000 innocent people are in prison.
The Innocence Project is dedicated to freeing wrongfully convicted people through DNA testing. It combines science, law, and social justice to make a powerful case for individual freedom and policy reform. Since the organization was founded in 1992, more than 250 people have been exonerated—17 of these people had been sentenced to death.
Check out the Innocence Project website. It uses jaw-dropping statistics, personal stories, and truth telling videos to help your students understand why our current criminal justice system needs to change. Your students will explore different activities from eyewitness misidentification videos to interactive maps that show how easy it is to mistakenly put a person behind bars.
Eyewitness Misidentification
Could you remember key information if you were a witness at a crime scene? Eyewitness identification is the greatest cause of unjust convictions in the United States. One wrong detail could send an innocent person behind bars for years or even life. Here are interactive resources for your students that include video, case profiles, and research on the causes of wrongful convictions.
Click here for Eyewitness Misidentification.

Snapshot of Exonerations
In this activity, students can click through interactive maps looking at exonerations, causes, and reform in their own state and others. Students will have the chance to read powerful stories of wrongful convictions. For a dose of reality, have your students click on their own state to find out how it compares with the rest of the nation.
Click here for Snapshot of Exonerations.
---
The Innocence Project, founded in 1992, is a public policy organization dedicated to exonerating wrongfully convicted people through DNA testing and reforming the criminal justice system to prevent further injustice.
---
---
Infographic: School Cafeteria vs. Prison Food
VISIT WEBSITE: http://www.good.is/post/infographic-school-cafeteria-food-vs-prison-food/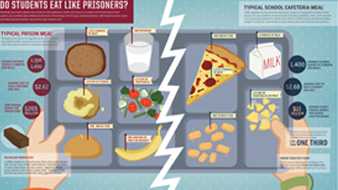 You've seen the cardboard-looking pizza on your students' lunch trays. And you've probably seen their scrunched up noses as they question the smell (or their fate) of the mystery special of the day. How does school cafeteria food match up against prison food? Find out with this clever infographic created by GOOD and Column Five Media, and discover the ingredients of the infamous "prison loaf."
Click here for the infographic.
---
GOOD is the integrated media platform for people who want to live well and do good. They are a company and community for the people, businesses, and NGOs moving the world forward.
Column Five Media specializes in infographics, interactive design, and making your blog interesting, and then passing around the content to a few hundred thousand of their closest friends.
---