In January 1999—at the height of the dot.com era with 18-hour workdays, adventures spent in exclusive, faraway places, second homes, and Range Rovers—Nipun Mehta and a few friends got together for more than pizza and laughs. They met to talk about how they could give just for the sake of giving.
Four of them showed up at a homeless shelter, and ended up doing what they were good at—building a website to promote awareness about the shelter's cause. And so CharityFocus was born, matching hundreds of techies with nonprofits that needed websites built—for free.
Today, CharityFocus is now called ServiceSpace, and it still offers its services freely and continues to be fully run by volunteers. YES! Recommends ServiceSpace for its delicious menu of 10 "generosity-driven" projects—including the popular KarmaTube, a portal for uplifting videos—and its daily, inspirational nudges that move us to serve. At the heart of ServiceSpace is the belief that people are inherently generous, and "through our small, collective acts, we hope to transform ourselves, and the world."
From action-oriented projects to stories and videos that spark an aha moment, explore ServiceSpace and share its resources and inspiring content with your students. Good for the community. Good for the soul.
---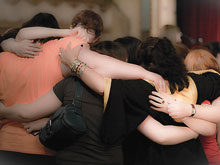 Get acquainted with ServiceSpace projects through this overview page. ServiceSpace projects fall into three categories: Inspirational Content, Gift Economy Projects, and Volunteer & Nonprofit Support. The Inspirational Content and Gift Economy Projects can be particularly useful as teaching resources for the classroom.
Inspirational Content is a collection of videos, stories, and virtual gatherings that inspires you to see the good and calls you to action. Check out KarmaTube with its "act now" uplifting videos.
Gift-Economy Projects sustain themselves on the notion of trust that people will pay-forward what they receive, and project costs will thereby be covered. Did you know that KarmaKitchen has served over 31,000 guests through this pay-it-forward model?
Volunteer & Nonprofit Support helps organizations that tend to run on a shoestring budget fulfill their mission and serve their clients. The CF Sites Project empowers nonprofit organizations to build their own basic websites and host them with ServiceSpace at no cost.

VISIT: ServiceSpace Projects
---
ServiceSpace's Inspiration page is filled with good news in various forms. Visit Good News of the Day, Video of the Week, Words of Wisdom, Today's Quote, and Today's Act of Kindness for uplifting and insightful stories, images, and practical actions.
VISIT: ServiceSpace Inspiration
---

Just in time for Random Acts of Kindness Day, which is February 17! HelpOthers is based on the premise that kindness is contagious. Small acts of anonymous kindness are suggested under Kindness Ideas, and stories of children and adults doing kind acts are collected in the Stories archives.
The popular Smile Cards operate like a game of tag.You become "it" because someone has done something nice for you and left a card behind. For example, someone leaves a flower on your car with a Smile Card. You then do your own act of kindness and pass the card along to keep the chain going. Smile Cards can be downloaded for free or you can even request pre-printed cards. All this as a gift? Yes, you guessed it. Someone has paid for your cards, as an act of kindness, and your are invited to pay it forward in the same spirit.
VISIT: HelpOthers
---
We promise. You will be touched by these anecdotes of real-life transformations. A wide range of ServiceSpace coordinators from around the globe blog about their experiences with service and insights it reveals. Read how others are making changes to bring more kindness into their daily routines.
VISIT: ServiceSpace Blog Page
---
Other resources:
---
ServiceSpace, formerly CharityFocus, was founded in 1999 to help nonprofits with technical services. The expanded ServiceSpace continues to be fully run on volunteer power, and connects everyday people to service in a number of capacities. In the spirit of giving and paying-it-forward, ServiceSpace offers people its 10 generosity-driven projects; provides tools to help people organize their own local service events; and feeds people's hearts daily with good news and inspirational content.
---