Images, photos, and pictures stimulate the mind. For the viewer, they offer a chance to connect and question. They also offer potential for play and imagination, and pulling the observer into purposeful messages.
Most often, newspaper and magazine readers take a quick glance at photos and their captions. With this YES! lesson plan, you and your students can pause and work to truly understand an image, its message, and why it's interesting (or not).
Download this lesson plan as a PDF
---
STEP 1: What do you notice?
Ask your students to make sense of the photograph by trusting their instincts of observation and inference. In doing so, the photograph offers possibilities and interpretations beyond a typical reading where the reader glances at the picture to reinforce their interpretation of the picture's title or caption. Do not introduce any facts, captions, or other written words outside of the image. In response to the question, "What do you notice?" you may hear: gauzy fabric, red background, white fabric pattern, squares and rectangles, stitching
STEP 2: What are you wondering?
After you've heard what your students are noticing, you may hear a peppering of questions: Is this clothing? Why are there holes? Does the pattern mean anything? Why did someone make this? This is a good time to reveal the photo's caption and other information about the photo. Watch how the conversation shifts from what they believe to be true to discerning the facts about the photo.
Photo caption
"Detroit Foreclosure Quilt," 2011. 22″ x 44″ Cheesecloth, linen, cotton and quilting thread. Photo and quilt by Kathryn Clark.
Photo facts
This photo is a section of Kathryn Clark's "Detroit Foreclosure" quilt, which is part of her "Foreclosure Quilt Series." It is hand-stitched and constructed of cheesecloth, linen, cotton, and quilting thread, and represents the MorningSide neighborhood in Detroit, Michigan; MorningSide has been hit with some of the highest foreclosure rates in the country.
NOTE: Compare the photo of the "Detroit Foreclosure" quilt with the Google image of the MorningSide neighborhood. Can you find the section we highlighted in the quilt below?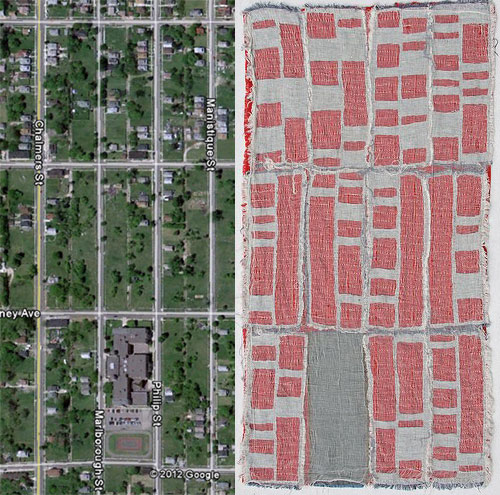 The topmost fabric of the quilt is made of cheesecloth, one of the weakest and most fragile woven cloths one can find. Torn holes question the protective nature of a quilt, suggesting that the situation is so dire that it can't be shielded from this vulnerability.
Foreclosure is a legal proceeding in which the bank can take possession of and sell a mortgaged property when the borrower does not meet his or her contractual obligations, such as being late on or skipping mortgage payments. According to RealtyTrac, for the month of August 2012, 1 in every 681 housing units in the United States received a foreclosure filing.
In 2009, MorningSide residents, including middle and high students volunteered to create murals that covered the doors and windows of vacant homes in their neighborhood. They also mowed lawns and cleaned up areas around abandoned homes as part of an initiative to restore pride in their community.
The word quilt comes from the Latin culcita meaning a stuffed sack, but it was introduced into the English language from the French word cuilte, which means to "wrap around the body." Quilts generally consist of three layers: the top, the batting or filling, and the back. According to Clark, who grew up in the Deep South where quilts are a common sight in the home, there's often an endearing story behind each quilt. They act as a functional memory, an historical record of difficult times.
Additional resources related to the image:
LEARN :: A Patchwork Guide to the (Disappearing) Neighborhood by Kathryn Clark
VISIT :: Kathryn Clark's Blog
WATCH :: "The Crisis of Credit"
STEP 3: What next?
Learning more about a photo leads to bigger questions and an opportunity to discuss broader issues and perspectives.
Kathryn Clark began her Foreclosure Quilt series as a way to visually represent a phenomenon that is predominantly represented with text, data and numbers. Can you think of a story, event, or situation that could be more powerfully expressed artistically? What medium would you use to represent it?
In the late 1800s, quilting bees were one of a few places women could socialize. What are occasions or places where you get your news or share confidences with friends? Is there a modern day equivalent of a quilting bee? Is it different for males than females?
Do you have any personal experience with losing ownership of a house or being forced to move? What would it feel like to be house-less? Where would you go?
Clark used the color red in her quilt because it referred to being in debt, as in the phrase, "in the red." What other words come to mind when you hear the word or see the color red?