When Equal Exchange was established in 1986, its founders knew they were embarking on transformational change to connect the public and food producers. They shouted, "¡Adelante!" (rough Spanish translation "No turning back!").
Equal Exchange is not only a social change organization that helps farmers and their families gain control over their economic futures. It is also a worker-owned cooperative (over 100 worker-owners strong!) and an educational resource about fair trade and other issues affecting farmers.
EXPLORE EQUAL EXCHANGE OFFICIAL WEBSITE
Here are four resources from Equal Exchange that will teach students—middle school through university—about fair trade and cooperatives: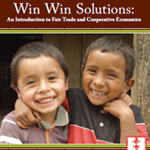 Win Win Solutions: An Introduction to Fair Trade and Cooperative Economics
Win Win Solutions offers a comprehensive curriculum that will give grades 4-9 students the basics of contemporary fair trade education.
.
Composed of four units with lesson flexibility, Win Win Solutions will help your students understand essential issues of food production and trade, and establish a connection between their personal choices and actions to help create a more just and sustainable world.
Here are two sample units:
Unit Two: Understanding Fair Trade
Through fair trade education, students can become more familiar with the lives of farmers, and the challenges they face to bring their harvest to our kitchens.
EXPLORE Understanding Fair Trade
Unit Three: Understanding Cooperatives
Farmers, workers, consumers, service providers, and small businesses form cooperatives to meet their members' needs. Cooperatives help create an economy that spreads benefits across the communities they serve. They also build community.
EXPLORE Understanding Cooperatives
To download the entire Win Win curriculum, click here

Go Bananas! with Beyond the Peel Infographic
Equal Exchange is known for its Fair Trade chocolate, coffee, and tea. Now they're offering bananas from cooperatives in Peru and Ecuador. This infographic shows the positive impact buying Equal Exchange bananas has for small-scale farmers.
EXPLORE Beyond the Peel Infographic
To learn more about banana farmers, visit Beyond the Peel

Fair Trade Resources
Fair trade is becoming a more recognizable term to the average consumer. But what does fair trade really mean, and how is it practiced?
Here are some resources that give you Equal Exchange's take on this democratic food movement.
Like what you see? Here's more from Equal Exchange:
---

Photo courtesy of Equal Exchange
Equal Exchange is committed to build long-term trade partnerships that are economically just and environmentally sound; to foster mutually beneficial relationships between farmers and consumers; and to demonstrate, through its success, the contribution of worker cooperatives and Fair Trade to a more equitable, democratic and sustainable world.