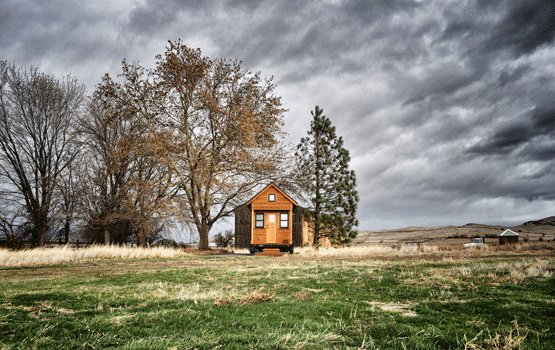 The YES! Magazine article, "Living Large in a Tiny House," by Carol Estes is a story about Dee Williams downsizing from a three-bedroom house for an 84-square-foot bungalow.
Students will use Dee's story to write about their ideal house, including its size and key features.
---
YES! Article and Writing Prompt
Read the article: "Living Large in a Tiny House" by Carol Estes
Writing Prompt: If you had the choice, what size house would you live in? What are important features your house would have, and what would you intentionally avoid?
---
Writing Guidelines
The writing guidelines below are intended to be just that—a guide. Please adapt to fit your curriculum.
Provide an original essay title
Limit the essay to no more than 700 words
Pay attention to grammar and organization
Be original, provide personal examples and insights.
Demonstrate clarity of content and ideas
This writing exercise meets several Common Core State Standards for grades 6-12, including W.9-10.3 and W. 9-10.14 for Writing, and RI.9-10 and RI.9-10.2 for Reading: Informational Text.*
*This standard applies to other grade levels. "9-10" is used as an example.
---
Sample Essays
The essays below were selected as winners for the Fall 2012 Student Writing Competition. Please use them as sample essays or mentor text. The ideas, structure, and writing style of these essays may provide inspiration for your own students' writing—and an excellent platform for analysis and discussion.
A Family of Friends by Rowan Treece, Grade 6
Read Rowan's essay about the sustainable dance community home she would build so she could live with her ballet sisters every day and save the planet.
Smaller Suits Me Better by Ritika Mazumder, Grade 12
Read Ritika's essay about her desire to have a smaller home so she can spend time with her family.
Downsizing Our Consumer Culture by Chris Harrell, Appalachian State University
Read Chris' essay about how growing up in Kenya influenced his conscious decision to live intentionally here in the States.
Garden Souls by Paw Soe, Grade 11
Read Paw's essay about how her Burmese roots taught her that a simple home with an abundant garden, not an extravagant mansion, is what brings happiness.
Response from author Dee Williams to student essay winners inviting them over for dinner and to have bigger, chirpier conversations about their dream houses.
---
We Want to Hear From You!
How do you see this lesson fitting in your curriculum? Already tried it? Share with us—and other teachers—how the lesson worked for you and your students.
Please leave your comments below, including what grade you teach.