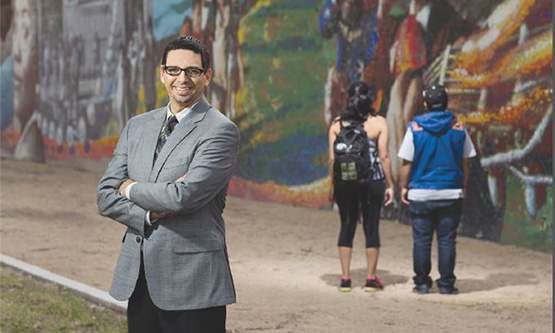 Dear Jennifer, Salma, Noah, Nancy, Chiwon, and Annabel:
I cannot adequately express how moved and inspired I was after reading your words. Palabras can be healing, but only when they accompany action. Your dedication to transforming our world into a more just and loving place through action encompasses each of your essays.
The Mayan term In Lak Ech loosely translates to the English phrase, "you are my other self." Each morning, my students and I would recite the following stanza from a poem by Chicano author and activist Luís Valdez, to remind ourselves of the power of love, respect, equality, and empathy in our educational and life journeys.
In Lak Ech
Tú eres mi otro yo / You are my other me.
Si te hago daño a ti / If I do harm to you,
Me hago daño a mí mismo / I do harm to myself;
Si te amo y respeto / If I love and respect you,
Me amo y respeto yo/ I love and respect myself.
You all wrote powerful testimonies to the spirit of this poem, and I am humbled to think that reflecting on the story of my students and community encouraged such passion and wisdom.
Jennifer, thank you for reminding us that our teachers are everywhere and not just at the front of classrooms. I was so moved to hear about how your sister nurtured your love of learning, and proud that you had the resilience to not be discouraged even when facing adversity in the classroom. Your wisdom is beyond your years when you remind us that, "It only takes one shrug to make a student never ask a question again." And that, "Everything I own could be snatched from my hands, but nobody can take away the knowledge and beliefs I have in my mind. They are mine to keep."
Salma, it was a joy to hear your writing voice in my mind since it reminded me of many of my students' stories. Thank you for articulating the power that culturally sustaining education can have for those of us whose lives are typically absent from school curriculum. Thank you for reminding teachers that, "They need to teach their students to become connected not only to this country but also to their roots so they can know that success is out there, for everyone."
Noah, your work and words also resonated with me. In fact, I could hear the echoes of my own classroom in regard to the power of creativity and imagination. How can we change the world if we cannot imagine a better way of living, learning, and loving one another? "Teachers should make a concerted effort to get to know each of their students and help them imagine how to change the world and become the heroes of tomorrow…A student's learning should revolve around creativity and how to help change our world, which needs all the help it can get." Thank you for creating a safer and more empathetic world with your work.
Nancy, I salute your respect for self-reflection. In Nahuatl, this concept is called Tezcatlipoca, which translates into "smoking mirror." Our ancestors understood that to be a more full human being we must reflect upon ourselves, and our journey, as a daily practice. You wrote that, "…meaningful education should start with self-reflection." And that, "A class is meaningful when I connect with it, when I can compare it to something I already know, something that will help me become who I want to be, and teach me how to get there." Coupled with your own Tezcatlipoca, you also show incredible courage and vulnerability—both of which characterize humanity and leadership.
Chiwon, I want to thank you for being a superhero! I remember having similar experiences in school to the one you expressed, "I always felt like a passerby when I listened to history lectures in school. The glories centered around white complexions slowly ate up my self-esteem." Hearing how you were empowered by your "Making It Real" class fills me with hope, since it appears so similar to what was taken from us in Arizona. Your essay offers us a reminder that we all have our own superpowers to rise above adversity, while also challenging us to rise to our human and scholarly potential. "To all the teachers who make classroom experiences painful: I know that there is a spirit inside you that wants to transform this society for the better." Your humility and conviction in crafting a greater world is inspiring.
Annabel, I was overjoyed to read such a powerful piece. Thank you for articulating the reality that we still have a long way to go in the journey toward reclaiming everyone's humanity within the realms of education and society. There is a place for us all to be embraced as equal, and as Dr. Martin Luther King once stated, "silence is betrayal." "Transgender people are, unfortunately, part of the null curriculum in schools, which truthfully is not fair. It's the same as not covering the topic of white people and focusing on black people, or vice versa. We should learn about everyone, and hear every perspective." Now more than ever, we must listen to youth such as yourself, who have the desire to include those voices and lives that have been marginalized, alienated and ignored. Your advocacy for our transgendered compañ[email protected] is rooted deep in the civil and human rights struggles of this nation.
Again, I am deeply moved by all of you and your powerful palabra. I can only hope to take your wisdom and use it as fuel in my own work in furthering the humanization of classroom spaces nationwide. I know that you will do the same, and in the spirit of In Lak Ech.
Curtis Acosta