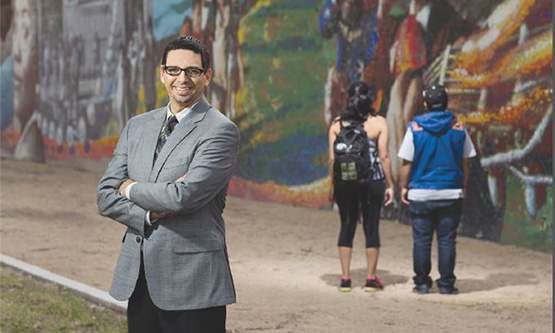 A simple way to connect with students is by understanding them. Of course, this is nearly impossible with teenagers.
—Bethbirai Rodriguez Cortez, grade 8, STRIVE Preparatory Schools, Montbello, Denver, CO.
When others felt like dying of darkness, Seminar was a door of light.
—Fabiola Flores, grade 8, STRIVE Preparatory School Federal, Denver, CO
Taking diversity away can destroy a student's personality and individual thoughts. The schools and state have to understand that everyone's different and they can't make them all the same.
—Claire Pauley, grade 7, Paulo Freire Freedom School, Tucson, AZ
I remember holding that letter in my hands as if inside it held a truth that would awe the world.
—Nate Uberuaga, grade 7, Fieldston Middle School, New York, NY
Mr. Alexander made a 4th grade student, who didn't know what she was going to be when she grows up, who didn't know what the pythagorean theorem is, understand she has the control to give the world everything she has.
—Jayla Wilson, grade 8, Lake Washington Girls Middle School, Seattle, WA
I looked around and realized that everyone was ahead of me and I had no place to hide in the small scary classroom filled with Hebrew geniuses.
—Jenny Bram, grade 7, Fieldston Middle School, New York, NY
I used to think school was just about getting away from your parents for five to six hours. Now I believe school is actually more than that.
—Jayda Sanderson, grade 6, Melrose Leadership Academy, Oakland, CA.
I concluded that when everyone's history is taught to them it represents one more poster being pinned on the wall, as if it were painting the hope of a better tomorrow for the student glancing at it.
—Karina Javier, grade 11, Everett Alvarez High School, Salinas, CA
If you use your bright eyes to appreciate the entire sky, not only the raining sky, you will not miss any piece of cloud and flying bird.
—Tarzan Yan, grade 10, Kang Chiao International School, East China Campus, Kunshan, China.
He gained our respect by introducing Shakespeare and Baudelaire, Wilde, and Dante to our heartfelt curiosity, filling in every word, gently, with his passion. By raising our halting hope, he showed respect for our wild intelligence, by taking off the distance between his role and ours, by turning on our imagination.
—Chiara Lutteri, Liceo Prati School, Trento Italy
When thinking about what made his class stick out to me all these years later, everything that I thought of came back to one simple idea: he loved his students.
—Andrew Parks, Central York High School, York, PA.
There is nothing better than learning from someone who takes pure enjoyment in teaching.
—McKenna Moses, Lane Community College, Eugene, OR.
A teacher takes on many forms. The moment you walk in the classroom you become a guardian to all the students, as well as a nurse, caregiver, an instructor, and a friend.
—Chelcee Schroll, University of Connecticut, Manchester, CT