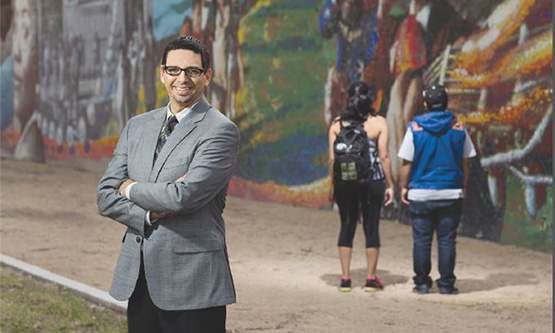 Chiwon Lee, a student of Sarah Zale at Cascadia College in Bothell, Washington, read and responded to the YES! Magazine article "When This Teacher's Ethnic Studies Classes Were Banned, His Students Took the District to Court—and Won." In this interview with Curtis Acosta, the Tucson teacher activist takes you inside his former ethnic studies classroom. Acosta shares how his school district's "rehumanized" Mexican American Studies Program helped empower students by connecting their learning to their history and who they are. Dropout rates fell to almost nothing—until the Arizona Legislature banned it.
Writing Prompt: Describe a teacher or a classroom experience that helped make learning joyful and meaningful for you. Conversely, what message do you have for teachers and administrators who make learning tedious, even painful? How could they make learning more interesting and inspiring?
How to Make a Superhero
I am a wimpy Asian girl, an I-am-obsessed-with-grades, obedient, model minority girl. I dyed my bright brown hair to black before the first day of college because I wanted to fit into the stereotype and feel comfortable. When I read the "When This Teacher's Ethnic Studies Classes Were Banned, His Students Took the District to Court-and Won" article published in YES! Magazine, I could completely understand why Latino students needed classes that would make them "feel empowered."
I always felt like a passerby when I listened to history lectures in school. The glories centered around white complexions slowly ate up my self-esteem. Say bears magically started playing football, and were competing with humans—and they won several games. The humans won sometimes too, and also competed against other humans. But if the media covered only the victories of the bears over the humans (none of the human victories over the bears, or the nuances of the competitions between human teams), then humanity would feel powerless and discouraged when it comes to football.
Asian Americans are barely addressed in American history books even though they have lived and worked here for generations. I was waiting for a superhero from my heritage to smile back at me from my history book. This never happened until I attended a learning community class on cultural studies that unraveled the hidden truths of this nation's history and opened the locks to my superpowers.
The name of the class was "Making it Real." Professors David Ortiz and Sarah Zale teamed up to educate students in an unprecedented way. These two charismatic professors would roam around the room and make powerful speeches about the history of people of color in America. They treated us like we were the only batch of children left to save the future. The unique processes that defined my classroom experience made me feel like I was a superhero in training.
Process one: The professors made us identify where our roots come from. They told us we all have beautiful and exotic backgrounds that give us the power to have unique perspectives to contribute to this society in creative ways. For the first time in my life, my feet sensed they were on a firm rock instead of being afloat. I felt like Superman identifying his background as a strength and not a drawback.
Process two: The professors exposed the uncomfortable realities of the populations that are underrepresented in this country. We challenged master narratives that left citizens of color in struggle. We were encouraged to form an opinion on topics that we usually pretended did not exist. I was fired up like Batman hearing that the Joker was tormenting innocent citizens.
Process three: The professors provided us the terminologies and tools that activists use: master narratives, counternarratives, students of color, epistemology, and oppression action continuum. These were words I never heard in my life. I also learned about different lenses through which to view the world, giving me cultural and media literacy. Like Kung Fu Panda Po receiving mental training to spot the origins of trouble, I was prepared to learn further.
Process four: Our class was divided into groups to tackle the roots of social problems, such as racism, and to find solutions to these problems by teaming up with community organizations that are already professionals in the field. With my group of unique individuals that received quality training based on their strengths, I had my own team of Avengers.
Process five: We participated in the Theater of Oppressed, made a blog, filmed a video, and took action based on what we learned. I was invigorated and aware of the problems that I needed to solve. I was armed with the knowledge that my professors gave me. Now, I didn't feel like a weak spectator in society, but a hero who can recognize and solve problems that most people ignore.
To all the teachers who make classroom experiences painful: I know that there is a spirit inside you that wants to transform this society for the better. I believe that the only reason why you don't address the woes of students is because you simply don't know how to breed your own batch of X-Men. Do not let the malicious flood of delusional information drown your intelligent mind, causing you to neglect students who can save people that need support. With your help, students of color can be superheroes.