Jonah Gold, a sixth grader at the Ethical Culture Fieldston School in New York City, NY, read and responded to the online YES! Magazine article, "This Artist Collects Your Worst Fears and Turns Them Into Something Great." In this story, Julie M. Elman shares how she created The Fear Project to help her cope with her own fears. That project soon grew to help others, too. Elman takes people's stories—their actual words—about what they fear, and uses art to visually interpret those fears. Her vibrant, multi-media collages articulate what we're afraid of or dread, and make them acceptable, tangible, and part of everyday life. Writing Prompt: What is one thing you fear about your future? How can you lessen that fear?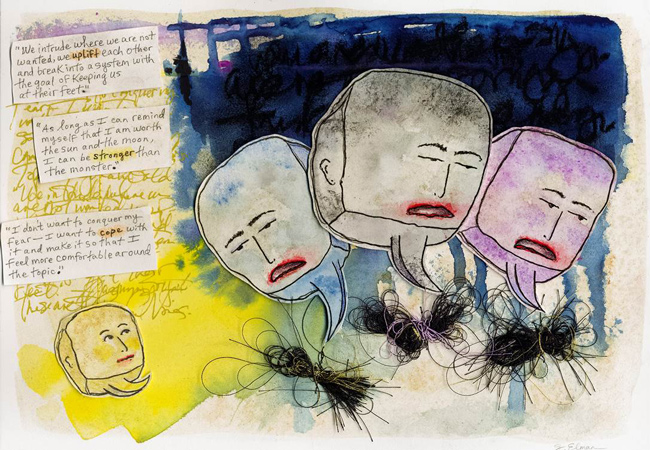 Powerful Voice Winners Illustration by Julie M. Elman
A Future Me
Sometimes I imagine myself as single and 30 years old. I see a go-getter who takes risks and lives in the moment. I also see a frightened person who is always anxious and plans everything before it happens. The go-getter is an average and friendly person who is liked by everyone. He exercises and eats healthy daily. He is fit, hardworking, and has great character. His name is Jonah James Gold and he is proud. He has overcome phobias, Level 7 anxiety, and bullying. He doesn't stop at any challenge that intimidates him, and always fights for what he believes in. The frightened person is looked at by others as "the outsider." He knows all the possible ways to calm down, and he sticks to one diet that he can live with forever. When he tries something new, he shakes like a leaf in the wind. He has a perfect routine that he is comfortable with. His name is also Jonah James Gold and he feels unaccomplished. He hasn't overcome phobias, Level 7 anxiety, and bullying. His goals were shut down before they were achieved. He steps away from any challenge that is outside his comfort zone, and tries his best to avoid trouble or drama. One part of Jonah James Gold thinks of his childhood as proof of what he has overcome, and the other part of Jonah James Gold thinks of his childhood as a reminder of how he hasn't changed at all. The two Jonahs are complete opposites, but at the same time they are perfect for each other. The go-getter and the anxiety-filled one. They strengthen each other's weaknesses and help with each other's fears. Alexa Strabuk said in the YES! Magazine article, "This Artist Collects Your Worst Fears and Turns Them Into Something Great," that "Fear … either cripples or motivates." I think she means that fear opens the door to an adventure on finding your values in life. My fear is that I don't know what will become of me. I don't know how my negative personality traits will play into my future. The two Jonah James Golds represent my highest and lowest points on the anxiety scale: 1 is having no anxiety, and 10 is being that anxiety. I could overcome my problems or I could live with them unchanged my whole life. I could become my own dream man or remain "the outsider." My fear shows me what's important to me. I don't need to become that highest point person on my spectrum as long as I'm treating my body, mind, and gender responsibly and thoughtfully. I need to be more proud of me. I need to push myself to try to overcome anxiety, Malusdomesticaphobia (a fear of apples), and sexual bullying. I want to try new foods, make my own choices, and just be me. I need to stop worrying about my future and live in the present. I need to be the Jonah James Gold that I want to be. The judgments of others used to haunt me, but now they pull the trigger of the gun that I call my personality. To be the best Jonah James Gold I can be, I need to start now. Each day I need to take one step to help treat myself responsibly and thoughtfully. It doesn't matter the size of the step or how I take it—everything stacks up. I need to spend more time around apples so they don't bother me as much. I also want to allow myself to feel anxious at times so I can prove that I can handle it. I don't want to conquer my fears—I want to cope with them. I want to be the happiest, strongest, and most joyful Jonah James Gold I can be. And I know that I can.