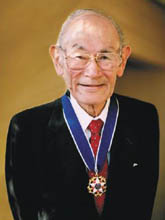 Fred Korematsu
Courtesy of Korematsu Institute
In 1942, 23 year-old shipyard welder Fred Korematsu refused to join over 120,000 West Coast Japanese Americans who were rounded up and taken to incarceration camps under President Franklin D. Roosevelt's Executive Order No. 9066. While Korematsu's family was at the Topaz incarceration camp in the Utah desert, Korematsu was appealing his conviction. In 1944, the Supreme Court voted in a 6-3 decision against Korematsu, claiming the incarceration was justified for military reasons. It wasn't until Nov. 10, 1983 that his conviction was overturned.
Fred Korematsu continued to speak up for civil rights throughout his life. He believed that "If you have the feeling that something is wrong, don't be afraid to speak up." That message remains alive in the mission and teachings of the Fred T. Korematsu Institute for Civil Rights and Education. In 2010, the state of California established January 30 as Fred Korematsu Day.
Korematsu K-12 Curriculum
The Korematsu Institute generously develops and distributes free K-12 curriculum that sustains the wisdom and courage of Fred Korematsu. A Korematsu Institute Curriculum Kit includes a teachers guide, lesson plans (K-12), videos, and posters. K-5 lessons focus on Korematsu's biography and concepts of justice. Middle and high school activities emphasize the Bill of Rights and Korematsu's court cases, including lesson plans from the Densho Project, whose mission is to "preserve the testimonies of Japanese Americans who were unjustly incarcerated during World War II before their memories are extinguished."
Click here to view and order the Curriculum Kit.
More Korematsu Institute resources:
EXPLORE: The Annenberg Foundation film, "Korematsu and Civil Liberties," about the Supreme Court Case Korematsu v. U.S (1944). Appropriate for high school students and adults.
To watch the full film, click here
LEARN: Incarceration or Internment? Currently, there is no consensus on the most appropriate terminology to describe the experience of West Coast Japanese Americans under Executive Order No. 9066. Click here to find out why the Korematsu Institute, the Densho Project and others use the term "Japanese American Incarceration" instead of "Japanese Internment.
DISCOVER: Student resources. Click here.
VISIT: To view the Korematsu Institute's entire collection of resources, click here.
---