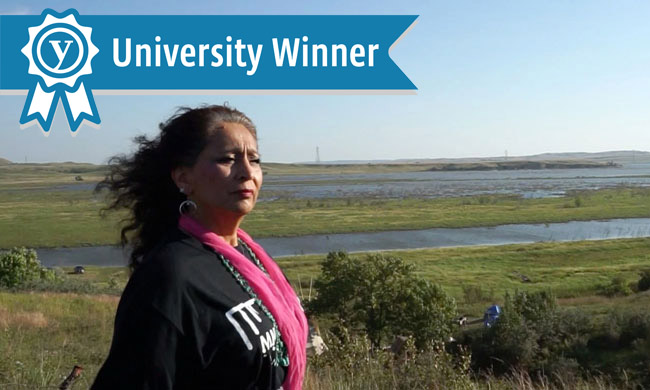 ---
Valerie Hoffman, a student of Drew Viles at Lane Community College in Eugene, Ore., read and responded to the online YES! Magazine article, "Why the Founder of Standing Rock Sioux Camp Can't Forget the Whitestone Massacre."
In this story, founder and director of Sacred Stone Camp, LaDonna Brave Bull Allard describes how her identity, history and survival are intrinsically connected to the land—and water—that is being threatened by the Dakota Access Pipeline. To protect this place, Allard says they have no choice but to stand up.
Writing Prompt: Describe how you would feel if a place that defines you was threatened to be destroyed or taken away. What would you do? Would you fight to save it?
---

My Dressing Room
I wasn't very successful at finding other queer people at my previous high school. This was partially due to my own insecurities with trust. When I entered college, though, I decided to join the Gender and Sexuality Alliance (GSA) to meet more companions in the LGBT community and to better myself as a leader and defender within it. I was elected the treasurer of my GSA, and I will be forever grateful that its members placed their trust and confidence in me to handle the group's finances for the 2016-2017 school year. I feel blessed to be surrounded by so many people like me.
While I expected to find other transgender students in my college GSA, I was very surprised to find out that I was actually in the majority. Most of my fellow GSA members are trans. I have never seen so many people like me in one place. All of them have been so helpful, from giving me advice about how to run the GSA to suggesting places to buy feminine clothes, like the Clothing Swap where I found all my dresses.
College is the only place where I wear feminine attire. My parents still don't know the truth about me—when I am home or elsewhere I am forced to present myself as male. But at college, I have an office adjoined to the larger GSA office where I can dress and store my clothing, giving me the privacy I need. It's an approximately 10×10 room with a couch and pride flags adorning the walls. The dressing room brings me not just a sense of safety, but also of belonging. I don't have any secrets when I'm in there.
The 2016 election put all of this into jeopardy. Although events like the Women's March have given me hope, the Republican Party shows no sign of stopping their efforts to disenfranchise transgender people. Even things as mundane as bathrooms are being politicized to fit the Republican Party's agenda— now they're trying to force us to use bathrooms that correspond to the sex on our birth certificate.
One of the last gifts that former President Barack Obama gave before he left office was the option for transgender people to change the gender markers on their official IDs, like passports and driver's licenses. Unfortunately, not all of us had the time or money to change these markers before the new administration took office, and the little window of time that we have is closing fast.
Trump's administration will strip away many laws that protect human rights. And gender markers on IDs will only be a small part in a much larger-scale attempt to turn back the clock to America's Puritan era, when witch hunts were common and dissent was forbidden. When it was unheard of for anybody to speak openly about sex or religion. When it was impossible for people to speak about loving people of the same gender or to freely express their gender identity.
At times, feelings of doubt start to creep into my mind. When will the transphobia stop? Why does it feel like nobody is standing up to this? What's the point in moving forward when it feels like we're marching through quicksand? But even in the recesses of my mind where I find such self-hatred, I also find self-confidence. I know that things seem bleak, but there are inspirational people and places to guide us in the right direction—like historic LGBT sites.
One place in particular, the Stonewall Inn in New York City's Greenwich Village, is a beacon of hope for the LGBT community. The Stonewall Inn is a historic gay bar, a national monument, and the location of what became known as "the shot glass heard around the world." That shot glass was thrown on June 28, 1969, by Marsha P. Johnson, an African-American transgender activist, after her famous words, "I got my civil rights!"
The Stonewall Inn reminds me of LaDonna Brave Bull Allard's words on the importance of preserving sites for future generations: "The U.S. government is wiping out our most important cultural and spiritual areas. And as it erases our footprint from the world, it erases us as a people. These sites must be protected, or our world will end, it is that simple. Our young people have a right to know who they are." Whether it's a safe haven to change into clothes that make us feel like ourselves, or a national historic monument that helped define the modern gay liberation movement, we will fight to preserve these sacred spaces for future LGBT communities. In the end, we may not achieve victory with all of our goals. We may not stand with raised fists in the air, but instead with our knees buckled to the ground, still breathing. We will still be here, and we will always be here, to protect what we deserve.
As bleak as things seem right now, I can never truly stop being so grateful for what life has given me so far. I have the GSA to support me. I have the Stonewall Inn to keep me inspired. And I have my sacred space, my office dressing room, where I'm free to be me. If this continues, then I may might be able to have "the talk" with my family someday. And no matter what, I will never stop fighting for a better world where transgender people can enjoy the human rights they deserve.