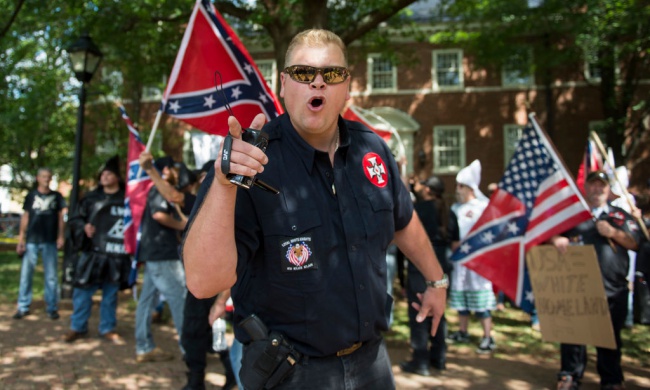 ---
Some teachers are hesitant to unpack and discuss contentious events like the Charlottesville protest with their students because it feels too overwhelming and upsetting. And there's pressure from their administration and parent community to "stick to the curriculum."
So how about this? You supply the courage. We'll supply the resources that offer multiple perspectives—and get to the truth. We're offering a collection of YES! stories and outside resources, plus discussion questions and curriculum, so you can have a thoughtful discussion with your students.
This is our first collection. We will post a new collection on a different topic on the first Thursday of each month.
If you have ideas you'd like to share with other teachers or want to tell us how we could make this collection better, please share your thoughts in the comment section at the end of the article.
---
How to Use This Collection
Suggested below are steps to a thoughtful and meaningful discussion with your students about the protest in Charlottesville—plus related issues of media literacy, race, and hate. Choose what is appropriate for your class.
1.   Have students complete a pre-survey (optional)
2.  Choose at least one YES! article and one outside article for a robust compare and contrast
3.  Complete the discussion questions
4.  Have students complete a post survey (optional)
5.  Explore curriculum if you'd like to dive deeper
---
Reading Materials
---
YES! Articles
Charlottesville Was Not a "Protest Turned Violent." It was a Planned Race Riot
 The Historical Falsehoods That Feed White Supremacy
My White Friend Asked Me on Facebook to Explain White Privilege. I Decided to Be Honest*
Confederate Statues have Been Invisible to Most White People
In Truth and Reconciliation, First Things First—The Truth
*Please be aware that explicit language is used in this story.
---
Outside Articles
A Guide to the Charlottesville Aftermath (The New York Times)
Fear of "violent left" preceded events in Charlottesville (The Washington Post)
Charlottesville Survivor: There's No Question, This Was Terrorism (Truthout)
---
Discussion Questions
No doubt, there is lots to discuss about what happened in Charlottesville, and why it happened. Here are a few questions to help you dive deeper into the protest's bigger issues—media literacy, race, bias, hate—and how they impact your students.
1. If you could speak with someone who participated in the Unite the Right protest, what would you tell them? What questions would you ask?
2. Why is it important to gather information from multiple sources when trying to understand contentious issues, such as Charlottesville?
3. Is there racial tension in your community or school? How do students, teachers, and the administration address race at your school?
---
Curriculum
Charlottesville Roundup: Lessons to Use in Your Classroom Today (Teaching Tolerance)