YES! Magazine Wins Top Award in Independent Media
2013 Utne Media Award is a win for solutions journalism.
Why you can trust us
---
Bainbridge Island-based YES! Magazine is the winner of the 2013 Utne Media Award for General Excellence. Now in its 24th year of celebrating the best in independent publishing, Utne Reader chose YES! Magazine for the top slot in recognition of its solution-oriented coverage both in print and online during the past year.
Christian Williams, editor-in-chief of Utne Reader, said of the recognition, "YES! Magazine's message of hope and optimism is both inspiring and essential in these uncertain times."
In its forthcoming July/August issue announcing the 2013 Utne Media Award winners, Utne Reader notes: "Despite the precarious state of independent publishing these days, YES! has remained committed to its nonprofit, ad-free, and Creative Commons-friendly ideals."
Utne cites several YES! stories that factored into the award recognition, including:
"We're thrilled and honored to have won the General Excellence award," said YES! Magazine co-founder and executive editor Sarah van Gelder.
With modest beginnings in 1996 ("We started out in the basement of a rental house on Bainbridge Island," Sarah reflects), the ad-free, not-for-profit YES! Magazine now reaches more than 150,000 readers with each print edition, has close to a quarter million web visits each month, and is widely recognized for its pioneering role in the field of solutions journalism.
Why the strong interest in solution-oriented stories? Sarah van Gelder says: "We believe there is a need for quality journalism that spotlights solutions to the extraordinary challenges we face at this moment in human history. People are hungry for stories and analysis that show what's possible and what's already happening in communities across the United States and around the globe."
In her column for the new issue of YES! (Love and the Apocalypse, Summer 2013) publisher Fran Korten elaborates: "We don't focus on just any solution. The practical actions we feature fit together to reveal large societal shifts that hold the potential for a better world. Our journalism offers a lens that reveals an emerging world nearly invisible to most of the media."
That unique journalistic lens has focused on issues like:
the growing role of cooperatives in building a 21st century economy
alternatives to punitive prison terms (see Beyond Prisons, Summer 2011);
solutions to the climate crisis;
and sources of genuine happiness.
Jo Ellen Kaiser, executive director of The Media Consortium, a national network of more than 60 leading independent journalism organizations, including YES! Magazine, says, "YES! is a model—not only for their commitment to covering grassroots, community-based solutions that we rarely hear about in larger media, but for their excellent journalism. YES! was doing solutions journalism before the term was created!"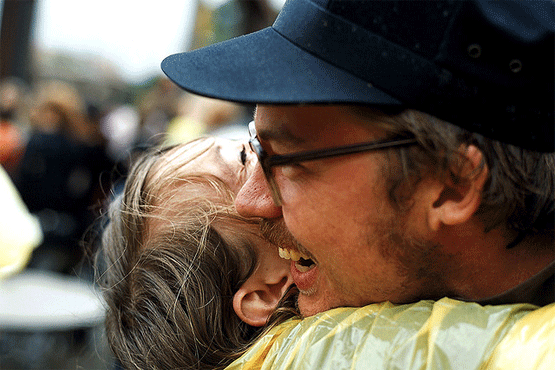 Why the Future of Journalism is the Story of Solutions
Taken all together, the practical actions YES! Magazine features reveal large societal shifts that hold the potential for a better world.
Increased recognition has led to national media partnerships for YES! Magazine: With PBS host David Brancaccio (of PBS's NOW program) on the production of his television broadcast, and later feature-length documentary, Fixing the Future; with Denver-based Free Speech TV on coverage of the U.S. presidential elections and the Occupy movement; with Berrett-Koehler Publishers in bringing out the first substantive book on the Occupy movement (This Changes Everything: Occupy Wall Street and the 99% Movement, November 2011); and with Project Censored, which features YES! prominently in their annual published compendium focused solely on under-reported stories.
Sarah adds, "I'm proud of how far the organization has come, I'm honored to work with such talented writers and editors, and I'm indebted to the social change makers and innovators whose stories fill the pages of each issue of YES!"