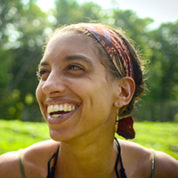 Leah Penniman
Articles By This Author
Our food system is built on stolen land and exploited labor. Here's what we can do to fix it.
These Black farmers don't stop at healthy food. They're healing trauma, instilling collective values, and changing the way their communities think about the land.
Those in the food justice movement question whether the agency's recent efforts are a superficial attempt to appear supportive of local food and minority farmers.
If we are to create a society that values black life, we cannot ignore the role of food and land.
How can we get the most out of our farmland without harming the planet? I traveled to rural Mexico to learn from indigenous farmers.
The program brings together training in topics such as soil chemistry and farm planning with a deep analysis of how racism has divorced people of color from the land.
Enslavement and sharecropping cannot erase thousands of years of Black people's sacred relationship with the land.