The Secret Strength of Standing Rock
Natives and non-Native water protectors have found room in this movement for their passions, from traditional wisdom to direct action against fossil fuels.
Why you can trust us
---
On a hill overlooking the Sacred Stone Camp, Lakota artist Charles Rencountre has worked from sunup to sundown over the past month. His sculpture "Not Afraid to Look," the origins of which can be traced back to early 19th century pipestone carvings, watches over the encampments bustling below. From this perch above the confluence of the Cannonball and Missouri rivers, Rencountre has toiled at the 8-foot-tall concrete figure of a man, head held proudly, as surveillance planes and helicopters circle overhead. For Rencountre, the image challenges viewers to move beyond fear and pain and confront injustice together as one, perfectly embodying the spirit of opposition to the construction of the Dakota Access pipeline.
Although he's taken pride in seeing the different tribes unite despite historical animosities, Rencountre has been especially heartened to see so many non-Natives join the movement. "How often do Natives and non-Natives come together for one cause?" he points out. "They're coming together and trying to form a community."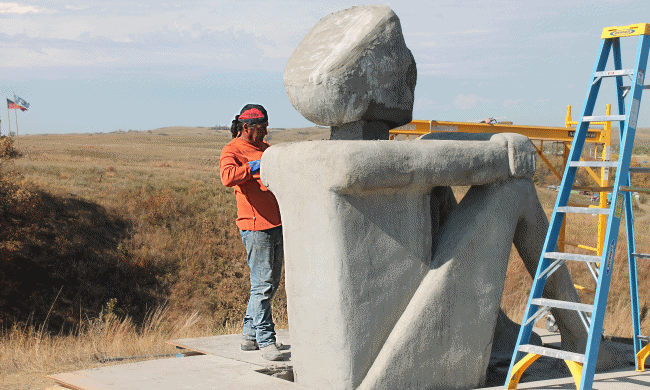 Photo courtesy of Friends of Not Afraid to Look.
Since the Sacred Stone camp was founded in April to fight the Dakota Access pipeline, which would cross under the Missouri River a few hundred feet upstream of the Standing Rock Sioux reservation, the movement has consistently centered on protecting clean water. But as the occupation grew over the summer, attracting Native and non-Native supporters from around the world, overflow camps were established, and the scope of the movement expanded, as well. Like many of the water protectors there, Rencountre recognizes that the movement is now about much more than a single pipeline. Supporters have connected with different aspects, such as strengthening tribal sovereignty, fighting eminent domain, exposing the social and environmental impacts of the Bakken oil fields, and moving away from fossil fuels.
Under this larger umbrella encompassing a wide range of issues, the strength of the Standing Rock movement has grown exponentially.
---
Linda Black Elk has been particularly motivated by a hope that Standing Rock will inspire more people to live sustainably. A member of the Catawba Nation in South Carolina, Black Elk has lived at Standing Rock for most of her life and teaches ethnobotany at Sitting Bull, the tribal community college. For her, opposition to the pipeline began with a deep-seated concern for plant life. "I have personally gathered food and medicine in the path of the pipeline," she says.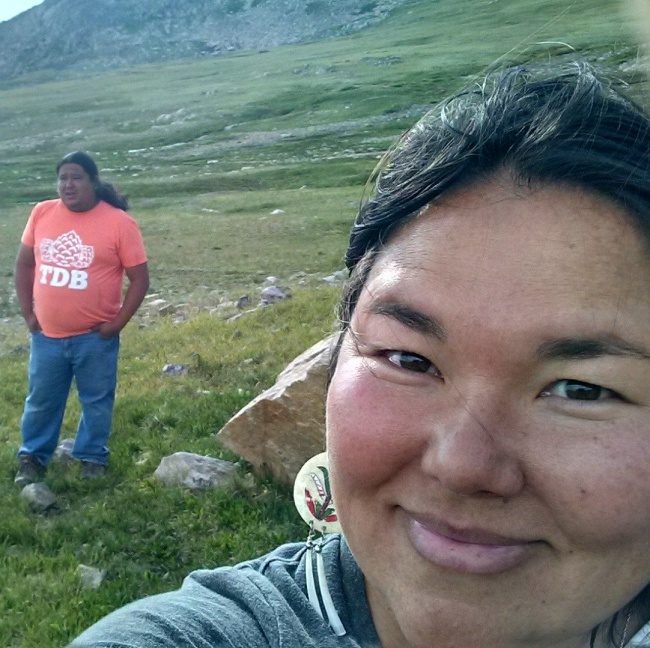 Linda Black Elk and her husband on Beartooth Plateau.
As the camp began growing in August, there has been an influx of herbalists. Many of the water protectors have an interest in reconnecting with this traditional knowledge. Black Elk notes that although Standing Rock and some of the surrounding reservations have strong ties to plant medicine, "for a lot of people in the camps, that information was stolen from them through the boarding school system." The experience of being at Standing Rock with Native people from around the country has created an opportunity for Black Elk and other herbalists to assume the role of educator.
There has been an influx of herbalists, and among many of the water protectors, an interest in reconnecting with this traditional knowledge.
It's a responsibility that Black Elk welcomes. She says her understanding of the movement has evolved to focus on "living sustainably off the land and getting back to a way that is beautiful." Black Elk believes the camps are attempting to realize this vision: She points to the construction of permanent structures like earth lodges, longhouses, and tipis, the use of solar power, the adoption of permaculture techniques, and the installation of large-scale water- filtration systems that will capture chemical pollutants.
Many non-Natives have been drawn to the camps for similar sustainable-living reasons. "I saw people living in this intentional way," says Alex Briggs, 26, who is originally from upstate New York. "It seemed like a good place to be."
Thinking more about why so many non-Natives have been attracted to the camp, Victory Lonnquist, the lead medic at Sacred Stone, adds: "Non-native culture has a deep desire and hunger for Indigenous wisdom." Rencountre has also observed in some of the non-Native supporters a desire for "atonement" and readily takes the opportunity to facilitate conversations that will promote better understanding and cooperation between cultures.
Many tribal activists also hope the movement will lead to greater respect for sovereignty.
So far, those efforts have proved fruitful. In response to demands, the Obama administration announced a series of government-to-government meetings that all 567 federally recognized tribes are invited to attend throughout October and November. The meetings aim to increase meaningful input from tribes regarding infrastructure projects that impact treaty rights and lands. According to administration officials, these meetings also will explore the potential for new legislation to reframe those relationships.
---
North Dakota's booming oil industry has inspired other activists to bring greater national and global awareness to its devastating impacts.
Kandi Mossett, a lead organizer for the Indigenous Environmental Network who grew up near New Town, North Dakota, which has been heavily impacted by the oil boom, stresses, "It's about so much more than a pipeline. It's about the Bakken itself, and all the fracking, and where the oil is coming from, which is my community." Mossett, who survived cancer at the age of 20, regretfully admits, "There are so many cancers that it's just normal for us."
"It's about so much more than a pipeline."
Although she talks about issues of national policy, such as climate change, subsidies for oil companies, and the need to invest in clean energy like wind and solar, Mossett's concerns go even beyond the environmental impacts of the state's oil industry.
"All the social impacts have been devastating," she says tearfully. Drugs, organized crime, and violence against women have run rampant as a result of the oil boom. "There's just so much more to this story," she insists. Up until now, national media have mostly overlooked these reports, perhaps because of North Dakota's geographical isolation and small population, but she hopes that the gathering at Standing Rock will help shed light on some of the larger problems impacting the state.
LaDonna Brave Bull Allard, who founded Sacred Stone Camp, agrees that the Standing Rock fight has far-reaching implications.
She wants the movement to take on a larger mission. When asked if victory will be declared when the pipeline is permanently halted, Allard holds up her thumb and forefinger no more than a centimeter apart. "That's how close we'll be," she indicated. "We will not have won until every pipeline is out of the ground."
For Allard, it all comes back to clean water.
Three university students from Chicago made the 13-hour drive so they could work in the camp for one day before returning to school. "What can we do to continue to help?" one asked. "Protect your water," responded Allard. She believes it's the common thread that unites everyone. If she can effectively communicate that message on an international scale and draw attention to all the places that cannot take clean water for granted, Allard believes that even her most ambitious goals can be achieved.
In this same vein, Carolyn Raffensperger, who owns land close to the pipeline's path in both Iowa and North Dakota, was drawn to the issue simply out of her concern for the integrity of the land. North Dakota's native grasslands have become increasingly rare, and Raffensperger's land is in the "prairie pothole" region that provides essential breeding grounds for waterfowl. "It's an endangered ecosystem," she says. "There's no money that can restore the native prairie."
The pipeline has drawn fierce resistance in Iowa, especially along its southern reaches, from farmers who are worried about the health of their land as well as the threat of eminent domain.
Dick and Judy Lamb own land in Boone County, Iowa, and are party to a lawsuit challenging the state's attempt to seize their land to build the pipeline. "It's an overreach of government authority to let a private company come in and take the owner's lands strictly so that a private company can make a profit from it," says Lamb. He's also alarmed by industry contributions to Iowa political campaigns, the potential for oil spills, climate change, and fracking.
The pipeline has drawn fierce resistance in Iowa.
---
Because the movement born at Standing Rock has grown beyond stopping the construction of the Dakota Access pipeline, some proponents of the project have tried to use this as evidence of hypocrisy or ideological inconsistency within the movement. They point to the fact that so many non-Natives are involved and that many of the direct action activists who've been arrested are from outside North Dakota. But Linda Black Elk sees this as a strength. "I'm not sure why that would be a bad thing for people to come in and be here," she says. "They're just mad that people are supporting us."
Black Elk also pushes back at critics who have disparaged the protesters for their individual use of fossil fuels. "Right now, I really don't have a choice," she admits. But for her, that's what this movement is about. "I'm determined to give my children a choice."
No one fully understands why the gathering at Standing Rock has gained so much momentum, while similar movements, like the opposition to the giveaway of sacred Oak Flat in Arizona to a foreign mining company, have not. Everyone is just as pleased as they are surprised.
Meanwhile, demonstrations have expanded far beyond the path of the pipeline. Solidarity marches have turned out sympathizers who wave signs along city streets and occupy branches of Citigroup and TD Securities, banks that are funding construction of the pipeline.
At Standing Rock, new supporters arrive every day from across the country. As they drive the final few yards down the Oceti Sakowin Camp's long dirt entrance road, which is lined with hundreds of flags representing sovereign nations around Indian Country and the world, they are greeted with open arms.
A short distance away, a nearly completed statute is perched on a bluff, reminding them that now is not the time to look away.
---
| | |
| --- | --- |
| | Michael J. Dax is a writer, environmentalist, and the New Mexico Representative at Defenders of Wildlife. He is the author of Grizzly West: A Failed Attempt to Reintroduce Grizzly Bears in the Mountain West. |
---