Parker Palmer on Autumn, Aging, and Acceptance
Why you can trust us
---
The author of On the Brink of Everything finds inspiration in nature's cycles of death and renewal.
Autumn in my part of the world is a season of bounty and beauty. It's also a season of steady decline—and, for some of us, a slow slide into melancholy. The days become shorter and colder, the trees shed their glory, and summer's abundance starts to decay toward winter's death.
I'm a professional melancholic, and for years my delight in the autumn color show quickly morphed into sadness as I watched the beauty die. Focused on the browning of summer's green growth, I allowed the prospect of death to eclipse all that's life-giving about fall and its sensuous delights.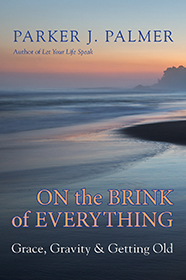 Then I began to understand a simple fact: All the "falling" that's going on out there is full of promise. Seeds are being planted and leaves are being composted as Earth prepares for yet another uprising of green.
Today, as I weather the late autumn of my own life, I find nature a trustworthy guide. It's easy to fixate on everything that goes to ground as time goes by: the disintegration of a relationship, the disappearance of good work well-done, the diminishment of a sense of purpose and meaning. But as I've come to understand that life "composts" and "seeds" us as autumn does the Earth, I've seen how possibility gets planted in us even in the hardest of times.
Looking back, I see how the job I lost pushed me to find work that was mine to do, how the "Road Closed" sign turned me toward terrain I'm glad I traveled, how losses that felt irredeemable forced me to find new sources of meaning. In each of these experiences, it felt as though something was dying, and so it was. Yet deep down, amid all the falling, the seeds of new life were always being silently and lavishly sown. The hopeful notion that new life is hidden in dying is surely reinforced by the visual glories of autumn. What artist would paint a deathbed scene with the vibrant and vital palette nature uses? Perhaps death possesses a grace that we who fear dying, who find it ugly and even obscene, cannot see. How shall we understand nature's testimony that dying itself—as devastating as we know it can be—contains the hope of a certain beauty?
The hopeful notion that new life is hidden in dying is surely reinforced by the visual glories of autumn.
The closest I've ever come to answering that question begins with these words from Thomas Merton, quoted earlier in this book: "There is in all visible things … a hidden wholeness." In the visible world of nature, a great truth is concealed in plain sight. Diminishment and beauty, darkness and light, death and life are not opposites: They are held together in the paradox of the "hidden wholeness." In a paradox, opposites do not negate each other—they cohabit and cocreate in mysterious unity at the heart of reality. Deeper still, they need each other for health, just as our well-being depends on breathing in and breathing out. Because we live in a culture that prefers the ease of either—or to the complexities of both—and, we have a hard time holding opposites together. We want light without darkness, the glories of spring and summer without the demands of autumn and winter, the pleasures of life without the pangs of death. We make Faustian bargains hoping to get what we want, but they never truly enliven us and cannot possibly sustain us in hard times.
When we so fear the dark that we demand light around the clock, there can be only one result: artificial light that is glaring and graceless and, beyond its borders, a darkness that grows ever more terrifying as we try to hold it off. Split off from each other, neither darkness nor light is fit for human habitation. But the moment we say "yes" to both of them and join their paradoxical dance, the two conspire to make us healthy and whole. When I give myself over to organic reality—to the endless interplay of darkness and light, falling and rising—the life I am given is as real and colorful, fruitful and whole as this graced and graceful world and the seasonal cycles that make it so. Though I still grieve as beauty goes to ground, autumn reminds me to celebrate the primal power that is forever making all things new in me, in us, and in the natural world.
---
This excerpt from On the Brink of Everything: Grace, Gravity, and Getting Old by Parker J. Palmer is reprinted with permission from Berrett-Koehler Publishers. This essay originally appeared on onbeing.org Three essays in this book are accompanied by songs written and performed by the gifted singer-songwriter Carrie Newcomer. All three songs can be downloaded free of charge at NewcomerPalmer.com/home
---
Parker J. Palmer

is a writer, teacher, and activist based in Madison, Wisconsin. He is the founder and Senior Partner Emeritus of the Center for Courage & Renewal.
---