Why Bicycle Justice Isn't a White Guy in Spandex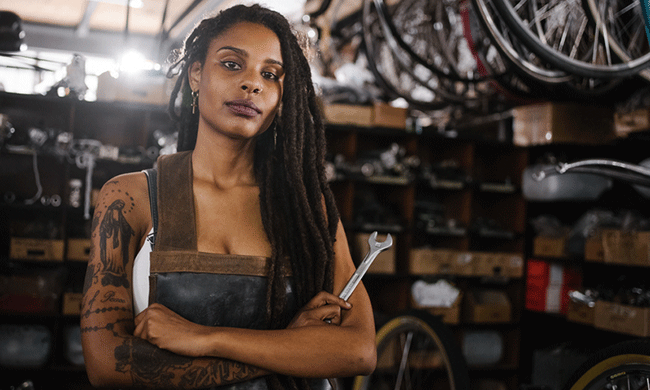 Well, it doesn't have to be. People of color make up the fastest-growing demographic among cyclists, and everyone benefits.
Why you can trust us
---
Jenna Burton moved to Oakland, California, in 2007. She was tired of the cost and hassle of driving, and the thriving bicycle culture in the Bay Area inspired her to get on a bicycle for the first time since she was 9. She loved it and took to it in part because in Oakland, and especially in her activist circle, it was a normal way to get around.
There weren't that many other people on bikes who looked like her.
But her friends from back home thought it was a strange choice to make. And she noticed one thing right away—there weren't that many other people on bikes who looked like her. Even though 28 percent of the city's population was of African descent, the few other Black people she did see on bikes were mostly using them as a last resort, a far cry from her own exuberant choice.
It was up to her, she decided, to create a space for more Black folks to try out bikes and develop a bicycling culture. She invited her friends to join her on a weekend ride. The response was enthusiastic, but only two showed up. They had a great time on the ride, and she decided to try to build more momentum.
In 2010, Burton and a core group of organizers officially launched Red, Bike, and Green. "It's bigger than bikes" is one of the group's slogans. The three points of their mission make this clear: They promote and use bicycles as a tool to help Black people be healthier and more active, to save money and support Black-owned businesses, and work to reduce pollution and other environmental factors that disproportionately affect Black folks.
RBG began in earnest with a monthly ride that coincided with the city's First Fridays arts walk. In diverse Oakland, the art event was predominantly White, and Burton's group of dozens of young riders took delight in riding through it with their Black Critical Mass. The group soon established a second monthly ride, held on a weekend and paced for families. Over the winter, they held indoor events to socialize with each other and prospective new cyclists. A main focus from the start was to create art around RBG, developing a strong visual identity for the growing community.
As the word spread, and as members moved to other cities, other Black cycling organizations got in touch to collaborate.
Active chapters of RBG sprang up in Atlanta, Chicago, and New York, each with its own character and focus. Several of the chapters are expanding their outreach activities, giving away bicycles, teaching bike repair, and doing events focused around art and music. They all take care to support Black-owned businesses, despite—and because of—not being located in the most bike-friendly parts of town.
"Cycling for us is a community-building tool."
Eboni Senai Hawkins founded the Chicago branch of RBG after moving there from Oakland. While the Oakland group is intent on building a cohesive Black cycling identity in a diverse city, Senai Hawkins' focus is on creating connections—the group holds joint rides with other Black cycling clubs and a Puerto Rican riding group, tours urban gardens in African American neighborhoods, and tries to reach out and promote the benefits of cycling to other Black people who aren't always invited or included by the cycling mainstream. "Cycling for us is a community-building tool," she told local radio station WBUR. "So when people see—they actually see—Black people on bikes who look like them, that goes a long way."
The Atlanta group has taken yet a different tack, focusing on more traditional advocacy. They had a major success in 2012, when a planned bicycle corridor would have skipped over Sweet Auburn, the city's oldest African American neighborhood. RBG mobilized the community, organizing a bike tour of the neighborhood and circulating a letter from local residents and business owners. The campaign worked, and the city pledged to include Auburn Avenue in the bike network.
Until recently, there has been a myth, both tacit and stated, among bicycle advocates that people of color don't want to bike. A growing number of groups like RBG are proving otherwise. So is recent census data.
People of color make up the fastest-growing demographic among cyclists, reports the League of American Bicyclists.
Bicycle commute rates among African Americans are growing the fastest, doubling in the last decade—by contrast, there has been only a 22 percent increase in bike commuters who identify as White. Hispanic and Asian commuting rates are also growing fast, at 50 percent and 80 percent, respectively.
The same trend is reflected in the bicycle industry research.
Spending at bike shops by White customers, at whom the bike industry overwhelmingly directs its marketing prowess, increased all of 6 percent between 2000 and 2010. In the same period, African American customers spent 12 percent more than before, and Asian and Latino customers increased their spending on bikes and gear by 43 percent.
Immigrants, whatever their origins, are twice as likely as people born in the U.S. to ride a bike. Immigrants with low incomes who live in dense residential neighborhoods are 10 times more likely. Many people who move to the U.S. come from places where bicycling is the norm, though everyone who moves here tends to transition away from bicycling after living here for a few years.
Some advocates have been surprised by these findings, but not all.
"This is the new normal," bicycling anthropologist Adonia Lugo told me. We were discussing Red, Bike, and Green and other groups that are, as Lugo puts it, taking bicycles and incorporating them into their own lives, building their own cultures around them.
People of color make up the fastest-growing demographic among cyclists.
The idea of normalizing bicycling has great cachet among advocates. For instance, the Cycle Chic brand and movement, based in Copenhagen, insists that people ought to only wear "normal" clothes to ride bikes, such as suits for men, high heels and skirts for women, and helmets for neither. But, Lugo points out, while this attire is normal both on and off the bicycle in Denmark, the idea takes on new meanings when it is exported. A lot of women in the U.S., for instance, rarely dress up and never wear high heels for any purpose, much less to bike. So this vision of normalcy often falls flat as a way to sell bicycling. In the U.S., we have long assumed that normal cyclists look a certain way—White, male, wearing sports clothes.
This focus on normalcy and mainstreaming has led many U.S. bicycle advocates to become positively allergic to anything that smacks of bicycle culture or community. Some have gone so far as to argue that forming subcultures around bicycling is elitist and exclusive, and that their existence is what is preventing bicycling from increasing even more quickly.
But people like to form communities around their passionate interests and their ideas of fun, whether that is bikes, cars, or something else entirely. In bicycling, these groups are often seeking anything but normalcy and blending into mainstream culture. For everyone who just wants to ride their bike to the grocery store and be left alone, there seem to be others for whom the bicycle is a way to visibly and effectively buck the status quo, whether that is represented by cars, unhealthy lifestyles, racial or gender identities, the oil economy, or the social demands of work and parenthood. Even better, bicycling can be a way to meet others who share your beliefs about these topics. Many of these groups are exclusive in that they are limited to members who share a specific identity or interest. But by calling into question what is normal and making alternatives visible, they are greatly expanding the possibilities of who can be included and who can be a leader.
---
The Ovarian Psycos are a powerful example of a group that has made bicycling very much their own, while opening up huge new possibilities for what it can mean to be a bicyclist. The Ovas are mostly Chicana women in their early 20s, many of them artists and community organizers, who began in 2010 as a safe space "for young women of color who refuse to accept the status quo."
To the Ovas, organizing bicycle rides and events is a natural means toward "healing our communities physically, emotionally, and spiritually." They got off to a bumpy start—on their very first ride, their founder hit a pothole and crashed, hitting her face on the pavement and spending a week in the hospital. Horrified, half of the riders never came back. The other half stayed; after that, nothing would faze them.
There has never been anything inherently White about bicycling.
"Ovaries so big we don't need no fucking balls!" is their rallying cry. Their short monthly Luna Rides are slow, friendly, and built to make beginners feel welcome and comfortable. Each ride has a theme and a destination, be it a self-defense workshop or a discussion about domestic violence, gang culture, or young runaways and child abuse—topics with personal importance to many members. The Ovas provide leadership beyond their group as well. They have hosted a ride and discussion for male allies, as well as a response to Critical Mass called Clitoral Mass, which brought out over 200 women and woman-identified people to its inaugural night in 2012. They are also working to open a community bike shop in their neighborhood, Boyle Heights, which will serve as a physical anchor for the group and a way to reach out to the broader community.
Perhaps because of the myth that they don't want to bike, communities of color are often passed over when it comes to bicycle investments and outreach.
Until recently the term "invisible cyclists" was used by advocates to describe cyclists of color who commute during hours that cause them not to be seen by the middle class; a staggeringly insensitive assessment of who is seen, who is overlooked, and why. Racial assumptions aside, this is in part because nobody is looking—on-street bicycle counts rarely include race or ethnicity as factors. This blind spot on the part of bicycling leaders has also, in many cases, proven to be a self-fulfilling prophecy.
There has never been anything inherently White about bicycling. But going all the way back to 1894, when the League passed its infamous color bar, very real barriers to healthy transportation choices have been systematically placed squarely in front of communities of color.
The data bears this out as well.
There is inequality along race and class lines in access to bicycle-friendly streets—and to bicycles themselves. Bike share programs have been criticized for rarely installing stations in low-income neighborhoods and not promoting them to diverse communities; unsurprisingly, program membership tends to be overwhelmingly White.
When there is infrastructure, people will use it no matter what their race or class.
Poor urban neighborhoods are less likely than wealthier areas nearby to have any bicycle lanes or other infrastructure, and less likely to enjoy the sort of bike-friendly road diet that is bringing increased prosperity to retail districts around the country. A Los Angeles study looked closer at the data and found that in neighborhoods with the highest percentage of people of color, bike lanes were fewer and farther between. Residents of lower-income neighborhoods (with ethnicity often being a significant factor) are less likely to be already active and in good health than their wealthier neighbors; they have higher levels of traffic noise, dangerous streets with higher rates of crashes, and often abysmally bad air quality. Areas with the lowest household incomes are where you find the most crashes involving people walking or riding bicycles. Black and Hispanic people have about a 25 percent greater risk than Whites of being killed while cycling.
This is changing slowly, thanks to the leadership and visibility of groups like RBG, the Ovarian Psycos, and countless others.
People of color, the League's report found, are riding bikes in greater numbers and are generally supportive of bicycling. They are as overwhelmingly likely as White people to have a positive view of cyclists. They also, when asked, are more likely to express concerns about traffic safety and to support greater public investment in bicycle infrastructure. People of color and people with lower incomes across the board say they are more likely to start riding bicycles if they have access to secure bicycle parking, a cycling club to join, and a way to learn safe riding skills.
Sure enough, when there is infrastructure, people will use it no matter what their race or class.
Few studies of infrastructure effectiveness take race into account, but a New Orleans study did: It found that in 2010 a new bike lane painted onto New Carrollton Street, in a racially and economically diverse urban neighborhood, increased the amount of cycling among all populations. The number of women riding on that street more than doubled, and there was a 50 percent increase of African American riders.
One thing is clear: The coming advances in the bicycle movement are going to require new leaders, a shift which is already happening. The relative monoculture of bicycle advocacy leadership over the decades has taken its toll.
It's often too easy for the privileged to assume that their own issues and barriers are universal, and to be blind to barriers that don't apply to us. Until recently, most leading bicycle advocates, planners, and decision-makers in the U.S. have backgrounds that allow them to take certain things for granted—to be able to replace a bike that is stolen, or get good service at a bike shop, or be treated fairly by a police officer, or be well-represented in court when they get a ticket.
People outside the fold of established advocacy often can't expect these things as a matter of course. If asked, they might identify different issues and locations to focus advocacy efforts on. All too often, though, they are not asked.
It's often too easy for the privileged to assume that their own issues and barriers are universal.
Asking, however, can bear fruit. Several years ago, the Community Cycling Center, a nonprofit bike shop in Portland, Oregon, re-examined its mission and decided to shift its focus away from the shop's rapidly gentrifying neighborhood. Instead, they reached out to communities of color farther away, particularly residents of two large subsidized housing developments. Four women who lived at a development in northeast Portland called Hacienda liked the idea of improving bicycling in their community. They decided to work with the CCC to create a new organization, Andandos in Bicicletas en Cully.
The new group's first act was to survey residents about bicycling—what they wanted and needed. It turned out that people at Hacienda wanted to bike much more than they actually did. The biggest barrier was a lack of bike parking. Bikes were prohibited inside people's apartments; they had to be stored out in the elements and there was a high rate of bike theft. Nearly every household had lost at least one bicycle to thieves, and many had given up on replacing the stolen bikes with new ones, not wanting to see those stolen in turn.
ABC's first priority was clear—raising funds to build a bike shed. While they did that, they set about training residents to fix flat tires, find good routes, and other basic bike transportation skills. The trainees then become the teachers, passing their new skills along to others in the community.
Perhaps one reason that so much of the new energy in cycling is coming from communities of color is that the barriers are higher, help is less forthcoming, and the injustice is all the more stark.
Meanwhile, the establishment is starting not just to open its eyes to see but to listen and be led by these community bicycle movements. Their rise provides new opportunities for leadership—and proves the effectiveness of people riding together and using bicycles to change the shape of their own neighborhoods and communities.
---
In 2009, Emily Finch was in her early 30s, living in the small town of Williamsport, Pennsylvania. Her husband was in a medical residency, and she was raising five children with another one on the way. She wasn't happy. She knew that something in her life had to change, but she didn't know what.
One day an internet search turned up a picture of a bakfiets, a type of Dutch bicycle that literally means "box bike." The bikes are nine feet long, weigh 100 pounds unloaded, cost $3,000, and come equipped with a hardwood box in the front with a bench for children. This was the thing that would change her life, Finch decided.
When the bike arrived, she loaded up the kids to pedal the half-mile to her husband's work. The bike wobbled mightily; she could barely pedal it. She thought she'd made the most expensive mistake of her life.
But she kept going, taking the lane in Williamsport's uncrowded but not very friendly streets. As it slowly became easier to ride, her depression lifted. Within a year she was riding everywhere confidently and sold her nine-seater SUV. Then the family moved to Portland, Oregon, purely for its bicycling reputation.
Bicycling with children could be a real possibility—and besides, fun.
In Portland, they found their tribe. Her new neighborhood seemed full of other cycling families—her kids' new friends always had helmets with them, so they could arrange impromptu pickups and trips to the park. Getting stronger, Emily biked around Portland's hilly landscape, now with six kids, and, often enough, a massive load of groceries or a case of wine in tow. She estimates that her whole rig can weigh as much as 550 pounds, even though her oldest can now ride separately on his own bike.
A story on the local BikePortland blog launched her into a sort of international celebrity. Her story showed people around the world that bicycling with children could be a real possibility—and besides, fun.
Back in the 1890s, the bicycle was a powerful force in the liberation of women. It was the perfect vehicle for the first golden age of feminism to unfold, providing a self-sufficient escape from the constraints of domestic life, not to mention the restrictive heavy skirts and corsets of the time.
But by 1905 the more expensive motor car had become king. A century later, when I was first getting involved with bicycle activism, biking had become largely the realm of men. This was particularly true in the sports side of bicycling and in the industry that supported it.
But among those who rode bicycles for transportation, there was also a clear gender gap. And as getting around by bicycle became more popular, that gap wasn't shrinking, as you might expect—it was getting wider. The new riders out there on the roads represented all races, classes, and ethnicities—but they were mostly men. Except in the most bicycle-friendly cities like Minneapolis and Portland, women seemed to be increasingly leaving the bike behind.
In fact, the primary demographic barrier to getting on a bicycle, at least to go to work, appears to be gender.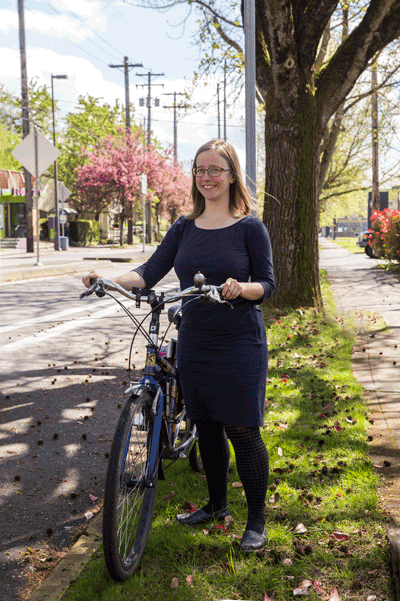 Why is this? Everyone seems to have a theory. As with race, there was until recently a pervasive idea that women just don't want to bike.
As with race, women's inherent disinterest in bicycling has proven to be a myth, in large part thanks to a recent surge in advocacy and organizing around bicycling by groups of women.
It turns out that women want to ride bicycles just as much as men—but the barriers that prevent us haven't been addressed or even seen by past leaders in the bicycle movement.
The long and ignoble history of race in the U.S. persists in inequality of opportunity as well as geographic segregation. Both affect transportation choices. When you add gender to the analysis, the inequality grows greater across the board.
We need streets we can actually ride on at a human speed, whatever we are carrying.
Women are disproportionately constrained by poverty. We still don't earn equal pay—we make, on average, 77 cents for each dollar earned by men doing equivalent work. When you break that pay gap down by race, it becomes more stark: In 2010, according to the Bureau of Labor Statistics, White women earned 81 cents for every dollar earned by a White man; Black men earned 75 cents on that same dollar; Black women earned 70 cents; and Hispanic men and women earned 66 and 60 cents, respectively.
Factors in this wage gap range from outright wage discrimination to the vastly different kinds of work available to women and men of different racial identities. The U.S. is one of the few countries in the world that does not provide paid maternity leave, and there also remains a hiring bias against pregnant women and mothers. When you add it all up, women, particularly women of color, are more likely to live in poverty. With poverty comes all the economic constraints that limit both housing and transportation choices. People with lower incomes are more likely to be stuck in inaccessible suburbs or troubled urban neighborhoods, living in the midst of the noise and bad air near busy roads, with a lack of access to bicycles, decent routes to ride them on, and secure places to park them.
Then there is unpaid labor. There are a lot of different kinds of work, and there is no bike-to-work cash incentive program for the unpaid, household, and parenting labor that still largely falls on women's shoulders. Household work is not distributed equally. In 2004, a research team found that married women reported an average of one more hour of housework per day than their male partners—even when both worked full time. These same women reported twice the time spent caring for young children.
The gender division of labor used to be far more stark than it is today. In 1973, with the age of the automobile in full swing, 70 percent of adults without access to cars were women. The labor model popularized by Henry Ford, in which a well-paid male workforce was supported domestically by wives, who in turn they supported as well as all the expenses of living in single-family homes well-equipped with the electronic consumer appliances that were fueling much of the country's economic growth at the time.
At least, that was the dream.
Good streets for bikes are good for everyone.
The reality was never so rosy, as was so scathingly chronicled in Betty Friedan's The Feminine Mystique. And even its imperfect incarnation was available only to a relatively wealthy middle class of mostly White women. This dream also proved unsustainable as a national economic model. By the 1960s, many of these suburban single-family households needed two incomes to function. Women returned to the workforce but typically still did most of the unpaid labor, in effect working double shifts; but this change came with added expenses, including day care for children—and a second car.
Nowadays, these double responsibilities add up to complicated transportation needs. Women make more trips than men, with diverse kinds of trips chained together. And twice as many trips are at the service of passengers—the school drop-off, soccer practice, and the play date wedged in there between the grocery run and the commute to work. No wonder the minivan is inextricably linked with motherhood in America.
Most bicycles sold in the U.S. are designed for light weight and speed, and are not equipped with amenities like luggage racks and built-in lights. And these bikes are the ones that are most compatible with the speed and distances of our roads. Riding a fast road on a fast bike, navigating traffic and getting a good workout is one thing; a bakfiets or even a regular bike with a child seat cannot be pedaled nearly as fast. It's a very different experience to travel on even a moderately busy road at 18 miles per hour than it is at only eight.
When women do cycle, researchers find, we are somewhat more likely than men to demand and use protected bike lanes. It makes good sense. Who would not prefer to carry children, heavy cargo, or even just our regular, old cycling selves on streets free from fast car traffic? When those options aren't available, it isn't surprising that the vast majority of Americans balk at cycling, whatever our gender.
A small minority of the population will always be happy to test their mettle against fast traffic; most of us need to get where we are going in one piece, and for that we need streets we can actually ride on at a human speed, whatever we are carrying.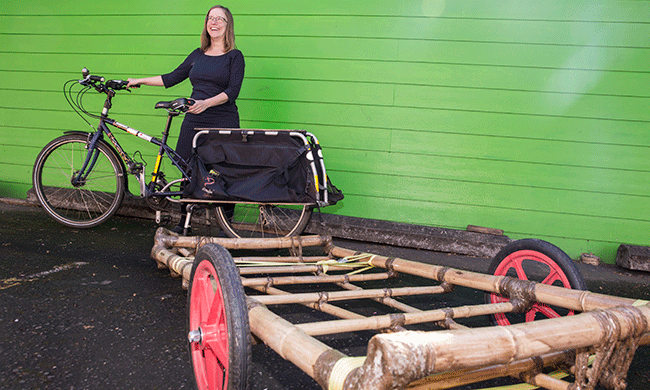 In places where the streets are not meant for cycling, it's not a surprise that men are more likely to choose a bike as an economical alternative to driving. Measures that improve bicycling safety and comfort aren't just a women's issue, though—good streets for bikes are good for everyone. The fact that women are taking the lead in advocating for such streets is a result of social and economic inequality, not of inherent preferences, fears, or biological imperatives.
In places where bicycling is the norm, there is no gender gap at all. In northern Europe, sexism and racism are alive and well in various forms, but everyone rides bicycles at pretty much equal rates. In the U.S., the gender gap is smallest in the best cycling cities.
Bicycling has the potential to be a great equalizer.
In fact, the rates of women and people of color who ride bicycles may be higher than current data reflects. Remember, the census measures only commute trips; in the current economic climate, this makes it a particularly inaccurate way to count people who are economically vulnerable. A survey of women who ride bicycles in Seattle, for instance, found that three of their top five bicycle destinations included stores, errands, and social visits—trips that are difficult to count through traditional measures. Generational changes are afoot as well—60 percent of bicycle owners age 28 and younger are women.
If you want to know how to open up bicycling to the population at large, look no further than the people who have the greatest barriers but are out there riding anyway. In nearly every case, this will show you two trends. First, people want to ride, but will not do so in great numbers without access to bicycle-specific infrastructure, be it protected bike lanes or a bike share system. Second, group rides and cultural movements, organized at the grassroots level, are the greatest force there is in growing the bicycle movement and creating unstoppable demand for better streets.
Bicycling has the potential to be a great equalizer. It requires only minor infrastructural investments and social shifts to be a powerful tool for us to redraw the lines in our society that determine far more than how we reach our destinations.
Whatever demographic gaps persist within bicycling, they are small in comparison to a far more serious gap—the one between the 70 percent of people who want to bicycle and the 1 to 10 percent who actually do bicycle. And it is the people who are newest to the table who are, as is so often the case, bringing the boldest visions and the most effective plans.
This article is an excerpt from Bikenomics: How Bicycling Can Save the Economy by Elly Blue, Second Edition, published by Microcosm Publishing, September 2016.