Trump Supporters Infuriated Me. But Then Van Jones Changed My Mind
I saw shades of the men in my own life in Jones' story, and deeper understanding set in.
Why you can trust us
---
Several weeks ago, I found myself at a retreat center in the woods with 400 strangers, crying, confused, and pissed off. Fortunately no one was paying attention to me. We were all captivated by Van Jones, longtime civil rights activist and current CNN commentator. He was describing the men he'd recently gotten to know who had voted for Obama—twice—then voted for Donald Trump. According to Jones, 70,000 of these voters, who were concentrated in three key states, handed the election to Trump.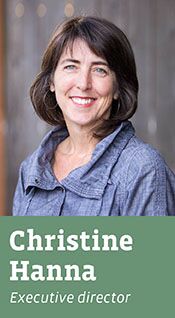 The bastards, I thought.
I'm fortunate. My citizenship, whiteness, and financial situation protect me more than many from Trump's disastrous policies. Yet I am as appalled as anybody over his election—and now presidency—and I have no problem blaming the people who voted for him.
But it is these very men, Jones argued, whom we must not only understand but embrace if the nation is to make real progress. If we are to win the future.
Oof. Intellectually, I agree that empathy is necessary. As the executive director of YES!, I certainly know that we must turn toward, not against, each other. But knowing it and feeling it are two different things.
I've been a bridge builder most of my life, and anger has never come easily. But these days, it's easy to be angry. The more I practice, the easier it gets. I also find it convenient to label people—"racist," "bigot," "misogynist"—because then it's easier to dismiss them. And to be honest, I'll admit that this behavior gives me a bit of rush. Plus, look at any social media feed: I have plenty of company.
So as I listened to Jones speak, I was not prepared to understand these men. Yet there I was crying for them, crying for all of us. Jones had hit my empathy nerve.
Jones told the story of a man stripped of his dignity and identity and abandoned, struggling for a purpose and a place. It didn't make things better for him that his pain could never stack up to the big traumas of genocide and slavery that so many others in our country still suffer from. He hurt. And in voting for Trump, he saw a shot—however remote—at regaining his dignity. I couldn't listen to Jones tell his story and still say I didn't get it.
Over the following weeks, I saw shades of the men in my own life in Jones' story, and deeper understanding set in. Shades of my father, a rescue pilot hero who was stripped of his power and purpose when he was diagnosed with massive heart disease and put on disability at 38. Shades of another relative whose family land was confiscated during the Civil War, leading to generations of poverty, anger, and abuse. Both were somehow robbed of their chance to be "great." I also thought of my own husband, exhausted by the brutality of capitalism and by society's complex expectations of modern men and confounded by a masculine ideal established in some bygone era.
For me, Jones' story helped bring into focus how our systems of social dominance—capitalism, racism, and patriarchy—require winners and losers. We're all steeped in these systems. The win-lose paradigm plays out daily in the subtle and not-so-subtle details of our lives, at work, in the kitchen, in our bank accounts. And the one system with the potential to equalize us—democracy—is kept caged by the winners who want to stay on top. Yet, as so many have experienced, including the men in Jones' story, a winner today might be a loser tomorrow, and vice versa. The bullied can become the bully.
The only way to really win our future is to win together. Jones described a bird that needs both wings to fly. But the first step is empathy, letting our hearts recognize other people's pain. It's a lot more work than being angry, but it's the only work that's worth the effort. Because when we understand that we all suffer in these systems of dominance, we can find common purpose: to free our democracy—and ourselves.
Thanks, Van Jones.
Video excerpts of Van Jones' talk at the Being Fearless conference, October 2017, published with permission of the Omega Institute.
---
Christine Hanna

is the executive director of YES! Media. She is a founder and former co-director of the Seattle Good Business Network.
---