Searching for Words in Indian Country
A non-Native journalist encounters a tribal-managed forest and an indigenous garden. "I had no idea how to use the English language to describe what I was seeing."
Why you can trust us
---

My focus on Native subject matter started in the late 1990s, when I was deputy editor of Garden Design magazine. As part of an effort to offer readers more environmental coverage, I assigned a writer to report the story of a guitar owned by music star Rosanne Cash. The Gibson guitar company had made the instrument from sustainably logged wood provided by the Menominee Tribe's timber-products firm. Before asking the writer to trace the guitar back to its origins in the Wisconsin forest, I did the due diligence any editor engages in when assigning a story. I visited Cash at her New York City house and talked to representatives of Gibson and the tribal enterprise. I interviewed forest-products engineers who had visited the forest as part of a Rainforest Alliance program that certified timber as sustainably logged for buyers that wanted such products.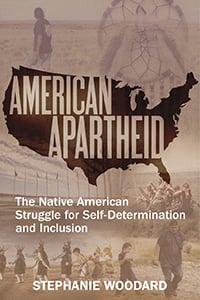 I learned unexpected things, which would set a pattern for my reporting in years to come. In Indian Country, you can expect to be frequently surprised by facts or ideas that lie around the next corner. Officials of Menominee Tribal Enterprises told me that the tribe had logged its 235,000-acre forest intensively for 150 years, extracting 2.5 billion board feet of lumber according to principles laid down by 19th-century chiefs. The tribe had, in essence, removed the forest three times over during that period. Yet the tract looked untouched, said the engineers who had toured it. They raved about its biodiversity and beauty. I saw striking satellite photographs, in which the tribe's forest was a darker green than the surrounding areas. The Menominees had managed this by making harvesting decisions with all the forest's inhabitants in mind. If felling a tree in a certain direction would destroy a butterfly habitat or food for ruffled grouse, the forester looked for another option. Essentially, the forest was treated like a garden. As a result, it was in radiant health. According to one engineer, the timber cut from it was so good, new grades had been created just for the Menominees. To top it all off, the forest-products company supported job creation that easily outstripped that of most small businesses its size.
The tribe had improved its forest by using it aggressively: to me, sitting in an office building in New York City, this sounded like alchemy. At the time, not interacting with nature was more typically understood as the way to protect it—a concept that has fallen by the wayside to a large degree because of the influence of indigenous people and their ideas. I thought, if Native timber-products companies were so interesting, their gardens must be amazing. I called Native Seeds/SEARCH, a Tucson seed bank for heirloom indigenous crops, and talked to Angelo Joaquin, a Tohono O'odham tribal member who was then its director. He suggested I talk to Clayton Brascoupé, a Mohawk/Algonquin farmer who lives at Tesuque Pueblo and runs the Traditional Native American Farmers Association, in Santa Fe. Brascoupé showed me around the remains of ancient Puebloan plots north of the city, then put me in touch with farmers at Cochiti Pueblo, which is south of Santa Fe. I ended up in a field there, face-to-face with corn, beans, squash, and an indigenous culture's time-honored yet contemporary way of doing and being.
A culture's concepts are most accurately conveyed in its own language.
My first inchoate thought was that I had no idea how to use the English language to describe what I was seeing. A culture's concepts are most accurately conveyed in its own language, so even the basics confused me. To begin with, was I looking at a garden, which implies guardianship by a caretaker who cultivates each plant as an individual, as the Menominees did the trees in their forest? Or was this large prolific plot better called a farm, which connotes large-scale (and nowadays often industrial) production of food? If there were no exact equivalents, which words came closest? I started to worry about the ancestry of the English synonyms from among which I would choose as I wrote about this place. Anglo-Saxon contributions to our vocabulary have a sense of simplicity and candor that made sense for these unpretentious plots. The Latin contribution came into English as the language of scholars; using this part of our vocabulary might convey the contemplative aspects of Native life, including the thinking and activities surrounding the growing of food crops.
I was dumbstruck—no other way to describe it. I posed the language question to two older Pueblo gentlemen who were showing me around Cochiti: Gabe Trujillo and Joseph Benado. "Those aren't the distinctions we make," Benado said. He went on to describe a vocabulary that tracked the English words in some ways but diverged in others. Shifting from English to Keres, the language of the southern Pueblos, Benado explained, as the governor of the Pueblos translated, that plant-rearing is akin to child-rearing for his people. The two activities share terms and concepts. Both involve spiritual and practical considerations.
Benado expanded on the linguistic characteristics of Keres by describing the life cycle of corn: "You plant the corn, and the seed has one name. When it sprouts, it has another. As it grows, it has another name. As the ear comes to life, it is called another thing. When it is ripe, it is called another, and when it's harvested, another. As it dries, it has another name. When the stalk has dried in the field, it has another; and what's left goes back into the earth." Returning to English, Benado added, "I enjoy what I do so much. When I look at my family's table, filled with what I have grown, I feel such joy at having provided for them. Farming makes you a better person, because you are always looking forward to next year."
When Benado made that first language shift, from English to Keres, the timbre of his voice changed. When he spoke in English, it was low-pitched, or what we might call bass. In Keres, he was a baritone, with the words accompanied by a resonant breathiness and overtones, or higher related notes, that proceeded in harmony with the basic pitch. Had I not been there in person, I would have thought two different people had spoken in turn. Embedded in each language was an identity so powerful that it transformed the speaker physiologically and further emphasized the cultural divide.
Over the years, I have become used to writing across the divide and describing, however imperfectly, what I saw in one Native community after another. Though I started out writing about agriculture and culture, I quickly realized that you cannot talk about crops without talking about the land, and you cannot talk about the land without talking about why the original people of this country have so little of what they once held. And you cannot consider that without looking at the human-rights crisis this has wrought in communities whose interaction with the natural world is the basis of every aspect of life, from the most mundane to the most rarified.
Early on, I began receiving weekly and sometimes daily calls—and later emails and texts as well—from all over Indian Country alerting me to events and people I might want to look into and write about. A lot of the leads ended up as articles; some became yearlong, or even multiyear, series. Eventually, they led to this book. Along the way, I have never lost the feeling that with each reporting assignment I am a visitor to a world whose outlines I can only begin to sense.
Excerpt from American Apartheid: The Native Struggle for Self-Determination and Inclusion by Stephanie Woodard, with photographs by Joseph Zummo, published with permission of IG Publishing.
---
| | |
| --- | --- |
| | Stephanie Woodard is an award-winning journalist who writes on human rights and culture with a focus on Native American issues. She is the author of American Apartheid: The Native American Struggle for Self-Determination and Inclusion. |
---