9 Artists Explore the Pride and Joy of Being Asian American and Pacific Islander
"Leaning more into my heritage keeps me rooted and reminds me that we are all deeply connected, and how we treat each other, and how we show up deeply matters."
Why you can trust us
---
Art has always been a medium to not only express a person's identity and journey, but also to challenge the complexities of the world at large. In recent years, amid growing discussions of media representation, defining political identities, and attacks on both people and lands, the Asian American and Pacific Islander communities have been challenged to respond to these complexities, individually and collectively.
This year, for Asian American & Pacific Islander Heritage Month, YES! asked nine illustrators to create original work responding to the following questions:
How are you connecting with your AAPI heritage right now?
What part of your AAPI heritage brings you the most pride or joy?
Here are their responses.
---
Brenda Chi
"I am currently comforting and celebrating my AAPI heritage through food, celebration of AAPI culture, language, and my family. This can also be seen as a self-portrait, as much of my identity is being an AAPI artist, so everything connects. This illustration features some of my favorite childhood foods, listening and speaking in Cantonese, celebrating my ancestors' beauty through my self-expression, burning joss paper, praying to my family to wish us well, gratitude to my family, and claiming my space as an American Born Chinese (ABC) woman. This piece is inspired by vintage Chinese cigarette advertisements, which I've interpreted into a more intentional Chinese American illustration, with colors inspired by Cantonese Rose patterned porcelain. As a second generation Chinese immigrant, I often find myself researching my own Cantonese heritage as much hasn't been taught to me. As I create this art, I am also learning about my AAPI heritage, which I think is really healing for anyone in Asian diaspora."
Brenda Chi is a multidisciplinary artist and art director based in Los Angeles. View more of Brenda's work here: Portfolio / Instagram.
---


Ameena Fareeda / Eye Open at the Close
"Growing up Indian-Asian American, there were many instances in which I struggled with connecting to my identity. I would feel as though I played tug-of-war with my own Asian and American personas. As I got older, I learned to appreciate my culture and identity as a proud Asian American. The peacock is the national bird of India which symbolizes race, pride, and beauty. A peacock's feathers are truly iconic. They spread not only for mating purposes, but also for means of boasting and protection. The feathers' resemblance to eyes are known to be a symbol to ward off bad luck and attract positivity.
Eye Open at the Close represents how I navigate in today's society as an Indian-Asian American. In light of the recent increase in hate crimes towards the AAPI community, it is vital to preserve and uplift the diversity, strengths, and uniqueness within the community. Eye Open at the Close raises awareness to the public eye and expresses how strong and beautiful the AAPI community truly is."
Ameena Fareeda is an illustrator and designer based in Silver Spring, Maryland. View Ameena's work here: Portfolio / Instagram.
---

Eunsoo Jeong / Koreangry
"I've been making zines since 2016, and it has been my way of expressing myself. It started as a means to cope with my anxiety and depression but over the years, I've gained the confidence to own those narratives and turn it into humor. As a formerly undocumented immigrant, I had a hard time connecting with my identity as an Asian American, because I didn't see many undocumented Asian Americans and didn't know how to celebrate or to have pride within myself. In early 2020, I published Koreangry zine issue #8, that featured my Korean American history timeline after conducting self-driven research to understand and see what my roots were in this country. This showed me different perspectives on how we can define our identities regardless of what we are told to believe based on our immigration status in this country. By making zines based on my life experiences, I was able to connect with lots of AAPI folks across the country who could relate to my stories. During the grueling pandemic year, I felt isolated and lonelier than usual. Throughout that time, I pushed ideas that may challenge our AAPI communities (confronting anti-Blackness, defunding police), provided educational and informative comics (know your rights during protests, bystander intervention), and shared vulnerable confessions of my struggles and experiences living in this country today.
This artwork is a collage of my yearning desire to do 'good' despite the challenging struggles of being an immigrant today during the pandemic––the pressure of being a good, kind, nice, humble, grateful, by-the-book immigrant. Sharing my story through zine-making is how I connect with other AAPI groups, by accepting and rejecting, challenging, rebuilding, and redefining what our identities could be."
Eunsoo Jeong is an artist based in Los Angeles. View more of Eunsoo's work here: Portfolio / Instagram.
---

Shyama Kuver / Heart Over Crown
"Being from a blended culture means that while you have a lot of pride in the resilience of your community and the uniqueness of its ethos, it is oftentimes invisibilized throughout society, mainstream media, and even within larger cultural contexts like the concept of AAPI or South Asia. I am IndoFijian, and it brings me so much joy because I come from spirited people who are hardworking and resourceful. Being IndoFijian in the U.S. means that for generations our decisions (or lack thereof) have been moved by the hands of state entities. From my great-great-grandparents being taken to Fiji from South Asia after the abolishment of the Transatlantic Slave Trade to work sugarcane fields, to my father being drafted into the Vietnam War shortly after immigrating to the U.S. A war he knew was not his, waged against people he identified with more than with his own unit. The ocean has become a symbol of connection and force. We see the split in the sun and where it sets, like we do within duty and purpose, and belonging and isolation. While the acronym AAPI can invisibilize smaller communities, it still holds an important opportunity for coalition-building and education."
Shyama Kuver is an artist based in Washington, D.C. View more of Shyama's work here: Portfolio / Instagram.
---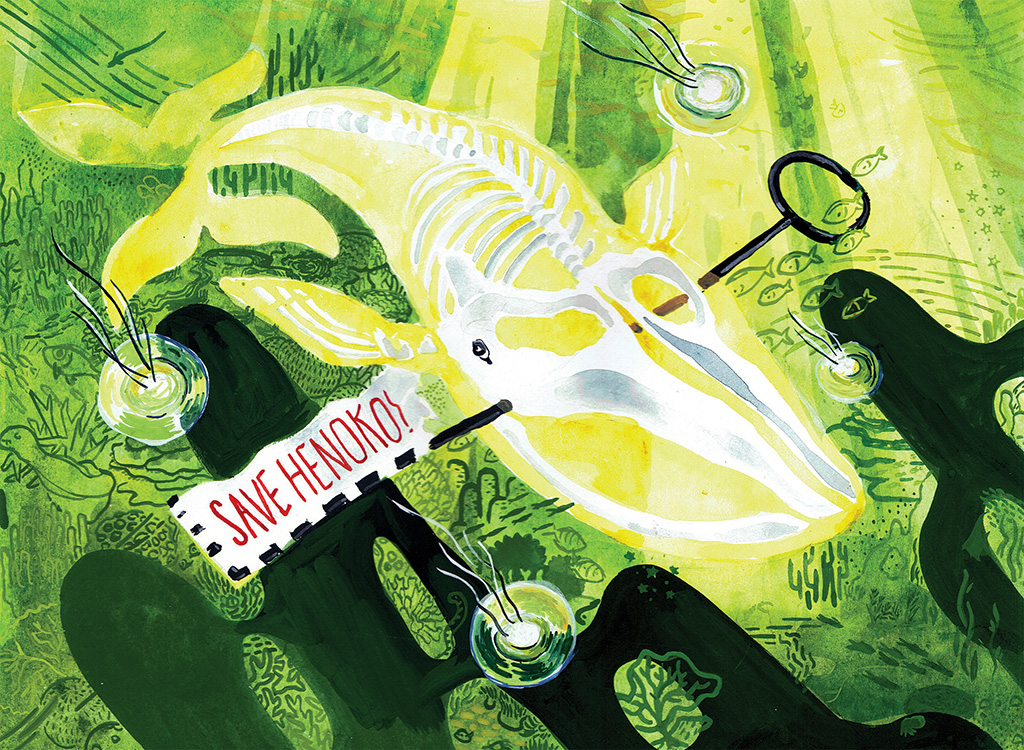 Cori Lin
"This painting is of a bake-kujira, a ghost whale, calling all to protect Henoko Bay in Okinawa, one of the most biodiverse environments in the world. Though I'm fairly disconnected from my Uchinaanchu heritage, I made this painting trying to connect to the land and culture of Okinawa while the U.S. and Japanese governments destroy the bay with another U.S. military base.
My ancestors come from Japan, Okinawa, China, and Taiwan, but I identify as a Japanese and Taiwanese American. Recently I've been unpacking the connecting layers of migration, colonialism, and violence my ancestors' peoples have both faced and enacted, often against each other. The shifting national loyalties and ethnic identities in my family history help me understand how being 'Asian American' is a political choice. 'Asian' is an identity that unites my ancestors under one title even though they would never have seen themselves as unified. I can choose to see our histories—and futures—as being interconnected.
I am finding joy in knowing that what it means to be 'Asian American' has—and will—change, and my identity can change along with it. I don't yet know what it means to reclaim my Uchinaanchu identity, but I know that I can join the fight to protect the land that shaped my people."
Cori Lin is an illustrator and designer based on land belonging to people of the Council of the Three Fires: the Odawa (Odawak), Ojibwe (Anishinaabeg), and Potawatomi (Bodéwadmik) nations, also known as Chicago. View more of Cori's work here: Portfolio / Instagram.
---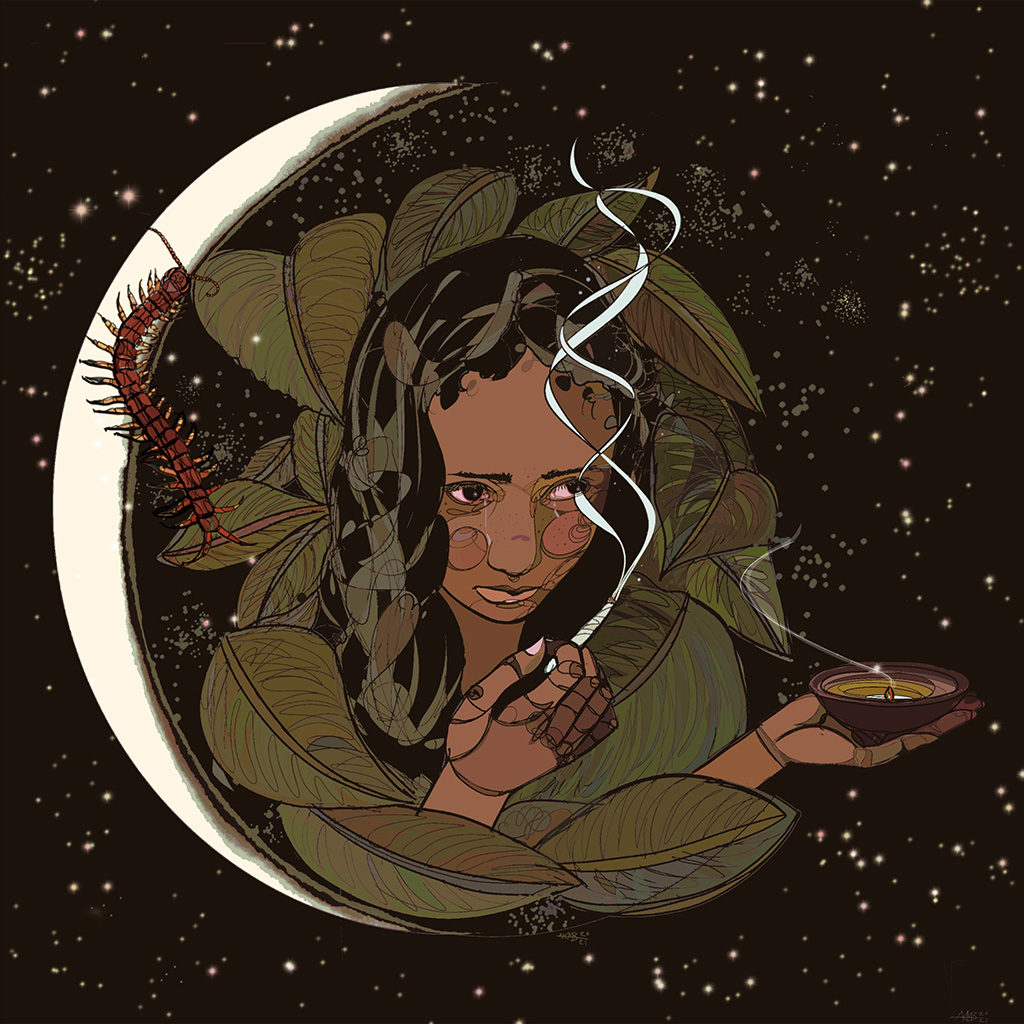 Alisha Kahealani Mahone-Brooks / Kahea Mana Hina
"Aloha mai kākou, my name is Alisha Kahealani Mahone-Brooks.
I was born on the island of Oahu, and I am Kanaka Maoli.
I connect to my Kanaka Maoli (Hawaiian) heritage by committing to be present in relationship with our lāhui (people), and our 'āina (land).
I have found that committing my heart and actions to this land, to my people, and to the Creator of all things, I continue to connect, live, and perpetuate my heritage. For me, connection looks like using our language, learning the names of places and people, learning their stories, and learning how to show love to them.
For me, it's a deep relationship that makes me most feel connected to my heritage.
I think what gives me most pride in my heritage is that we are such deeply relational people, in a world that feels quite un-relational currently. I feel like leaning more into my heritage keeps me rooted and reminds me that we are all deeply connected, and how we treat each other, and how we show up deeply matters. I feel like my heritage is rooted in the care of people, the care of the Earth, and all living things. That is my whole heart."
Alisha Kahealani Mahone-Brooks is an artist based in Hawai'i. View more of Alisha's work here: Portfolio / Instagram.
---

Alexa Strabuk
"I've been thinking about curios lately: objects that might be meaningless junk to one person and revered treasure to another. That's the nature of most things, I suppose. Curios have no real universal value, transactional or otherwise, beyond someone somewhere determining that this thing has value, and that this thing does not. In my mind, there's something sacred—if not serendipitous—about finding yourself in a particular place, at a particular time, examining a particular mystery item with the same rapt attention that one might scrutinize a new forearm freckle at the end of summer. My favorite thing to find in a bin of unknown objects is something that I cannot fully comprehend at once but to which I feel inexplicably connected despite that. Or perhaps because of that.
At the start of the pandemic, I moved into a new neighborhood, an Asian ethnic enclave with a rich history of survival, pooled resources, and cultural vibrancy. Heartbreak and circumstance had suddenly forced me into solitude, a confined state of painful decomposition and regeneration. There was no loneliness, not really, only exploration. I felt closer to my heritage, to all those who came before and those who have yet to emerge. As anti-Asian sentiment climbed, so too did my gratitude for living in a community known for welcoming strangers, a haven for the newly arrived or the rover passing through. I'd wander the district, inspecting window displays and architecture and bulletin boards littered with lost pet notices. This place is a living relic, where time has somehow folded in on itself. My people built a home here for us.

How curious, I thought."
Alexa Strabuk is a cultural worker, journalist, and editorial designer living on unceded Duwamish/Coast Salish land, also known as Seattle. View more of Alexa's work here: Portfolio / Instagram.
---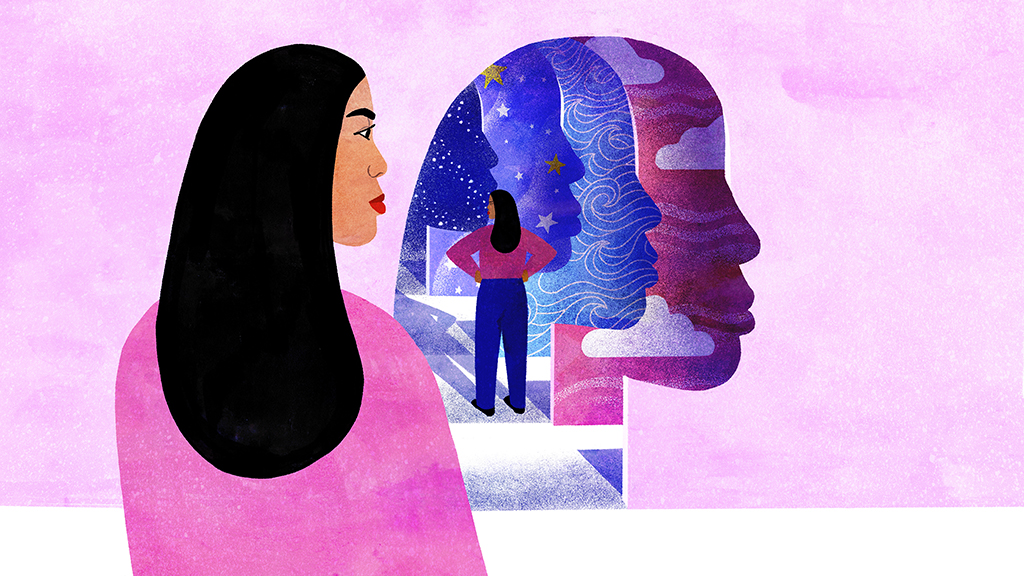 Sirin Thada
"For AAPI Heritage Month, I've been drawing some of the colorful Thai proverbs with which our family grew up. I've always loved hearing adages from around the world, and while the details may differ, the lessons are the same. Why? Because we all have more in common than we often think.
This desire to seek out commonalities is rooted in my AAPI heritage, and I'm grateful for it. I was born in Baltimore, where it was made clear from an early age that I was 'foreign.' There were minor incidents—comments about my 'weird' name, the shape of my eyes… But there were scary moments too, like that time I was 10, alone in the cereal aisle, when a stranger approached and called me a 'fucking Asiatic asshole.'
Finally getting to visit Thailand was incredible, but I did not belong there either. From the language, to the sights, tastes, and smells—everything was unfamiliar, strange. But, armed with my loving family, I learned to approach things with curiosity, wonder, and respect. I would learn to love, even seek out, things that were unusual. The best thing is, when you don't feel like you belong anywhere, then everywhere and everything and every moment becomes yours to explore."
Sirin Thada is an illustrator and artist based in New York City. View more of Sirin's work here: Portfolio / Instagram.
---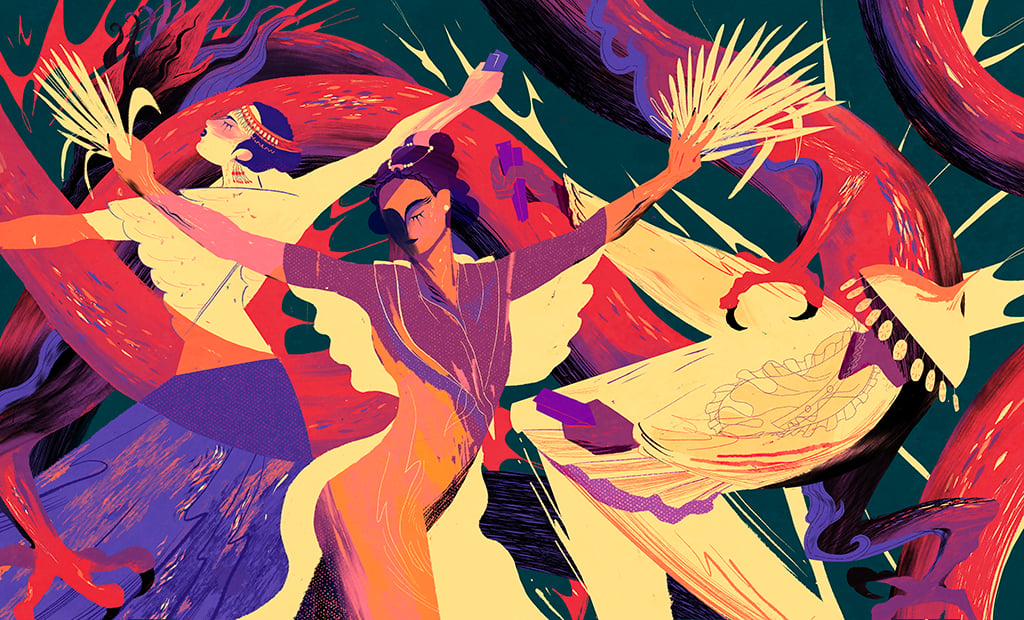 Isip Xin
"Much of my work is rooted in being a queer Asian American. As a means of both self-expression and exploration, I investigate femininity, masculinity, beauty, and the body in my parents' countries of origin. Being very disconnected from my parents' experiences made for a nebulous identity that was difficult to grow up with. This same quality gave me the freedom to shape it as my own.
In Dragon Dance, I draw on the visual language of Chinese dragons and Filipino folk dance, both elegant and bold in their own way. This piece embraces my distant background that I rejected as a child, and that was used to box me off from my peers. It shouts against the image of Asian Americans being quiet and ugly in our otherness. Figures overlap and move in unified confidence, communicating the interwoven fabric of my identity, culminating as undeniably beautiful and stunning."
Isip Xin is an illustrator based in New York City. View more of Isip's work here: Portfolio / Instagram.
---
Enkhbayar Munkh-Erdene

is the former associate art director at YES!, where she lead art selection and photo editing for digital stories and products as a member of the digital editorial team. Enkhbayar lives in Seattle, and speaks English and Mongolian.
---