See Also: Founders
Berit Anderson, Vice Chair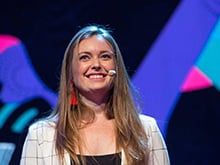 Berit Anderson is the CEO and co-founder of Scout, which combines near-term science fiction with investigative reporting to cover the intersection of technology, economics, and morality. Berit was formerly the managing editor at Crosscut.com, a Seattle-based local news site. She is the creator of Seattle's Community Idea Lab, a new way of doing journalism that inspires and incubates solutions to local problems. In 2015, the Community Idea Lab won the Society of Professional Journalists' Innovation in Journalism award. Berit consults on communications with Strategic News Service and the SNS Future in Review (FiRe) conference. Previously community manager of the Tribune Company's Seattle blogging network, her work has appeared in YES! Magazine and on HuffingtonPost.com, Geekwire, and television and radio properties. Berit began her journalism career as a YES! intern.
Manolia Charlotin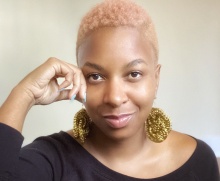 Manolia Charlotin is a storyteller and vision-weaver whose work feeds spirit and amplifies voices that seek liberation. Throughout that journey she fulfills many roles, including cultural educator, narrative strategist, curator, and multimedia journalist. Over the last 15 years she has helped lead several media organizations, including the Boston Haitian Reporter, The Haitian Times, Feet in 2 Worlds, The Media Consortium, and Press On. She helped advance the independent media sector's racial equity strategy, development of local media networks, coverage of social justice movements, and editorial management for a distinguished study that measured the impact of collaborative news media.
Currently, Manolia is the principal of Kwaze Media, a social impact and multimedia production firm that centers the narratives from communities of color to build institutions in their image. And her cultural scholarship explores how sacred spaces emerge in the digital evolution of the performing arts.
Tanya Dawkins, Co-chair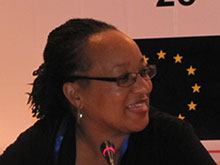 Tanya Dawkins founded the Global‐Local Links Project to engage one of the most pressing issues of our time—what it means to build citizen and community power in an age of intensifying globalization(s). She is dedicated to developing a new generation of "globally minded, community‐centric" tools, policies, relationships and metrics that advance new models of "global-local" leadership, policy, law, citizen action, economic development and the social contract. Tanya has an MBA from Barry University, a post-graduate certificate in international human rights law from Oxford University and is an experienced analyst, executive and consultant in the areas of leadership, policy, organizational development and innovation for the common good. Her work has helped a wide range of local, national and international partners map their strategic priorities, understand and interpret increasingly interconnected global and local phenomena and manage emergent issues and opportunities. She has previously managed a $20+ million community investment portfolio and is active in a diverse network of campaigns and initiatives in the areas of human rights, governance, policy, economic development, philanthropy and social justice. Tanya is the policy entrepreneur behind the development of the Global Community Rights Framework Initiative, a new law and policy innovations project focused on advancing new rights, remedies and avenues of opportunity for people and communities affected by mega trade, infrastructure and investment projects around the world.
Eli Feghali, Co-Chair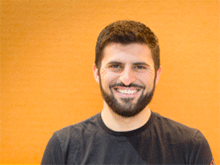 Eli Feghali is Communications Director at the New Economy Coalition (NEC) and Co-Editor of Beautiful Solutions. Born in Beirut, Lebanon, Eli immigrated to the U.S. with his parents when he was 1 year old to escape the civil war. Through NEC and Beautiful Solutions, Eli works to tell the story of what another world could look like—and how we can get there. Eli is lead organizer of NEC's narrative-strategy project. For Beautiful Solutions, Eli helps to collect, write, and edit stories from around the world of communities coming together to meet their needs through solidarity and mutual aid. Eli has a BA in Conflict Resolution in the Middle East from Vanderbilt University. During his time at Vanderbilt, Eli founded a student organization dedicated to addressing economic inequality, beginning a lifelong commitment to community organizing. After school, Eli began working in communications for the migrant justice movement as a staff person at the Tennessee Immigrant and Refugee Rights Coalition. Eli lives with his partner Rachel in Cambridge, Mass., where he serves on the board of his local grocery cooperative, Harvest Food Co-op.
Alisa Gravitz, Treasurer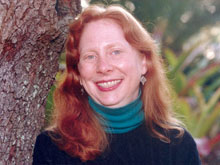 For over 25 years, Alisa Gravitz has led Green America (formerly Co-op America), the national green economy organization. Green America develops marketplace solutions to social and environmental problems with key focus on community investment, fair trade, corporate responsibility, climate change and solar energy. Green America's major events and publications include Green Festivals, the Green Business Conference, National Green Pages, and the Green American. Green America operates the nation's largest green living and green business networks. Alisa is also a nationally recognized leader in the social investment industry. She authored Green America's acclaimed Guide to Social Investing, with over a million copies in print. As vice president of the Social Investment Forum, she played a key role in the dramatic growth of the socially responsible investing industry to $3 trillion dollars from less than $40 million in 1985. Alisa's board service includes the Positive Futures Network, Ceres, and Network for Good. She earned her MBA from Harvard University and her BA in economics and environmental sciences from Brandeis University.
Shalini Nataraj
Shalini Nataraj is currently Vice President of Programs with the Ing Foundation, a private philanthropy focused on advancing human rights. Prior to this, she was with the Global Fund for Women for nine years as Vice President of Programs and then led GFW's Advocacy and Partnerships program focused on the UN and other multi-lateral agencies. She came to GFW from the Reebok Human Rights Award Program where she was the Associate director for six years. Shalini has deep experience in designing and implementing programs to promote human rights and systemic, positive change in the lives of marginalized communities, primarily through grant making. She has strong expertise in program design and management, evaluating social change initiatives and in engaging donors in innovative philanthropic enterprises. Shalini has extensive experience working on human rights issues, with a specific focus on women's rights and on addressing societal inequalities with a feminist lens.
Elizabeth Sanders, Secretary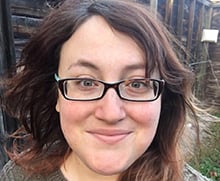 Elizabeth Sanders is the General Manager of WMMT, the community radio station of Appalshop, a 50-year-old arts and media organization in Whitesburg, Kentucky. She is an alum of the STAY (Stay Together Appalachian Youth) Project, a member of the 2014 cohort of the Young Climate Leaders Network, and took part in the It Takes Roots delegation, a delegation of more than 100 indigenous and frontline community members attending the COP21 climate talks in Paris in 2015. Elizabeth previously served as Secretary of the Appalshop Board of Directors and Chair of Kentuckians for the Commonwealth, a 10,000+ member statewide grassroots organization. Elizabeth was a presenter at the 2018 International Conference on Penal Abolition in London, England and part of the coordinating team for the 2019 Central Appalachian Prison Justice Movement Assembly at the Highlander Education Center in Tennessee. In her free time, Elizabeth enjoys embroidery, Dungeons & Dragons, and playing with her rescue dog Clyde.