A Road Trip to Save El Salvador's Water
A delegation of activists from 12 different countries on the fight to stop gold mining in Central America.
Why you can trust us
---
Robin is standing in front of a church in Guatemala with some of the other members of the first international delegation on "gold mining and the defense of water in El Salvador." We are 44 people from 12 countries who have come to support El Salvador's right to stop environmentally destructive gold mining. We have come as allies of a coalition called the National Roundtable Against Metallic Mining ("La Mesa"), and we have traveled just across the border to Guatemala because the source of the Lempa River that supplies most of El Salvador's fresh water is here in the Guatemalan hills.
Goldcorp, one of Canada's largest gold mining firms, is building a mine here. The environmental havoc unleashed by this mine will affect not only Guatemalans, but also Salvadorans who depend on the Lempa's waters as it meanders through El Salvador on its way to the Pacific Ocean.
The fight for water is a fight for life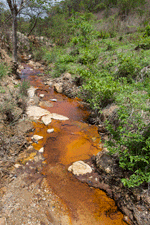 Father Domingo, a Franciscan from El Salvador, has asked delegation members to stand and face the congregation as he gives the guest homily at the invitation of a local Guatemalan priest. You are not alone in your opposition to the Goldcorp mining, Fr. Domingo tells the congregants. He asks them to look at these friends from all around the world who are supporting them in their opposition to what he calls "the death projects."
Robin scans the congregation, locking eyes with one after another of the congregants: a young boy strumming a small toy guitar, his parents, a middle-aged man, and a woman surrounded by her mother and teenage daughters.
To be anti-gold-mining is a brave thing in this part of the world. Indeed, just prior to our visit, the Guatemalan government imposed a "state of emergency" near another mine where people were protesting, sending in troops.
The 44 of us in this delegation understand that the struggle against gold mining in Central America is a struggle for water, "for life," as La Mesa members phrase it. Among us are professional environmentalists, researchers, writers, students, trade unionists, human rights lawyers, filmmakers, medics, activists, and Salvadorans living abroad who want to do their share for the country of their birth. Some of us have been involved with this work in El Salvador for years, working as allies of La Mesa. For others, this is their first exposure.
The delegation also traveled to two other sites of struggles against global mining companies.
To see the "before" picture of large-scale commercial mining, we travel to Cabañas in northern El Salvador, the site of Pacific Rim Mining's El Dorado mine. The Canadian mining company has finished its exploration stage but, buoyed by national sentiment against mining, the Salvadoran government has refused to give the company its desired "exploitation" license. La Mesa-connected local groups also stand firmly opposed and are doing their best to ensure that mining does not come.
To show our solidarity, we march in front of the Pacific Rim site, standing under the Pacific Rim sign, demanding that CEO Catherine Mcleod-Seltzer end PacRim's attempt to mine here. We go to the nearby Cabañas town of San Isidro, the hometown of Marcelo Rivera, whose 2009 brutal murder (his mutilated body was found at the bottom of a deep well) was one of at least four such assassinations. In San Isidro, we see some of the murals that youth have created in Marcelo's honor, murals that announce to all who pass that the struggle will not die with the assassinations.
A global struggle
The struggle is a local one and a national one. But it is also a global one, as Vancouver-headquartered Pacific Rim has sued the Salvadoran government in the World Bank's investor-rights tribunal, arguing that it must be granted the license to mine.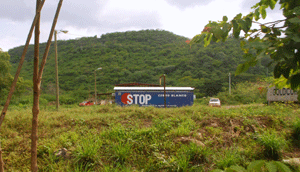 Some of our delegation then travel to La Union in eastern El Salvador, where Milwaukee-based Commerce Group mined off and on from the 1960s until the government kicked it out in 2006. Here, one uncovers the horrific environmental nightmare that industrial gold mining leaves in its wake. As the delegation wrote in its report, "We saw the lasting and unmitigated impacts of acid mine drainage in the rust-colored water of the San Sebastian river. We heard from local residents that instead of generating wealth for communities, large-scale mining leaves behind poverty and negates the possibility for economically, socially, or environmentally sustainable development. We also learned of high incidence within the area of kidney failure, cancer, skin problems, and nervous system disorders, such as Guillain-Barré Syndrome. What we have seen in San Sebastian should not be allowed to happen in Cabañas or elsewhere."
Incredibly enough, Commerce Group is also suing the Salvadoran government at that same World Bank investor-rights tribunal for the right to return to continue mining here—although it should be the Salvadoran government suing Commerce Group for the environmental nightmare.
And some of us travel to Asunción Mita, Guatemala, to Goldcorp's Cerro Blanco mine. After Sunday mass and meetings with congregants, we drive to the mine site itself, to see the destruction as the mining operations begin. In the distance, through the fenced perimeter, we can glimpse tunnels dug into the mountainside. We drive by a complex sprinkler-like system, shooting water into the air like some giant water-recreation playground. It turns out that the tunnels have filled with thermal water, laced with arsenic and other toxic metals. The waste water will then make its way into a nearby river which feeds a nearby lake, and then onward into El Salvador's Rio Lempa watershed, inevitably wreaking ecological disaster in its wake.
"STOP CERRO BLANCO," a sign blares at us. We realize that it is a sign from Cerro Blanco's security force, instructing those who seek to travel inside the vast mining compound to stop. To those of us on the delegation, however, it seems a rallying cry: STOP CERRO BLANCO, along with Pacific Rim and Commerce Group. Stop mining in these fragile ecosytems where it brings not only ecological destruction but also social conflict and deepening poverty.
Father Domingo has called the flooding of the Cerro Blanco tunnels "an act of God," since it has delayed large-scale commercial mining by Goldcorp here. Robin looks around at her fellow international delegates. There are activists from Canada, Ecuador, Australia, the United States, Honduras, Panama, and elsewhere joining people from Guatemala and El Salvador. The delay may well be "an act of God," but it will be actions of human beings such as these who ultimately determine whether or not mining is halted.
---
John Cavanagh and Robin Broad wrote this article for YES! Magazine, a national, nonprofit media organization that fuses powerful ideas with practical actions.
Robin is a Professor of International Development at American University in Washington, D.C. and has worked as an international economist in the U.S. Treasury Department and the U.S. Congress. John is director of the Institute for Policy Studies, and is co-chair (with David Korten) of the New Economy Working Group. They are co-authors of three books and numerous articles on the global economy, and have been traveling the country and the world for their project Local Dreams: Finding Rootedness in the Age of Vulnerability.
---
Related Links: