Wild Eats, Resilient Farms, and Freedom From Money: 3 Holiday Reads for the Radical Homemaker
Books should light up our lives—especially during the dark days of winter. Here are a few to pass along.
Why you can trust us
---
Every year, my favorite gift to give (and to get) is a good book.
But I'm fussy. A holiday read must be something truly special. It becomes an intellectual companion when the days are darkest, so I ask that they fill me with inspiration, feed my imagination and propensity to dream, present me with good ideas for deep thinking, and best of all, challenge me to change my life in new and interesting ways.
I suppose that's a pretty tall order for a book. But over the course of this past year, I have found three that meet my criteria, and I want to share them with you.
If I could, I would present a copy of each of them to all of you (because if you are following this blog, I guarantee that these titles will resonate with you). Since I can't afford to do that, I'll just tell you about them and you can either get them from the library, request them from loved ones, or maybe even go out and buy a copy for someone special (make sure you read it first, though!).
Happy holidays, and happy reading!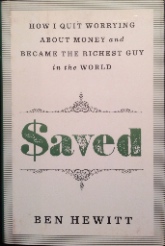 1. Saved: How I Quit Worrying About Money and Became the Richest Guy in the World. By Ben Hewitt. Rodale.
Ben lives up in Vermont, and follows a life similar to my own—he's got a comparable income and enjoys a creative existence with his family on the fringe of mainstream culture.
Then he meets Erik, a twenty-something who is living on less than $10,000 per year. Erik is filled with ideals, smarts, and genuine talents and skills, and he uses them to live a life in line with his values and to play a generous role in his surrounding community.
Ben seeks to better understand Erik's life path, and in the process, begins examining his own beliefs and assumptions about money, savings, investing, and spending. He unravels the U.S. monetary system, shows us the myths, and ponders what a sustainable economic future may look like in a way that would make the editors of the Wall Street Journal cringe.
Do not read this book looking for ways to be more frugal, develop an investment strategy, or find a financial recipe for success. Read it to be free of the thinking that paralyzes us and keeps us from making life choices with our hearts at the fore. Read it to lift your heart, open your mind, and let go of your fears.
Like what you're reading? YES! is nonprofit and relies on reader support.
Click here to chip in $5 or more to help us keep the inspiration coming.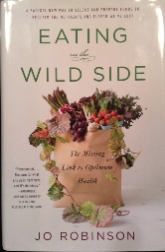 2. Eating on the Wild Side. By Jo Robinson. Little, Brown, and Company.
Jo Robinson, in my mind, is the grande dame of the grassfed meat movement. Long before Michael Pollan wrote The Omnivore's Dilemma, long before anyone knew there was a difference between factory-farmed meat and local, grassfed products, this woman was uncovering the hidden research and putting it out in self-published volumes for all of us to read. She quietly worked her way across the country teaching small farmers about the environmental and health benefits of what they were doing, giving us the facts that enabled us to make our voices heard.
Now, Jo has made another monumental contribution to the world of sustainable cuisine. As best I can figure, she has spent the last ten years investigating thousands of scientific articles and exploring volumes of arcane culinary and agricultural and medicinal history, in addition to conducting experiments in her own home garden.
The result is an amazing guide to produce. Jo conducts a historical, nutritional, and medicinal analysis of the most common fruits and vegetables in the American diet, and identifies which varieties offer us the most healing and nourishment. She also advises the best way to prepare and store them in order to benefit from their magical properties. This is far deeper than an exposition on "why homegrown and heritage varieties are best" (indeed, as Jo points out, that may not necessarily be the case).
This is an essential reference guide to home and market gardeners, as well as for anyone who does the grocery shopping and family cooking. Her clear, well-researched writing explains how to make the best produce choices, whether you're selecting seeds for the coming growing season, meandering through a farmers market, or standing in a conventional grocery store.
The book is put together in a way that will enable readers to use it as a quick reference without reading it cover to cover. At the same time, the text is enthralling. You may find yourself pulling it off the shelf to look something up before you head to the market, and then postponing your trip so that you can sit down to read more as you become engrossed with the content.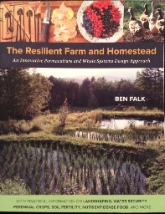 3. The Resilient Farm and Homestead: An Innovative Permaculture and Whole Systems Design Approach. By Ben Falk. Chelsea Green.
When I first sat down to read this book, I was struck with a sense of joy. Here is a young mind, open to the wisdom of our elders as well as to the possibilities that veteran agrarians long ago dismissed.
Falk challenges readers with new ways of thinking about our domestic habitats. The Resilient Farm and Homestead deserves a special mention for its beautiful design alone, which pulls the reader in with delicious photography, but doesn't quit with glossy fantasies.
Like many of you, Ben works on a small plot of land (his homestead is 10 acres of marginal land in Vermont), and makes it work to support his life. Like many of us in the Radical Homemaking movement, Ben is thinking deeper than cash crops and income opportunities. He is interacting with his landscape to cultivate a permanent system that supports his life, where cash income needs can be minimized with sound home planning (although the book certainly contains ideas that can be emphasized for generating cash).
This book is both inspiring and practical, and will motivate householders and farmers alike to examine their resources for making permanent, sustainable, life-sustaining change. In addition to covering the big dreamy ideas, Falk gets nitty-gritty, with discussions on the best ways to split wood and compost hot water heating systems, explanations of how to make biochar in your home woodstove, and much more.
There is a lot to take in with this volume. It is a perfect book for someone just starting out on their first homesteading or small-scale farming adventure, but also serves as a good, inspirational kick in the pants for those of us who've been on the path for a while—and who mistakenly think we know it all.

---
Read More:
---
| | |
| --- | --- |
| | Shannon Hayes writes, home-schools, and farms with her family from Sap Bush Hollow Farm in upstate New York. Her books include The Grassfed Gourment, Radical Homemakers, and Homespun Mom Comes Unraveled. |
---