Nurses' Unions Send Thousands to Climate March, Call Global Warming a "Health Care Emergency"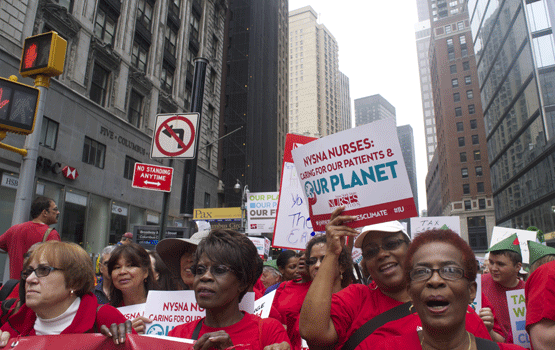 The nurses' unions focus on health gives them a unique perspective on climate change among organized labor.
Why you can trust us
---
This story is part of the Climate in Our Hands collaboration between Truthout and YES! Magazine.
When Hurricane Sandy hit New York's Bellevue Hospital and cut off its power, Anne Boyé, a registered nurse and president of the union's Health and Hospitals Corporation Executive Council, helped evacuate more than 740 patients.
Meanwhile, Judy Sheridan-Gonzalez and her team of nurses were walking door to door through the floods with flashlights on their heads, determined to find and save victims of the storm.
Climate change is a public health care emergency.
"The heroism that I saw among average people was extraordinary," said Sheridan-Gonzalez, president of the New York State Nurses' Association (NYSNA).
Some hurricane victims were left stranded in the city's high-rise buildings because, as Sheridan-Gonzalez says, "No one's going to get there."
But her nurses did. They walked through dark hallways, knocking on doors without knowing who—or what—lurked behind them. Sheridan-Gonzalez could hear dogs barking in some apartments. At some residences, her team was threatened with guns.
"Some people were desperate," she said.
While the connection between public health and climate change may seem abstract to some, Sheridan-Gonzalez sees it every day. Even when her city is not besieged by hurricanes, in the Bronx—where she works as an emergency room nurse at Montefiore Medical Center—pollution emitters like power plants, sludge processing facilities, and waste disposal industries contribute to the borough's consistently high asthma-related death rates.
These sites emit pollutants that not only hurt her patients' health, but the planet's health too. In fact, climate change is a public health care emergency, says Fernando Losada, director of environmental health and climate justice for National Nurses United (NNU).
That's why Losada and other nurses' union members showed up by the thousands at the People's Climate March in New York City September 21. Of the roughly 400,000 marchers, 5,000 were from United Healthcare Workers East (1199SEIU). Another 100 nurses showed up, from all around the United States, to represent NNU, a national union with about 185,000 members.
Jean Ross, one of three NNU presidents, came from Minnesota.
"This is just the beginning," she said. "This is going to be big, but it's going to get bigger and bigger." Organizers are looking for action from world leaders, not just talk, she told YES.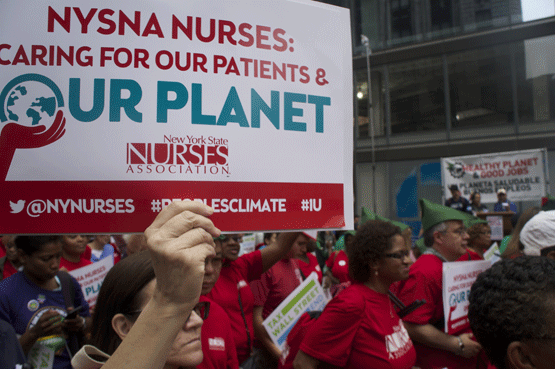 Photo by Yessenia Funes.
Nurses' concerns about climate change are rooted both in their history of organizing and in the effects they experience every day. So this relationship is only natural, said Chelsea Lyn-Rudder, 1199SEIU's press secretary.
Many union members are poor women of color who face environmental injustice in their daily lives. "We're looking at it as a social justice issue," Lyn-Rudder said.
The nurses provide a justice framework that enables other unions concerned about class issues to become involved, said Tammy Lewis, a professor of sociology at Brooklyn College who's studied the history of "blue-green alliances"—or partnerships between labor and environmental groups.
Climate impacts on human health
The alliance between labor unions and environmental advocacy is nearly as old as labor unions themselves. It began in the two decades following World War II. Until that time, unions had primarily focused on wages. But the focus shifted to health once union leaders and rank-and-file realized pollution could harm union members, their families, and their communities.
"Labor was interested in this early and from the perspective of the environmental impacts on human health," said Kenneth Gould, another professor of sociology at Brooklyn College who has worked with Lewis.
"The connection between public health and climate can never be separated because what is bad for the planet is bad for health."
These impacts on human health are already being noted—not only in communities like the Bronx but in extreme weather disasters many believe are exacerbated by climate change: Hurricane Sandy, Hurricane Katrina, and last year's Typhoon Haiyan in the Philippines. Nurses served on the front lines after each of these disasters.
For some labor unions, solidarity with environmental protections are not as straightforward. Many fear that environmental regulations will take workers' jobs away. Workers in the fossil fuel industry worry that transitioning into renewable energy will cost them their livelihoods.
"There will always be points of conflict between environmental protection and organized labor, especially as long as organized labor doesn't have control of production processes," Gould said.
But nurses' unions are the exception to that rule, Losada said. While some unions worry about losing jobs, Losada and other nurse union members worry about losing patients.
NYSNA and NNU now hold education programs on climate change for their members. "We're not just here to pressure and criticize," Losada said. "We're also here to offer solutions." For one, oil and coal workers should be the first ones to take new jobs in clean, sustainable energy, when that transition happens.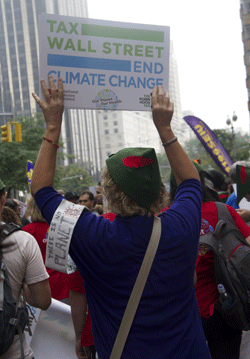 Photo by Yessenia Funes.
Another solution's been offered too: the Robin Hood Tax. Also known as a Financial Speculation Tax or Financial Transaction Tax, the Robin Hood Tax would place a tiny sales tax of less than half of 1 percent on Wall Street transactions. It's an idea that could generate $350 billion in revenue, according to estimates.
Bill Gallagher, the campaign coordinator and organizer for NNU, said this revenue can go toward addressing climate change and other effects of pollution. Treating asthma alone costs $56 billion a year. Moreover, air quality is expected to worsen—so the number of people with asthma will increase too.
On Sunday, nurses paraded through the streets, holding signs that read, "Tax Wall Street. End climate change." Members of several different unions expressed their support for a Robin Hood Tax by sporting green hats topped with the trademark single red feather.
Losada and Sheridan-Gonzalez marched among the array of red and green. It looked like Christmas—and sounded like it too. A hand drum echoed throughout the crowd as nurses sang, "Tell me what nurses stand for! Climate justice, climate justice!"
"The connection between public health and climate can never be separated because what is bad for the planet is bad for health," Gallagher said. "Period."