An Oasis of Community and Support for Latina Moms
In California, many Latina moms find themselves cut off by domestic responsibilities and language barriers. But with the help of trusted mentors, they're learning new skills and strengthening their support networks.
Why you can trust us
---
Maria Leon grew up in northern California as the child of a single mother who worked long hours and spoke little English. Back then, in the late 1980s and early 1990s, her hometown of Lincoln in Placer County had only a small Latino population, a demographic that has grown over the decades. She was often left alone, struggling with her anger. She got in fights, was defiant to authority figures, and regularly missed school.
"I got away with it because of the language barriers with my school and family," says Leon, now 35 years old. "I would have appreciated a mentor at that time."
Leon helps Latino parents leap daily hurdles and get more involved, both with society at large and with their own children.
Today, Leon herself is a mentor, or "promotora," and one of many in her community. These women, who now number ten in Placer County, form a new and crucial link between the Latino community and the broader society, which they had previously been separated from by barriers of language as well as by a lack of knowledge about how to interact with schools, hospitals, and other key institutions in the United States.
Because of the traditional role of women as caretakers in Latino communities, these mentors are primarily female. But there are three male mentors in the county who work specifically with boys and men.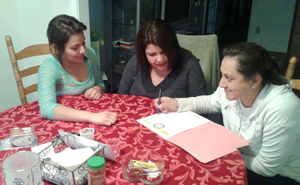 Maria Leon who works as a promotora for the Latino Leadership Council meets with client Delma Rodrigues and her daughter Vanessa Rodrigues in mid-February 2013. Photo courtesy Maria Leon.
Leon helps parents learn how to better engage with their children. A year ago, she began working with Latino girls 13 to 17 years old in Placer County. The problems she saw included lying, truancy, drug use, and early sexual activity. The parents knew about these behaviors, but said they felt unprepared to handle them. Some had difficulty communicating with law enforcement or school administrators because of language barriers. For others, fear over their citizenship status inhibited them from speaking up. As a promotora, Leon can help parents leap these hurdles and get more involved, both with society at large and with their own children.
She nudges the parents along. She urges them, for instance, to contact schools repeatedly until they reach a translator. She connects them to free county resources. She teaches them how to push for the well-being of their families.
"It's hard," she says. "Hopefully, one at a time, we can make it work out."
It's all about trust

About 18 years ago, a school psychologist in Placer County named Maria Cordova began noticing a trend in the local Spanish-speaking population: an increase in cases of domestic violence, feelings of isolation and depression, and mothers who lacked power. So, Cordova started a number of groups in which women provided emotional support to one another.
"Her intent was, how do we get these women—many of them immigrants—to learn about each other, support each other, because when they move here they become isolated," says Elisa Herrera, coordinator of the Latino Leadership Council, an organization formed in 2007 to assist underserved Spanish-speaking populations in Placer County. About 13 percent of the county's 350,000 residents are of Hispanic or Latino origin.
"We (later) asked the women, when they had a problem or a challenge, who did they call?" Herrera says. And they said that they called Maria Cordova.
The council labeled Cordova a promotora. "She said, 'What the heck is a promotora?'" recalls Herrera. A promotora, Spanish for "promoter," acts as a trained paraprofessional to help families navigate complicated social systems and access resources. Promotoras aren't unique to Placer County. Various social agencies throughout the United States use them, including the Migrant Clinicians Network based in Austin, Texas, and Planned Parenthood chapters. They typically focus on health issues.
Placer County's promotoras are managed by the Latino Leadership Council. Cordova helped develop the program and now serves as its manager, overseeing 13 trained participants. They are paid on a contract basis, and earn between $12 and $20 an hour depending on skill level.
The first and most important factor in selecting someone to train as a promotora is that she must be trusted in the community. "We hire for attitude and trust, and train for aptitude," Herrera says.
The promotoras undergo training on a regular basis, learning about topics such as health education, youth violence prevention, and how to deal with trauma. They learn when to refer a client to a licensed professional or other organization. The promotoras who work for the Latino Leadership Council recently received training from a clinical psychologist on setting boundaries.
Herrera says that promotoras sometimes want to do too much for families, and take full responsibility for their lives. "This training helped promotoras understand that they cannot work harder than their client does," she says. "They can help the client access medical help, for instance, but they must then teach the client how to go to a pharmacy to get a prescription filled, or learn how to call to make their medical appointments. They should not do those things for the client because (that) creates dependence."
Like what you're reading? YES! is nonprofit and relies on reader support.
Click here to chip in $5 or more to help us keep the inspiration coming.
Promotoras provide language translation, arrange transportation, act as liaisons, and work with youth and parents. They share vital information about health issues—Latinos are affected by diabetes and high blood pressure at a higher rate than whites—and connect people to primary care services so they no longer go the emergency room for non-emergency situations. They also host classes in Zumba, a Colombian workout style, where women go to dance and exercise, while learning about nutrition.
Using grants from Kaiser Permanente and the Sierra Health Foundation, promotoras in Placer County have collaborated with nursing students to conduct health screenings for Latino clients. Based on those results, the mentors set up the initial appointment, accompany the patient, help them understand doctor recommendations, and make sure they follow up on the advice. Herrera says this effort has been successful in improving the overall wellness of local Latinos.
Women becoming advocates
On a sunny January morning in the historic district of Roseville, a woman escorts her young children into a building where more than a dozen women sit around two large tables. Over the course of the next hour, the women will discuss their struggles with issues including domestic violence, their husbands' alcoholism, and argumentative teenaged children.
Cordova stands at the head of the table as she facilitates the weekly meetings. "Sometimes, when they come here, they don't even know what they need," she says, as the women assemble. "They just know something is lacking." The women range in age from early 20s to late 50s. Once a week, they come together to form a sisterhood.
Blanca Arciniega, 47, has been attending these meetings for 13 years. "I came here with a lot of fear, desperate and anxious for a way to escape," she says in Spanish. "Thank god I was invited here to this personal power group and thank god I've learned to value myself. … I'm learning to heal. My life has changed 100 percent."
As three of her kids sit giggling and snacking on cereal, Pastora Gonzalez, 33, talks about learning to release her stress, which has improved her relationship with her five young children. But she needs information on tenants' rights and how to access inexpensive legal services. Her husband was unfairly fired from his job, she believes.
As she describes what happened, many of the women nod. They attend the weekly meetings partly for an escape from domestic life—all of them raise their hands when asked if they become depressed when at home too much—but also for the friendships that form within the group.
"Helping each other is extremely important," says Marta Miramontes, who lost her young daughter to leukemia in October. Through her family's struggles, she became an advocate. When she learns something new, she shares the knowledge. When other mothers ask questions, she gives them advice. Despite not being formally trained as a promotora, she's one in spirit, and has become a leader among her peers.
"Marta not only found her voice," Cordova says with pride, "but she's a voice for the community."
---
Motivated by ancient traditions of female leadership as well as their need for improved legal rights, First Nations women are stepping to the forefront of the Idle No More movement.
In West Africa, women's resistance to the new Green Revolution shows that the question of agricultural sustainability is also a question of equality.
New findings explain how politics, economics, and ecology can help or hurt our bodies.