Students for Climate Justice: We're Not a Single-Issue Movement
The students organizing for climate justice on campuses today are drawing connections between the environment and social issues like debt, racism, and immigration.
Why you can trust us
---
The authors of this piece work with various groups organizing for divestment. Sachie Hopkins-Hayakawa is an organizer with Swarthmore Mountain Justice, Lauren Ressler is an organizer with Responsible Endowments Coalition, and Sally Bunner is a member of Earlham College's divestment group.

Hundreds of students across the country "marched forth" for climate justice yesterday. Actions took place on campuses nationwide, including a banner drop at Haverford College, marches through the snow at Syracuse University and Middlebury College, and petition-signing campaigns at Yale University and Mount Holyoke College.
This movement is a space where environmental justice, climate justice, and economic justice come into contact.
Surprisingly, Hampshire College president Jonathan Lash—whose institution has already pledged to divest from fossil fuels—snapped a photo with students as his first public endorsement of fossil-fuel divestment. In Lash's jacket pocket was the orange square that has emerged as the symbol of the movement.
In the last year, fossil fuel divestment campaigns have sprung up on more than 250 campuses in the United States. However, as we move forward, we are expanding our scope beyond divestment and taking strides toward a just and inclusive climate movement. This means learning from the histories of the communities that have been confronting the dirty energy industry for decades, building coalitions with those who are most impacted by the extraction and burning of fossil fuels, and fostering local acts of resistance and solidarity.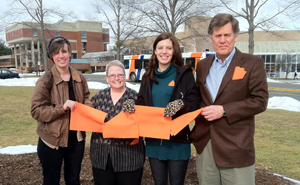 Jonathan Lash president of Hampshire College (pictured at right) poses for a photograph holding the orange square that has become the symbol of the divestment movement.
As students took action across the country yesterday, many of us wore orange squares pinned to our chests. We have chosen to wear this symbol in solidarity with other student-power movements internationally—most notably the Quebec Student Movement.
The red square of the Quebec Student Movement draws its origins from the French phrase "carrément dans le rouge," meaning "squarely in the red," and refers to the condition of students trapped by immense debt. During the massive strikes of 2005, in which roughly 80,000 students refrained from attending class at Quebec universities, students adopted it as their symbol, and so did the global student movement that was calling for access to free education.
Anthony Garoufalis-Auger, a student from Montreal's Concordia University, reflected that institutional memory is critical to building a lasting student movement. "Sharing this symbol and the story of how this has grown are deeply a part of building that," he said.
As students again marched through the streets of Quebec in 2012, businesses hung red squares in their front windows and many allies in the community wore them publicly. It is a powerful visibility tool that has become nearly ubiquitous in Canada, and is a demonstration of collective identity among students and their allies. Quebec students emphasize that it requires few resources to produce and is comprised of readily accessible materials. That being said, last year Quebec stores ran out of red fabric and cloth as the movement spread from classrooms to community spaces.
Because our movement is about climate change rather than debt, some might have expected us to choose a green square as our symbol. But we have chosen the color orange instead to reframe our movement's scope as larger than any environmental issue. This is not a single-issue movement. This is a space where environmental justice, climate justice, and economic justice have come into contact. We understand that we will not win the fight against the dirty energy industry without confronting racism, classism, sexism, homophobia, and other systems of oppression in our movement spaces. The climate movement is still a young movement, but we understand our historical responsibility and its global implications.
"When we talk about the 11 or so million people who are undocumented, we need to remember that they're mostly from the global south," journalist Aura Bogado said at last week's student divestment convergence, which was held at Swarthmore College. "They have been divested of their language, their land, their wealth, and their climate by the global north. Migration under those circumstances is normal. Global south migration to the global north is the direct consequence of climate debt."
We are stronger as a movement when we recognize and celebrate the breadth of identities among us. The future of all our communities is bound together; tackling a problem of this magnitude requires both reciprocal communication and collaborative action. We must create a culture that breaks down systems of oppression while building up our collective power.
If this symbol of the orange square resonates with you, we urge you to claim it as your own. However, we recognize that solidarity takes many forms and embrace other symbols that speak for climate justice. Come to this struggle as you are, and join us as we work to create a just and thriving future.