Teaching Emotions: A Different Approach to Ending School Violence
A growing network of programs is teaching kids how to understand and express their emotions. Among their results: decreased aggression and violence.
Why you can trust us
---
In the wake of the tragic shooting at Sandy Hook Elementary, the media has trumpeted the predictable calls for tighter gun controls and widespread speculation about the shooter's mental health. But those calling for change have done remarkably little soul-searching about the education system that allowed such a disturbed individual to wander through its hallways speaking little and avoiding eye contact, apparently completely ignored.
CASEL's ambitious agenda aims at nothing less than making Social and Emotional Learning an essential piece of every American child's basic education.
"He was very withdrawn," Tracy Dunn, 20, told USA Today of shooter Adam Lanza, with whom she graduated from Newtown High School. "He would always have his head down walking to class with his briefcase—kind of scurrying … He never sat down or said anything to kids at his locker. He was just there in the background."
Teachers and administrators must have noticed his unusual behavior. Perhaps some were even concerned. But in a school environment fixated on the acquisition of knowledge, young people's emotional wellbeing and social competence are too often overlooked.
"Maybe if someone had tried to reach out to Adam—maybe he needed a friend—maybe this wouldn't have happened," Dunn said. "He's just one kid who slipped through the cracks."
Closing up the cracks
"The cracks" have become all too familiar in our education system, in large part because our schools reflect our broader culture of competition, conflict, and obsession with quantifiable success.
As in our larger society, our children learn in school that being a good or kind person is not as important as being a smart or a winning one. They learn that knowing how to work with other people is not as important as coming up with the right answer oneself. There is no emphasis placed on developing the skills to identify emotions and seek help when they are overwhelming.
Could the tragedy at Sandy Hook have been prevented if Adam Lanza had grown up going to schools where he was encouraged to express his emotions and solve conflicts creatively—or better yet, trained and supported by his classmates and teachers to do so?
It is, of course, impossible to say, but it is not far fetched to posit that a broad-based intervention designed to reverse the problematic dynamic in our schools could shift their culture and reach their students in a deeper and more attentive way.
Social and emotional learning
Such an intervention is in fact currently underway in several school districts around the country. Social and Emotion Learning, or SEL, is an educational approach that strengthens students' ability to work effectively with others, build the skills to manage themselves, and work through conflict in constructive ways.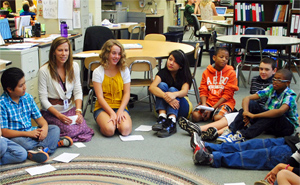 The Collaborative for Academic, Social, and Emotional Learning, or CASEL, a nonprofit organization, is helping eight major urban school districts implement SEL programs across all schools and grade levels as part of the Collaborating District Initiative. The initiative has been active for a year in Anchorage, Alaska; Austin, Texas; and Cleveland, Ohio, all three of which have installed SEL directors at the cabinet level or just below. Five other districts are in the first phase of the program: Chicago, Ill.; Oakland, Calif.; Sacramento, Calif.; Nashville, Tenn.; and the Washoe County School District, which covers Reno and Sparks, Nev., as well as surrounding areas.
Using techniques backed up by rigorous research in child development, teachers in SEL schools help students learn to recognize and manage their emotions; demonstrate care and concern for others; develop positive relationships; make good decisions; and behave ethically, respectfully, and responsibly.
"SEL helps young people with basic skills like expressing themselves in healthy and appropriate kinds of ways, and being able to listen to each other and be assertive without being aggressive," says Larry Dieringer, executive director of Educators for Social Responsibility, an organization that provides SEL curricula and assistance to schools.
Students in SEL programs have higher self-esteem, experience less depression, and exhibit less aggression than their peers who lack this training.
Joy Poole, a fifth grade teacher at St. Elmo Elementary in Austin, Texas, finds that the SEL programming she implements in class helps students identify and handle emotions such as anger and frustration. Her classroom's "peace corner" serves as a haven for students who need to collect themselves or talk to each other about how to resolve a conflict. Her students also relax with a "calm-down bottle" of glitter-filled water, which they can watch while they practice various techniques for quieting their emotions.
"A lot of times children aren't taught how to deal with their anger or their frustration," says Poole. "We're showing them a healthier way of dealing with their emotions."
Poole also teaches lessons on social and emotional topics. In a recent unit on empathy, students were presented with a scenario for which they had to identify the main character's problem, think about their own experiences of similar problems, consider how the character might feel, and role-play what they would do if they were in that person's shoes.
These lessons help kids learn about constructive ways of coping with difficult situations, a key part of which is making their feelings known while respecting the other people involved.
"It gives them a way to express their feelings to other people without escalating," says Poole. "They're learning they don't always have to get into fights, that that isn't always the solution."
Ultimately, she says, it's about empowering young people to help themselves: "We give back the responsibility to the students; we say, are you working on your problem?"
This type of training and the empowerment that comes along with it can radically alter students' feelings about themselves, their relationships with others, and their approach to school. Research demonstrates that SEL programs improve students' attitudes, behavior, and interpersonal communication; and decrease dangerous behavior like drug use and unsafe sex.
Notably, students in SEL programs have higher self-esteem, experience less depression and anxiety, and exhibit less disruptive and aggressive behavior than their peers who lack this training. And with these students less distracted and more engaged in school, they do better on their academics; they average 11 percentile points higher on standardized test scores than do students without SEL training.
Changing school culture
SEL curricula are based on a recognition that kids are growing emotionally and socially, as well as intellectually. In schools where these lessons and principles are integrated into daily life and institutional culture, teachers and administrators learn to approach students as whole people who need skills training and a supportive environment to truly flourish.
"Social and emotional learning is not only about helping young people learn new competencies," Dieringer says. "It's also about creating authentic settings where they can use those in a caring and respectful community."
Establishing safe spaces for kids to talk about what's on their minds and in their hearts is a central task at SEL-based schools. Dieringer notes that structured advisory programs in middle and high schools can be important tools for ensuring that students are seen, heard, and supported. Each student is assigned an adult advisor and a group of peers with whom to discuss issues outside of academic life.
"Young people should have an adult to turn to," he says. "And when something does happen—whether in school, in the community, or in the world—advisory is a place where young people can talk."
A school's adults not only guide students, but can also serve as models for the skills they aim to teach.
"Adults can demonstrate respect for self and others, the ability to problem-solve and mediate conflict in a peaceful way," says Libia Gil, Vice President for Practice and Knowledge Use at CASEL, which is working to advance the cause of instituting SEL standards and curricula in schools nationwide. "The adults are part of the culture-setting and are powerful models for kids."
CASEL's ambitious agenda aims at nothing less than making SEL an essential piece of every American child's basic education.
"If we have a complete system involved and it's aligned, that would help reduce the violence and disruptions we're faced with right now," says Gil.
This SEL-oriented way of doing business will eventually become standard at all schools in the eight districts that are currently implementing it. Putting SEL into practice in such a widespread manner, especially in major urban school districts, will allow CASEL to demonstrate the effectiveness of this approach in creating better learning environments, helping kids succeed in a variety of ways, and reducing problem behaviors.
Transforming negative feelings

While all students in these districts will benefit from SEL programming, the integrated nature of the Collaborating District Initiative increases the chances that students with potentially dangerous emotional problems will be identified and assisted before they spiral out of control.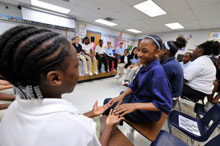 Can You Teach Emotional Intelligence?
The Secretary of Education isn't the only one who thinks so. Behind the growing movement for social and emotional learning.
Severe mental illness and its early manifestations cannot be handled and resolved through classroom-based intervention alone, but when adults are sensitive to students' needs and challenges—as they are in schools permeated by the culture of SEL—successful referrals are more likely, particularly as troubled children continue through the grade levels.
"Whether they are bullies or whether they perpetrate horrible things like what happened in Newtown, we hear about young people who don't really fit in, don't really belong," says Dieringer. "We often hear stories about how there were no adults who knew them well and were attentive to them."
When such students develop in an environment permeated by SEL concepts, emerging problems will never go ignored. And as these kids get the training and attention they need to thrive, their negative feelings can be transformed.
"The development of social and emotional competencies at a very young age gives people ways to express themselves, to connect with other people, and to feel like they belong," says Dieringer.
Gil agrees, noting that while SEL helps all students, those with special problems may find rare hope in the connected nature of environments based in this thinking.
"I would hope that the school culture based on SEL would catch students who are having problems and starting to fall through cracks," she says. "If they were taught the skills to ask for help, it could be self-initiated. But teachers might also say, 'Let's connect with the kids and check in on how they're doing.'"
If only someone had asked Adam Lanza.
---
Interested?
Unitierra has no classrooms, no teachers, and no formal curriculum. Yet the school has successfully helped local people learn practical skills for years.
Radical homemaker Shannon Hayes taught her daughter that their family doesn't buy things they can make or grow at home. She then had to wonder: Does that include higher education?
:
Meet our pick of organizations and strategies that foster life-long learning and personal growth while teaching age-old and brand-new skills.
---
| | |
| --- | --- |
| | Katherine Gustafson is a freelance writer and editor with a background in international nonprofit organizations. She is the author of Change Comes to Dinner: How Vertical Farmers, Urban Growers, and Other Innovators Are Revolutionizing How America Eats. |
---