Only 4 Percent of the Lowest-Wage Workers Get Paid Family Leave: Could a New Law Change This?
Many small businesses do want to give their workers paid time off to care for new babies and sick family members, but lack the means. How a new bill could make it possible.
Why you can trust us
---
"Our employees are like family." It's a sentiment employers often espouse—and some readers may dismiss it as a cliché: After all, many U.S. workers—particularly lower-wage workers—face dismal conditions, especially when it comes to policies that help them care for their families.
Few American workers are able to take paid leave when they must care for a sick family member or new baby; only 12 percent of private-sector workers currently have paid family leave, and a mere 4 percent of the lowest-wage workers have access to such leave. And the United States is now the only industrialized country that does not offer paid maternity leave.
But the reality is that many employers do want to treat their employees well—they simply find adequate benefits unaffordable.
A new federal bill, introduced today by Sen. Kirsten Gillibrand, D-N.Y., and Rep. Rosa DeLauro, D-Conn., aims to make it easier for employers to do right by their employees.
The Family and Medical Insurance Leave (FAMILY) Act would create a paid family and medical leave insurance program, enabling employees to take time to recover from serious illness, care for a sick loved one, or bond with a new child. The program, funded entirely by small contributions from employers and employees, provides up to 12 weeks of partially paid leave.
Here's how it would work: Under the FAMILY Act, both workers and employers would contribute a small amount from each paycheck to the insurance fund. The cost for a full-time, year-round worker making the median annual income would be $1.68 per week, about the same as a cup of coffee.
A new Office of Paid Family and Medical Leave would administer the fund. Employee and employer contributions would fully cover benefits and administration. During leave, workers would get up to 66 percent of their monthly wages, capped at $4,000 per month in the first year. Almost all workers and employers would be covered and required to contribute.
Because it creates a pool of funds to support the program, the FAMILY Act would make the cost to employers of offering this important benefit significantly lower than if they were to provide it on their own—something that is out of reach for many small employers.
Like what you're reading? YES! is nonprofit and relies on reader support.
Click here to chip in $5 or more to help us keep the inspiration coming.
The FAMILY Act builds on the success of state-level family leave insurance programs, like those in California and New Jersey. Rhode Island also recently passed a family leave insurance law.
In California, nine out of ten employers report positive or no effects of paid family leave on business operations. And 91 percent of workers in low-wage jobs who used paid leave say it helped them to better care for a new child. Given their experience, it's not surprising that California employers are also speaking out in favor of the FAMILY Act.
Many employers across the rest of the country are also supportive. To Rob Everts, co-executive director of Massachusetts-based Equal Exchange, this bill is about seeing employees as "human beings, who have human needs." He says the FAMILY ACT will "give companies the capacity to treat their employees right—and ultimately, to build better businesses."
For workers, the passage of the law could mean no longer having to choose between the health of one's family and paying the bills. Particularly for the most vulnerable workers—those in lower-wage jobs who are most likely to lack any paid leave—the FAMILY Act would be an important step toward remedying inequalities. It would address health disparities, help give children from all socioeconomic backgrounds the best start possible, and alleviate the financial and personal stress of caring for an older relative.
The owner of Bluebottle Coffee Company, James Freeman, explains: "I know I want [paid leave] for my own family … [and] … my 225 employees should have this chance to care for their families, too."
Opponents of the bill worry that in this tough economy, requiring businesses to contribute to a family and medical leave insurance program is inappropriate. However, employers' contributions amount to less than 0.02 percent of payroll—a small price to pay for a program that would help boost loyalty and employee retention, lowering the significant costs of turnover.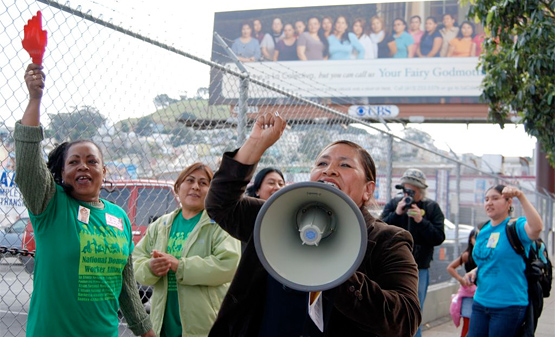 How Domestic Workers Won Their Rights: 5 Big Lessons
Indeed, the costs are so minimal and the benefits so compelling that, according to a recent poll from Small Business Majority, a plurality of small business owners from across the country support a program like the one proposed under FAMILY.
Paid family and medical leave is long overdue in this country. The FAMILY Act comes at a time when workers need the economic security of paid leave more than ever. And many business owners are embracing the model wholeheartedly. That's because, by and large, employers do want to be both profitable and fair, ensuring their most valuable resources—their employees—are well cared for. Sometimes it's a heavy lift to reconcile both goals. But if passed, the FAMILY Act will significantly reduce the barriers to doing so.
---
More Stories