400,000 Harry Potter Fans—and J.K. Rowling—Just Won a Deal to Get Child Labor Out of Chocolate
Harry Potter stood up for his world's most vulnerable people. Now, legions of real-world kids are too—by demanding Fair Trade certification for products sold in their hero's name.
Why you can trust us
---
You can now eat your Chocolate Frogs without the guilt.
Today, Warner Bros. Entertainment Inc., producer of eight Harry Potter films (with three spin-offs in the works), has announced plans to source Harry Potter-related chocolate products, like the magic frogs inspired by the books, from certified Fair Trade or 100 percent UTZ Certified cocoa.
The announcement comes after a four-year campaign by the fan activist group the Harry Potter Alliance (HPA), anti-slavery activists, and even Harry Potter author J.K. Rowling herself, to convince the studio to stop buying cocoa from a company called Behr's Chocolate, which has a poor record on human rights and child labor.
After years of pressure, Warner Bros. announced that by the end of 2015, "and sooner when possible," all Harry Potter chocolate products sold at Warner Bros. outlets or their licensed partners will be ethically sourced.
The success is just the latest for the HPA, a group that mobilizes fans to follow the lead of their fictional hero and enact change in the world.
"This is a validation of fan activism, the idea that fans of stories can work together to effect change in the real world."
Rowling's Harry Potter fought against Lord Voldemort and the evils he represented, like fascism, tyranny, and slavery. But he also stood up for vulnerable people who needed looking out for. For years, the HPA has helped fans focus that moral lens on the violence and abuses of their own world, big and small. In 2010, they raised more than $120,000 to send relief planes to Haiti after the earthquake. They have also collected more than 200,000 books to stock libraries around the world, and called out extreme economic inequality. For legions of followers inspired by Harry's integrity, buying cocoa produced in exploitation and slapping a Harry Potter label on it was intolerable.
Raising money and donations is critical work for any organization. But changing corporate policy and ending support for forced labor? That's another, more difficult assignment.
Henry Jenkins, a media scholar who coined the term "fan activism," said the win was "without precedent."
"I have not located any examples of organizations able to sustain the level of activity the HPA has, over such an extended period of time, on multiple fronts, and to achieve such clear and unambiguous successes in terms of the goals they have set for themselves," he told Lauren Bird, a representative of the HPA.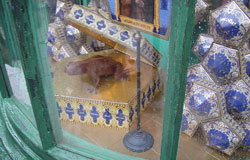 Chocolate frogs like this one in the Honeydukes window will be Fair Trade certified by the end of 2015. Photo by Pop Culture Geek.
To accomplish their goal, The HPA partnered with Walk Free, an international organization dedicated to ending modern slavery. The two groups met with Warner Bros. executives, and delivered a petition with more than 400,000 signatures asking the studio to end contracts with cocoa-producing businesses that don't protect workers' human rights.
"This goes beyond raising money and donating books," Bird told me in an email. "This is over four years of creative organizing, educating, collaborating, and negotiating. For the HPA, this is a validation of fan activism, the idea that fans of stories can work together to effect change in the real world."
While this single change is not likely to change the lives of many cocoa farmers directly ("Harry Potter chocolate is not a huge market," Bird admitted), Bird said that small victories can pave the way to larger ones.
"Given the popularity of Harry Potter, we have a real chance to see a domino effect with other companies feeling pressure to follow suit," Bird told me. "It is our hope that other major corporations look to Warner Bros. and take their lead in establishing better ethical sourcing practices … we may yet see a real improvement in the cocoa industry and the lives of cocoa workers."
For more on how the campaign went down, keep reading.
---