Is the Maker Movement About Hacking Society—Or Just Hardware?
I've never been a particularly tech-savvy person. I'm the one who accidentally lets sand get into my digital camera while sunbathing by Lake Michigan, and only learned enough HTML to make my own Myspace background, back when that was cool. I enjoy using tech, but if I say I can figure out your electronics problems, you probably shouldn't trust me.
If a 7-year-old could do this, I told myself, so could I. But looking at the directions, I became a tad intimidated by the circuitry involved.
As I got thinking, maybe it's not just about me. When the sand got stuck in the lens of my camera, I dug through my dad's tools to find the tiny screwdrivers I needed to unveil its inner workings. I looked at all the pieces of hardware that made it work, amazed and a little intimidated. Not knowing where to go from there, I brought the camera to my dad, who told me a little angrily to put it back together and that he'd fix it later.
I know my dad wanted to ensure that my 8-month-old Christmas present would still function, but that moment had taken with it a little bit of my confidence about technology. But I know I'm not the only one.
Taking things apart and putting them back together, after all, is a core activity of the maker movement, which commentators have hailed as everything from the face of America's new industrial revolution to a force unleashing a new era of small businesses.
That's great, but where do we start? How are people like me, who've never been particularly techie, supposed to join in? And what if the "hackerspaces"—the central institutions of the maker movement, where makers gather to build, collaborate, and learn—tend to be dominated by white guys whose first reaction to someone new is, "Here, I'll do it for you"?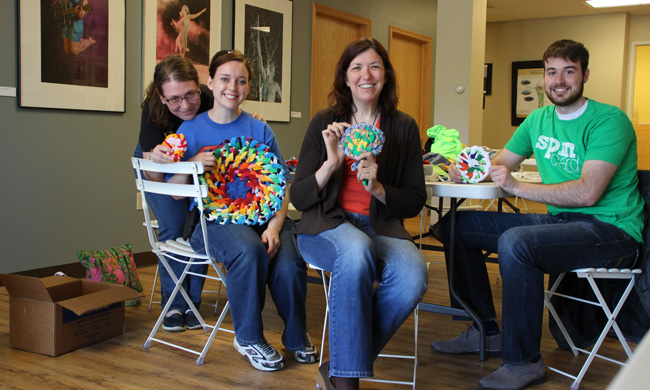 A workshop in creating trivets from T-shirt fabric hosted by Hackergals in Kalamazoo Michigan. Photo courtesy of Hackergals.
These are a few of the questions that have led to the new, specifically feminist breed of hackerspaces. The most well-known have popped up in West Coast cities like San Francisco and Seattle, but are also scattered throughout the U.S. and Canada. And along with changing who participates, they're changing what it means to be a "maker" or a "hacker."
Many of us have a particular image of what a hacker is: a person hunched over a computer, coding furiously and breaking into all kinds of digital property, and popular culture has reinforced this in movies like The Matrix, The Girl with the Dragon Tattoo, and MTV's new television series Eye Candy. But at the feminist hackerspaces I visited or contacted for this story, I found people less interested in digital trespassing than in developing a safe community for experimenting, creating, and collaborating on anything from soldering to sewing to encrypting.
Take Seattle Attic, housed near the city's waterfront. Audra Johnson, a longtime member, said the group based the name around the image of a grandmother's attic, where "you find all the cool things." They wanted a name that wasn't explicitly feminist and would attract members based on the accessible space and tools, Johnson said. On any given day, members can access the space with a key they receive after paying their first set of dues. They can be seen spinning yarn at the folding tables, creating computer games, designing and sewing extravagant dresses, building robots, or even lounging on the couch reading novels or how-tos grabbed from the Attic's extensive library.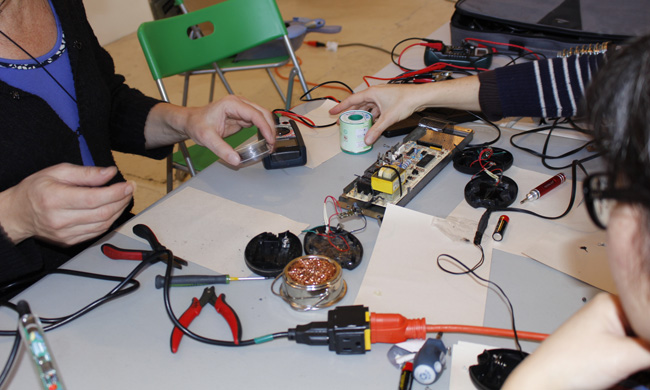 Photo courtesy of FemHack. Taken by Deborah VanSlet for The HTMlles 11 Studio XX 2014.
My first visit to the space was during its weekly Tuesday night open house. To my surprise, it was a small turnout—just me. Member Ann Park apologized for not getting around to making cookies and asked what I wanted to work on. When I said I wasn't sure, she dug out a kit for a homemade greeting card with embedded blinky LEDs—an activity she was planning to also do with her niece and nephew that weekend. If a 7-year-old could do this, I told myself, so could I. But looking at the directions, I became a tad intimidated by the circuitry involved. I began with what felt comfortable, cutting a silhouette of a tree out of black cardstock, poking holes where the LEDs would shine through, and dotting silver glitter glue as part of the star-filled sky.
When it was time for the part I was less experienced with—the circuit making—Park guided me as I stuck conductive tape to the paper, attached LED stickers, and connected a battery to power the lights. When everything was done … it didn't work! Then we experimented with conductive paint as an alternative until we succeeded at getting the LEDs to blink.
Hacking beyond computers
My first experience in a hackerspace was inviting, supportive, and constructive. But after talking to founding members of places like Seattle Attic, I learned that their introductions were less welcoming.
Canadian Sophie Toupin remembered her father bringing a thick laptop home from work every weekend and encouraging his daughters to learn how to type. As an adult, she wanted to find a community where she could learn, work, and collaborate with other people interested in technology. When she found FouLab, a hackerspace in Montreal, she decided to visit an open house.
"I just stepped in, and there were a few glimpses," Toupin recounted. "They looked at me and continued to work on their computer. So I was like, 'Hmm, what do I do? Awkward.'"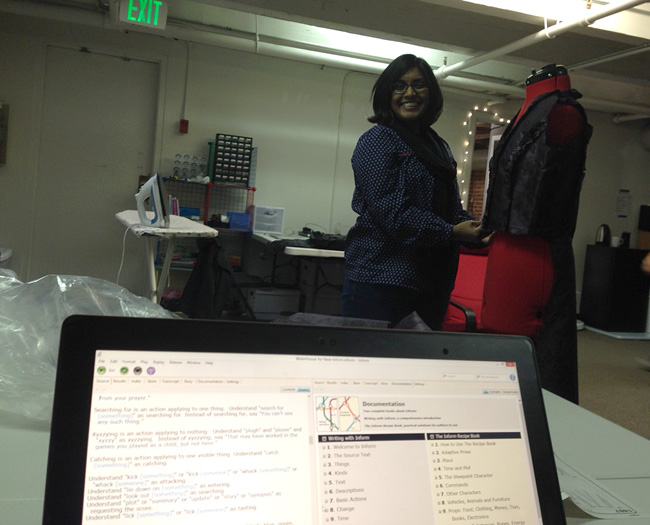 Vijeta Patel crafting a dress while Jacqueline Ashwell codes a computer game on her computer. Photo taken by Jacqueline Ashwell.

Despite the underwhelming first impression, Toupin became involved with FouLab, which fulfilled her yearning to interact with peers in technology and also gave her access to the tools of the trade, which FouLab members shared. However, out of the roughly 60 participants in FouLab at that time, Toupin did not become an official member, and neither did six of the seven others who identified as women or queer. She said that most of the participants were white men.
Toupin knew FouLab wasn't perfect, but she felt like she belonged there and tried to change the culture by discussing issues, especially those pertaining to the needs of women and other minorities in the space. She said that members responded with resistance. After a few years, she and a few others were still feeling isolated, so they decided to create their own hackerspace.
The project they created was FemHack, originally known as FouFem. Toupin describes FemHack's work as twofold: Its members explore and learn about technology, but they also emphasize the connections between technology and social change. Toupin tries to make it a priority for the members of FemHack to be aware of all types of oppression—including class, gender, age, ability, race, and ethnicity—and she recruits new members with these values in mind.
Taking things apart and putting them back together, after all, is a core activity of the maker movement.
With the majority of Femhack's members in their 20s and 30s, leaders saw a need to expand diversity in age. Members now range from 10 to over 60 years old, and both young and old have conducted workshops: Three women over the age of 60 will be teaching members how to encrypt communications, which they learned working in conflict and post-conflict zones, while a young girl recently gave a workshop about bracelet making.
As Toupin wrote in a special issue of the Feminist Journal of Art and Digital Culture, the burden of educating about oppression tends to fall on the people who experience it:
The notion that one does not need to talk about gender, race, sexual orientation, class, etc. because what matters is how well you can hack largely disregards privileges that people have in society and constitutes part of the explanation for why there are so few women, queers, and people of color in hackerspaces.
Thinking about oppression wasn't necessarily what hacking meant to the members of FouLab, but the founders of FemHack wanted to expand the definition of hacking beyond computers. Yet Toupin said her group retains friendly relations with FouLab.
"I think we succeeded in creating our own hackerspace without alienating ourselves from the existing mainstream regular hackerspace," Toupin said. "That was very important for us, to keep a good relationship, because we saw our endeavor not necessarily as in a position to replace other hackerspaces, but rather as a supplement."
Building a safe place to build, learn, and tinker
While Montreal's feminist and traditional hackerspaces retain good relations, women in the larger technology scene have complained about harassment. In feminist newsletters and online spaces like geekfeminism.org, members of the hacker community described incidents ranging from insults to sexual assault. One "timeline of incidents" marks 1963 as the first case of sexism in geek culture.
Although setting up rules to prevent harassment might seem like a good solution, not everybody talks about the problem in the same terms. A 2013 thread in hackerspaces.org asked why women didn't participate in hackerspaces in larger numbers. A Baltimore man responded in a comment:
If a hackerspace has one female and she wants more females in the hackerspace, then she should start a campaign to find more females. It could be that she hosts a class about e-textiles or whatever it is females like to talk about.
Many were offended, including Liz Henry, president of the San Francisco feminist hackerspace Double Union, not just because it implied that women are only interested in clothing, but because it bundled "females" together into a single category. When harassment is combined with that type of conversation, some in the feminist hackerspace movement—including the leadership of Double Union—have decided to limit men's participation.
The founders of FemHack wanted to expand the definition of hacking beyond computers.
Toupin said she understands that decision. "If you have been harassed or experienced groping or sexual harassment and have a number of people that have experienced that," she said, "I'm not going to criticize that. I respect that."
But women aren't the only ones who have felt marginalized and isolated at mainstream hackerspaces. Many men have also found the culture exclusionary or aggressive and are also also seeking safer spaces.
Jason Wodicka went to a mainstream hackerspace before becoming a member of Seattle Attic, but said he didn't feel comfortable. What he described as "bro culture" permeated the space, making him feel he might be criticized if he didn't act like he knew everything about his craft. Wodicka wanted a place where he could ask questions safely.
Cross stitched cat medallion with light up eyes. Photo is taken by Wing L. Mui.
"I'd hung out at other places, [but] it was not a comfortable space to learn in," Wodicka said. "There are a lot of things I'm bad at. I'd probably guess there are infinitely things I'm bad at, and a small amount of things I'm good at."
Maker and hackerspaces are meant to be places to build, tinker, and fix things, but that process won't flourish without a friendly, inclusive environment. As I sat around the folding table with members of Seattle Attic, it seemed to me that they had achieved the safe, welcoming community they wanted to build. I didn't feel out of place, but a part of their group. And I had a feeling that if I asked one of them to help me get sand out of my camera, they wouldn't hesitate.
Correction: A previous version of this article mistakenly implied a source's sexual orientation.