Armenia's Genocide Began 100 Years Ago Today. Here's How the World Remembered It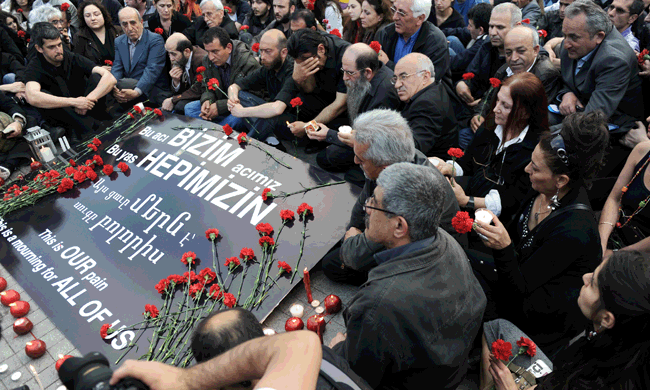 One hundred years ago today, the Turkish government ordered the arrest of more than 200 Armenian intellectuals. The event marked the beginning of an eight-year effort to push Armenians off the lands of the Ottoman Empire through deportation, massacres, and death marches. Of the 2 million Armenians residing there at the time, an estimated 1.5 million were killed.
1915 is not something Armenians are not allowed to forget.
My great-grandfather came to New York in 1922 after his family was murdered and he had grown too old to remain in an orphanage in nearby Mosul, Iraq. New York is where he met his wife, also an orphan of the genocide.
Each of my other great-grandparents were either killed during the genocide or driven from their homes to nearby Syria and Lebanon.
1915 is not something Armenians are allowed to forget. We grow up with bedtime stories about the desperate things our great-uncles did when they were sent into the desert without food or water; great-grandfathers who hid in cupboards to avoid execution; and babies who died in basements so Turkish soldiers wouldn't hear their cries.
It's a day that has been on my mind for the past few weeks, with family and friends flooding my social media accounts with pictures, quotes, and petitions in commemoration. Yet when I turn away from my tight-knit Armenian social circle, I find myself having to explain to people that, yes, this atrocity actually happened. It was a precursor to the Holocaust and led to a mass migration that created vibrant Armenian communities around the United States and the world.
Top left: Armenian families in a refugee camp in Dec. 1920. After WW1 was over the Turks Russians and Armenians were still fighting displacing many Armenians. From Shutterstock.
Top Right: Armenians deported in Turkey. Photo courtesy of Narek / Flickr.
Bottom left: Armenian orphans being deported from Turkey. Ca. 1920. From Shutterstock.
Bottom right: Remnant of Armenian family during the WW1 era Genocide. Ca. 1915-19. From Shutterstock.
The issue has been—and, for many of us, remains—recognition. Turkey denies that its actions constituted genocide. And many other countries, including the United States, also refuse to fully recognize what happened. Just yesterday President Obama released a statement calling "the events of 1915" a "tragedy," a "massacre" and a "deportation." The word "genocide" was conspicuously left out.
In all, 23 countries have rallied behind Armenians by officially recognizing what happened 100 years ago as genocide. Argentina and Russia, two countries with large Armenian populations, are among them. France went further and passed a law that made it a crime punishable by imprisonment to deny the reality of the Armenian genocide or the Holocaust (a law that was repealed after the Charlie Hebdo tragedy because it was seen as a violation of free speech).
In the weeks leading up to the centennial anniversary, people around the world have made major efforts to bring attention to it. Pope Francis formally recognized the events as "the first genocide of the 20th century." The Kardashians brought the paparazzi with them when they went to visit the official memorial in Yerevan.
Today, I came to work like it was a regular Friday. I'm far from my home in Los Angeles, where friends and family march in remembrance, but it does feel good to see that they and the rest of the world have not forgotten.
Here are a few examples of what demonstrators around the world are saying on social media:
Beirut right now. #ArmenianGenocide. pic.twitter.com/nog17VgRc6

— Lina Arabi (@FSACrimes2) April 24, 2015
Eiffel Tower to go dark on April 24 in memory of #ArmenianGenocide victims. #Turkeyfailed pic.twitter.com/aIwSurojXv

— Armenian Genocide (@Genocideof1915) April 21, 2015
Armenians and Turks join to commemorate the victims of the #ArmenianGenocide on a major Istanbul street. pic.twitter.com/MhMYeJL3Dr

— Hrag (@hragv) April 24, 2015
Iranian Armenians march to mark #ArmenianGenocide, gather in front of Turkish embassy in Tehran to protest pic.twitter.com/zU1JAlglH1

— Sobhan Hassanvand (@Hassanvand) April 24, 2015
The historic #ArmenianGenocide Centennial #MarchForJustice in #LosAngeles from the skies. #Proud pic.twitter.com/3F3xNoNzeu

— Shant Sahakian (@ShantSahakian) April 24, 2015