In a Place Where Teaching Girls Can Get You Poisoned, This Afghan Woman Got Men on Her Side
In 2008, when Razia Jan built a school for girls in the rural village of Deh'Subz in Afghanistan, she faced several problems at once: the looming threat of violence, a pervasive culture of female oppression, and the stubborn opposition of many of the village's male elders. These problems had grown worse since the Taliban gained power in this village about 30 miles north of Kabul, the nation's capital city.
Jan knew she had to find creative ways of changing people's minds. She came up with an idea: During the first week of school, each girl would learn to write her father's name.
For the fathers, that changed everything. Jan, who spent more than 30 years in the United States, remembers their reactions. "I swear to God, the guy was crying. He said, 'I don't know how to write my name. I put my thumb on everything. And my 4-year-old girl knows how to write my name.'"
Jan has achieved a rare victory.
Gradually, Jan has achieved a rare victory: She has won over a suspicious, fearful community and built the strong base of support required for her school, the Zabuli Education Center, to thrive. She has managed to both directly challenge the men in power—to show them what a determined woman can do—but, more importantly, to invite their input and participation, to bring them along in the process. As a result, the residents of Deh'Subz now feel personally invested in the school, even proud. Many of these men—who at first could not look her, a woman, in the eye—now meet her gaze.
The Zabuli Education Center is by all measures a phenomenal success, serving 500 girls from kindergarten through 12th grade. It boasts a 96 percent retention rate, unheard of in a country where half of all girls are married or engaged by age 12. It's also free, which is unusual and necessary when 75 percent of students come from families that earn less than $1 a day.
Now, Jan faces a new challenge, a uniquely Afghan glass ceiling. Her first class will be graduating in 2016, but they have nowhere to go to continue their education. So Jan has launched a new project: She's raising money to build the first rural women's college in Afghanistan.
The idea of a women's college is fairly radical today—but when Jan was growing up in Afghanistan, it wouldn't have been so rare. "Boys and girls were treated the same," she says. "We went to school, we could go on bike rides, wear a skirt—we never covered our heads."
All that changed when the Taliban took power. Girls' education was forbidden, as was leaving the house without a male relative—or a burqa. The average age for marriage plummeted. Jan had been living in Massachusetts since 1970; when she visited Afghanistan for the first time after 9/11, she was horrified at how girls and women were treated. She subsequently returned to her home country and began working to empower women; in 2008, she opened the Zabuli Education Center.
The year the school opened, there were 670 separate attacks on education targets—arson, grenades, poison gas, killings of teachers and students. Jan was terrified that her school would end up on the list. But so far, with the community's protection, the school has never been attacked.
Despite ongoing instability in Jan's home country, and uncertainty about its political future, her school—and now, the college project—is dramatically changing the way girls are valued in this rural village.
"It's something new," Jan says. "This is like a tree or a bush, and it has now flowered. And we have to take care of it and make sure that these flowers don't die."
---
Everything changed when the Taliban took power.
I first heard about her story through my partner, radio producer Nathan Tobey. He has been assisting with the fundraising effort to build the college, led by Principle Pictures, which is also producing a documentary about the school. Nathan would talk to me about Jan's story over dinner, and I began thinking of connections between her work and the stories of community organizers I'd met in places like Appalachia or South Dakota, who face similarly entrenched local opposition.
Recently, Nathan and I interviewed Jan about her experiences working with a deeply conservative Afghan community. This interview has been lightly edited.
---
Tobey: Tell me about the beginnings of the first school, back in 2008. Building a school for girls was a pretty unpopular—not to mention risky—proposition, right?
Jan: The first day that I stood on this land, it was full of filth and plastic bags. I was waiting for an engineer, and it was January and I was freezing to death. So many men came through, and they said—not looking at me, of course—"But sister, what are you doing here? Why don't you go inside? You can sit in my home with my wife and have a cup of tea, and we'll wait for the engineer instead." And every time I said, "No, I have to be here." And eventually they understood.
With the Rotary Club's help, we raised money and built this school. But there was a lot of difficulty, a lot of opposition from the community. Not in a violent way, but verbal—they really wanted a boys' school rather than a girls' school.
Moe: Where did you encounter the most opposition?
Jan: From the men in the community, some of the elders. I remember the first time I went to a meeting of the whole community about purchasing the land for the school. We had been given land, but we needed to purchase the property next door. Otherwise, it was just too small.
I think it was 30 men, and they had already decided how much I was going to pay for it. And they pretended that they were doing me a favor! So I had to face these men who were trying to charge me at least twice as much as the property would normally cost. If I challenged them, they would lose face in the community.
But I didn't want to blow up the opportunity of having this. So I said fine. I just didn't want to lose the first step. We couldn't build the school if we didn't get that property next door.
But as time passed by, I got more support. Every year it got better.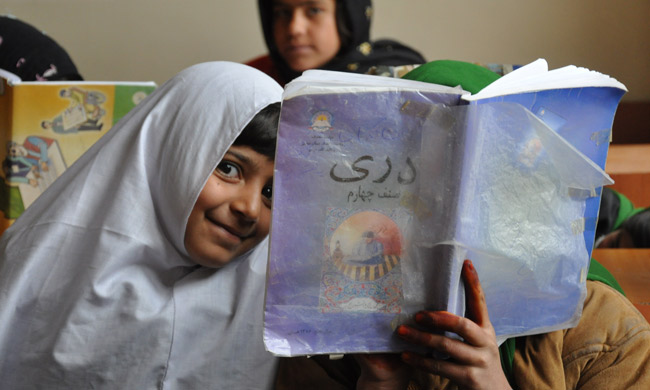 Girls study their books at Zabuli. Photo courtesy of Beth Murphy / Principle Pictures
I was really determined to do something for women and girls. I'm very different from most people in Deh'Subz; I was not from the community, I was a stranger, and I was a woman taking charge of things. In that culture it would have never happened.
The same day we opened, there was a grenade attack in a school on the other side of Kabul. Kids were playing outside, like our kids do, in the playground. And somebody was passing through and he threw hand grenades—one, two, three, four, as many as he had. He killed 100 girls.
I was scared to death.
This was eight years ago. And the Taliban have killed so many kids.
Tobey: Yes, I've read about that—gas attacks, acid, grenades. Are you still afraid that these things might happen? How do you protect yourselves now?
Jan: If I'm there, I drink the water from the well before the students do and make sure it's not poisoned. If I'm not there, the principal does, or an administrator. We wait 10 minutes, and if it's OK, we fill the coolers and take the water to the classrooms. And we check each classroom early in the morning to see that there's no gas, that nobody's poisoned the rooms. Each room is searched.
I also keep a low profile in Afghanistan. In these eight years, I haven't spoken to one person in Afghanistan about the school. We search the girls too. Somebody might throw a hand grenade inside someone's backpack. But the shop owners and the people in this village, they protect us. They keep an eye out—because they all have kids who go to the school. Whenever a stranger comes into Deh'Subz, the shop owners all keep an eye on them, they ask where they are going, and someone will make sure that they get there, or that they leave. And we have security guards, both in the day and in the night.
Moe: What about the publicity around the fundraiser?
Jan: Well, in the U.S. it's OK. But in Afghanistan I don't want to tell anyone because I am just so scared.
Tobey: This was the first girls' school in that region. It represents a huge cultural shift—I mean, when you invest in a girl's education, you're endorsing the idea that she has value in society. How have these girls dealt with it?
Jan: Our biggest success story is Rahila, who is 23 or 24. Her father wanted her to get married to a man who was 70 years old. This girl fought with her father for six months. They threw hot tea on her, and she got burned. They slapped her so that she had to wear a neck collar for months. They broke her ribs; she came to school and couldn't sit in a chair.
We asked her what happened, and she said, "I fell from a chair." I said, "You don't have a chair at home. What happened?" She didn't have any answer.
But we were there to support her. After six months, the father gave in. So that girl is in the 11th grade, and next year she is going to graduate.
There was another girl who was a very smart student. But one day her father said, "I've given you to my nephew." So she tried to commit suicide. She ate rat poison.
She's been very vocal about her hardship. These are amazing young women.
But we found out, and her family took her to a clinic and decided that they would wait until she was old enough to decide when she wants to get married. Since then, she's been very vocal about her hardship. These are amazing young women.
Moe: How did you deal with the community members who were initially so against the idea of having a school for girls?
Jan: Every three months I ask these men to come—the mayor, the malik [or leader], the person from the mosque, and the family elders and the grandfathers. I meet with them to ask their opinions. In the beginning, they were not used to having a woman speak to them like that.
If I have to be harsh with them, I will be. If I have to be soft, I will be.
Tobey: How do you build community support and create a sense of investment in a place where people are fundamentally against what you're doing? Do you have advice for people who are starting something in a place where their views are unpopular?
Jan: These are conservative people. But they're not violent, and they respect people—some of them are even educated, maybe sixth grade. Those men didn't want the school because they just weren't sure. You have to understand where they're coming from: Their daughters have never stepped out of the house. And now they're walking on the street, and they come to school. So it's something that grew slowly, slowly, building trust.
They realized that what we are giving these girls is good for the whole family. Before, when they got letters in the mail, or when they got a prescription from the doctor, they had to go door to door to find somebody who could read. Now they have their own person at home.
There's also a madrassa, a boys' school, across the street. The madrassa had nothing, and when we opened our school, our kids had everything. So we bought books and water coolers for the madrassa too, to show that we are here to support the education of all children. I didn't want anybody feeling like we don't care. It's a way to keep the peace—and to protect our girls.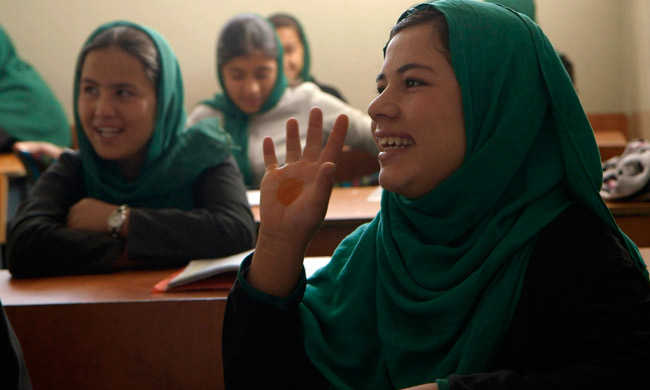 Girls participate in class at Zabuli. Photo courtesy of Beth Murphy / Principle Pictures
Moe: It seems like you showed these men, in concrete ways, that this education was beneficial for them too.
Jan: I think so. And in every meeting that I have with them, I always ask their concerns. I always ask if there's anything we are doing that they don't like, and we'll try to correct it.
I think communication is the best part. It doesn't matter how illiterate people are. When you communicate with each other, you have a much better chance.
Moe: When did you have the idea for the new college?
Jan: One day these seven girls asked me, "Razia Jan, what will happen after we finish 12th grade?" And of course, without even thinking, I said, "Well, we are going to build you a college next door."
So the college will offer courses in education, health services, and office administration. But it will also have a medical clinic, which is important because Deh'Subz has no hospital. And it's not just these seven girls who will go, but 25 others from neighboring villages who have heard about it and want to take advantage of this institute.
If we provide this education, these girls can become professionals. They can get married, but they'll have that knowledge they need to earn money to make their lives better, their families' lives better. And they'll be treated very differently.
Men were saying this was the best thing to happen to our daughters. They were proud.
Moe: What changes have you seen in the eight years the school has been open?
Jan: When the filmmaker Beth Murphy came in 2009, she filmed these men saying that they didn't want the school. When she came again in 2014, these men were saying that this was the best thing that has happened to our daughters, and they were so proud.
So I have the backing of the whole community. Yes, of course, some people might resist. But the men are coming with their kids.
I have three girls from the school who got married. And just recently their husbands, young men, brought their wives and said, "We are married, but can she still continue her education?" It's a great change—for a young man to have the guts to bring his new wife. That's a great, great step.