I Learned More by Leading a Student-Debt Strike Than I Did at College
Five years ago, I was lying around the house watching Maury when a commercial for Everest College came on. I can still see the woman on my TV screen telling me how I could get a degree and go to work at the same time.
I was lying around the house watching Maury when a commercial for Everest College came on.
I was already thinking about applying to college. It had been two years since my family and I had left my hometown in Missouri and moved to Los Angeles. I had dreams of becoming a successful musician, and after watching a reality show about Cheyenne Kimball, a 16-year-old girl who moved to Hollywood and released a successful album, I became obsessed. I'd been singing and writing music for a long time. I figured if she could do it, so could I.
My mom saw my determination, and wanted to help me live out my dream. So a week before I turned 18, just shy of a high school diploma, my mom sold our house, uprooted our family, and moved us out to California. Although she was incredibly supportive she made one thing very clear: I had two years to make something major happen before I had to go back to school.
Two years went by. I had garnered some attention from successful people in the entertainment industry, but I wasn't an overnight success. I didn't have a hit reality TV show. I didn't have an album deal. I knew I wanted more. And my mom's time limit was up.
Also, music wasn't making me much money. I had to work at fast food restaurants like McDonalds and Carl's Jr. to pay my bills. I was sick of it. I wanted a career. I dreamed of starting my own business helping kids connect with music. So when the woman on the Everest commercial said enrolling would help me live up to my potential, I picked up the phone and gave them a call.
What began as a daytime TV impulse became serious really quickly. When I called I was transferred to an admission representative in my area and we spoke for more than 45 minutes. She told me all about the classes Everest offered, the network of employers the school would introduce me to, and their successful job placement program. After hearing all she had to say about Everest I told her I needed time to think and talk it over with my family and that I would call her back when I decided.
For the next two weeks the recruiter called and emailed me every day.
For the next two weeks the recruiter called and emailed me every day. She kept saying I should come in to get a tour of the campus. Still unsure, I agreed to check it out, and enlisted my older sister for moral support. Neither of us had a car so we got on a city bus and headed for the Everest campus.
Unfortunately, we got lost and ended up the wrong school campus. Looking back on it I guess I should have seen this as a sign for more bad things to come. I called the recruiter and she picked us up and drove us to the right campus. Once we got there she said she was technically off the clock so she couldn't give us a tour. Instead we sat in her office for an hour and a half while she told us about the application process and how their financial aid system worked. She said Everest only enrolls new students twice a year, and that if I was interested I had to enroll that day to make the cutoff. Later, I learned this wasn't true.
Even though it felt a little rushed, she made the application process seem so easy, and she was so persuasive that even my sister was convinced to register for classes. My sister and I wanted to start a business together—a record label and music camp for kids. I figured if I got a good job I could pay off my loans in a few years and then save money to start our business.
Before we signed anything we called our mom for advice about the financial aid forms. She was concerned. As a single mom she knew she couldn't afford to put two kids through college. The admissions rep told her not to worry. She explained to my mom that we were getting grants, and that we'd only need to take out a small student loans if our grants didn't cover the full tuition.
I was 24 years old and had to pay $647.91 a month for my student loans.
In the end I never signed the financial aid documents showed to me that day. But when I saw the paperwork later there was a funny looking version of my signature on the dotted line. I wasn't sure exactly how much I was paying out of pocket until I graduated and my payment plan started. I owed $68,000 plus interest! When I left Everest, I was 24 years old and had to pay $647.91 a month for my student loans.
"Eventually I took my degree off my resume…"
Once I had my degree—a Bachelors of Science in Business Applied Management—I began my job search. I wanted to get out of food service. I applied to places like The Firestone Tire and Rubber Company, a local bank, even a position at Everest College. Most places I applied to never called to schedule an interview. Other places all but laughed in my face when they discovered what school I went to—they told me they didn't think my degree was legitimate.
And maybe it wasn't. During my time at Everest I often wondered if I was really getting the education I was promised. Once we took a "field trip" to the mall food court where my professor played video games and drank beer with us. Playing games inside the classroom was common too. One day a teacher seemed to forget their lesson plan and had us play tic-tac-toe for hours; another time a four-hour "final test" turned into a classwide Monopoly game. And my many trips to the career services office resulted in the office workers emailing me job ads from websites like Craigslist, Monster Jobs, and Career Builder.
The great job placement program they had told me about didn't exist. No one was interested in hiring someone with a degree from Everest. Eventually I took my degree off my resume because I was so embarrassed.
I owed nearly $700 a month for a degree I didn't want anyone to know about.
I began to understand that tons of people were dealing with our same problems.
Around that time, my friend Ben said he was fired from his job at Everest right after he graduated. This was the last straw. Ben started a campaign to fight Everest College, and began protesting on campus. I was excited to get on board.
I began to hold student meetings at a nearby coffee shop. I wanted people who had been students at Everest to share their stories and I wanted to figure our what we could do to hold the school accountable. We'd been told Everest had a network of employers waiting to hire us after we graduated. Instead, our education was useless.
At first our group was just five students. But as we began to grow we became more determined to help all Everest students. I figured, if it could happen to me, it could happen to anyone. We called ourselves the Everest Avengers.
"Together we could actually make something happen"
Soon after we started our campaign, Debt Collective, a debt resistance group that grew out of Occupy Wall Street, contacted us. They had heard some of the complaints about Everest and had also heard about our activism. When we met with them they told us how they had recently figured out a way to buy medical debt for pennies on the dollar and abolish it. They wanted to start doing the same for student loan debt.
We were preparing to make history…
The people we met through Debt Collective also told us about how Corinthian Colleges—the group of colleges Everest belongs to—had been screwing over students across the country. Up until then I'd thought it was just my campus, but then I began to understand that tons of people were dealing with our same problems. Debt Collective helped us take our campaign to the next level. We began focusing on all the Corinthian Colleges, including Heald, WyoTech, and other Everest campuses. I was hopeful that together we could actually make something happen.
In February our group of 15 former students went to San Francisco to meet with a team of lawyers. We were preparing to make history by announcing the first-ever student loan debt strike in the United States. We wanted to understand all the possible risks that go along with that choice. The reality of what might face debt strikers—like garnished wages and possible criminal charges—seemed a little overwhelming, but we were determined to make a stand. After leaving San Francisco we called ourselves the Corinthian 15.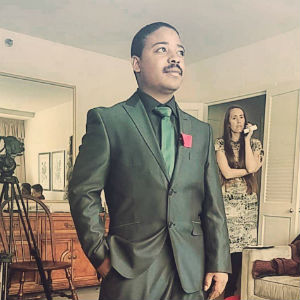 The following month we were invited to speak at the Department of Education. Our group of student debt strikers had grown to become the Corinthian 100, and we were gaining some real attention. About 15 of us went out to Washington, D.C., to share our story and explain to government officials why we feel we shouldn't have to pay any of our student loan debt.
Officials in the Department of Education said they agreed with us, but offered very little direct action in helping us actually get our student loans discharged. With our team of lawyers we submitted a proposed application process for Corinthian College students to apply for their loans to be discharged. And, in the end the Department of Education did start to use a very similar system for their online loan discharge application.
It's an amazing feeling to have people looking up to me and asking me for advice.
Unfortunately, they've also worked in a loophole that prevents most students, including myself, from applying. The Department of Education requires that applicants must have been enrolled within 120 days of their college being closed. So basically they will only discharge loans for students that couldn't finish their degree. If you got a degree—like I did—that's completely useless, you're still out of luck.
So we continue to fight Everest, and anyone that says we have an obligation to pay these loans. Today we're the Corinthian 200 and counting. We're asking for all Corinthian Colleges to be shut down and for all student loans from these schools to be discharged. In my mind, these are fraudulent schools handing out bogus degrees. I don't believe I should have to pay for a useless education.
But even with all the drama this last year has been amazing. I never in a million years thought that I would get attention as a student activist. My goal was to be known as a pop star. Now I'm known as the guy who helped shape the very first student debt strike. Recently a student from another state reached out to me, and I was able to coach her through student organizing in her own area. It's an amazing feeling to have people looking up to me and asking me for advice.
I never expected that the call I made that day from my bedroom during a Maury commercial break would wind up taking me to Washington, D.C. But now that it has I'm determined to turn a bad situation into an important step in the history of student and debtor rights. I want anyone that feels trapped in student debt to know you're not alone. I want anyone who feels like the government isn't willing to help you to know you're not alone. I want anyone who isn't able to afford his or her loan payments to know you're not alone. We are all standing in solidarity.
And as for my music career, all of this media attention has inspired me to get back into the studio and write again. While I was doing press for our D.C. trip someone on the news said the Corinthian strikers should be ashamed of ourselves and called us entitled, spoiled brats. So stay tuned for my debut EP, Confessions of a Spoiled Brat this fall.
For more information, visit DebtCollective.org
You can find the title track of Hornes' EP here.