White Privilege II Showed Me What an Unruly Mess We're In
When Ben Haggerty (aka Macklemore) initially played me an earlier draft of "White Privilege II" and asked me a couple of questions about race, it started out as just a conversation. He and I hopped in his Cadillac; he played a draft of the song through his bass-heavy speakers, and we sat in silence. The weight of his attempt to directly address his white privilege—arguably his Achilles heel—was profound during that listening session. When the song finished, he put a recorder in my face and asked me some questions I can't entirely remember. I offered a quote (featured at the 6:35 mark of the song) to put in perspective the silliness of the All Lives Matter response to Black Lives Matter:
"Black Lives Matter, to use an analogy, is like if there was a subdivision and a house was on fire, the fire department wouldn't show up and start putting water on all the houses because All Houses Matter. They would show up, and they would turn their water on the house that was burning because that's the house that needs help the most."
In debuting "White Privilege II," Macklemore & Ryan Lewis, along with a host of contributors, kicked a larger hornet's nest than anyone could have fully anticipated. Within hours of its release, blogs, websites, and social media platforms exploded with either harsh critiques or sincere praise for the song.
Washington-based poet, activist, and attorney Gyasi Ross tweeted two days after the release:
There are many other stakeholders—yet the ability to define it so narrowly & for others to listen is yet more #WhitePrivilege @macklemore

— Big Indian Gyasi (@BigIndianGyasi) January 24, 2016
Outspoken Harlem rapper Azealia Banks wasted no time tweeting this after hearing the song:
just know that Macklemore "admitting" his white privilege is about to eclipse the REAL conversation about Blacks & Entertainment.

— azealiabanks (@AZEALIABANKS) January 22, 2016
Meanwhile, Jamil Smith, senior editor for the New Republic, was more understanding of the song's intention:
All shade aside, I hope some white folks understand privilege and co-opting blackness better after hearing this. https://t.co/rA8uFYCYkT

— Jamil Smith (@JamilSmith) January 22, 2016
Given that Macklemore is a polarizing pop figure, the love/hate, pass/fail reaction to "White Privilege II" isn't entirely surprising. Still, "White Privilege II" has touched a nerve. If releasing this track could be compared to the board game Operation, Haggerty reached for the patient's "wish bone," "funny bone," and "broken heart" and, according to his detractors, mostly triggered the buzzer with each verse.
That is not to say this song fails. A huge swath of Macklemore & Ryan Lewis' audience is young white kids who often like to "dress like, walk like, talk like, dance like" black folks while having no interest in showing up for black lives. This song is written for that young white audience, and that audience has the most to gain by listening to a white rapper as he breaks down, stanza by stanza, the reasons why they can no longer ignore white privilege. In that regard, "White Privilege II" is successful. The song does not purport to teach black listeners anything we don't already know.
"White Privilege II" did, however, miss an opportunity with the Asian American, Native American, and Latino perspectives entirely absent from the song. Its lyrics keep the conversation historically rooted in a white versus black dynamic. Nonblack people of color who drop the n-bomb in their everyday speech but won't stand in solidarity with black lives have much to glean from this song as well.
Some critics argue that communities of color have spoken out against white privilege for centuries, and it typically falls on deaf ears. Now, all of a sudden, white people are listening when the messenger is a cis-gendered white male. Well, that's the epitome of the way white privilege works.
"White Privilege II" has touched a nerve.
Is there danger in giving Macklemore too much credit for artfully regurgitating what black and brown folks have said seemingly forever? Absolutely. Should I as not only a vocal contributor to the song, but a black male who has spent the past year launching a Hip-Hop Artist Residency exclusively for low-income youth in partnership with Macklemore & Ryan Lewis' team still question my own willingness to be featured on "White Privilege II"? Abso-damn-lutely.
I didn't work on the song at the same level as poet, organizer, and attorney Nikkita Oliver or Dustin Washington who helped Haggerty work through all of the necessary deep racial processing ahead of time. I wasn't behind the scenes setting up meetings like Hollis Wong-Wear or crooning like Jamila Woods. I just sat shotgun in a Cadillac and offered a quote that I partially borrowed from a shy, brilliant teenager I know.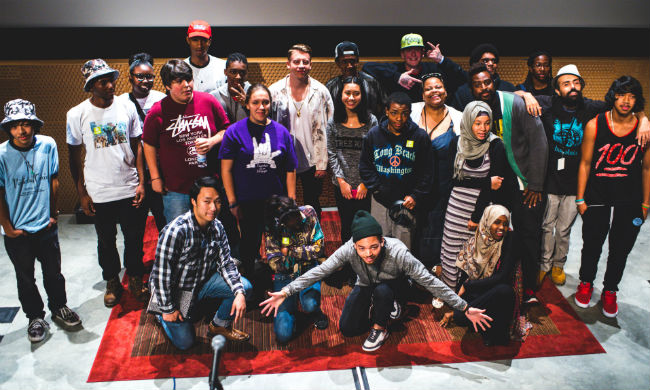 Ben Haggerty posing with youth participants of the EMP's Hip Hop Artist Residency. Photo by Zoe Rain.
But unlike those brilliant organizers and artists, I've spent a solid year developing pathways for Haggerty and his team to participate in educational opportunities for teens at Seattle's EMP Museum, where I manage our youth programs and community outreach. There are times that Haggerty, Lewis, and their Director of Philanthropy and Community Engagement Ben Secord are at the museum working exclusively with youth of color in the Hip-Hop Artist Residency program—and the general public doesn't know. There, they discuss race, privilege, sobriety, songwriting, and, during the summer months, all the youth get paid. Macklemore's team worked to secure fully loaded Microsoft Surface Pros for all the teens in the program. I told his team that day: This is what he needs to be doing more of with his white privilege.
"White Privilege II" isn't just a song. It's Haggerty constantly being coached to step aside so people of color, who are equally—if not more—talented as he is, have space to thrive and speak for themselves. Stepping aside so other voices can speak is a huge challenge for most heteronormative men regardless of race. White privilege is prevalent in Haggerty's life but so are male privilege, class privilege, and sexual orientation privilege. Until a song released on a major platform tackles those issues as a whole, attempts to address "privilege" will be incomplete.
Still, "White Privilege II" does not speak enough regarding long-term economic empowerment. Until the Macklemore LLC team actually employs black and brown folks on a full-time basis within their inner circle (currently they do not), it is still passively perpetuating a system that, similar to the NFL, has a lot of black players but no black owners. Many of the artists on the song or who tour with Macklemore & Ryan Lewis are talented people of color getting paid.
This is important. This is also not enough.