Meet the Organizers Planning the Biggest Sit-In in a Generation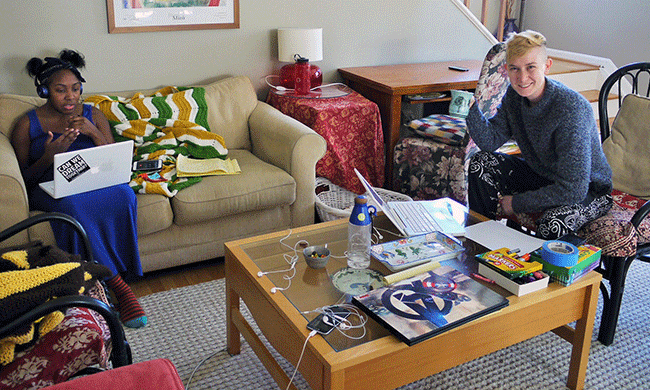 In a big pink house a few miles north of Washington, D.C., about 20 organizers have a temporary home base. Most are doing field organizing or logistics for Democracy Spring, a march and civil disobedience action targeting money in politics and voter suppression.
More than 6,000 people have signed up to participate.
The event starts with a gathering at the Liberty Bell in Philadelphia this Saturday, April 2. After that, supporters will march the 140 miles to Washington, D.C. If Congress hasn't taken action to reduce the influence of money in politics by the time marchers arrive, they'll launch a week of sit-ins. The sit-ins will focus on a different social movement each day: elders, racial justice, labor.
More than 6,000 people have signed up to participate, including about 3,000 who have pledged to risk arrest. With those kinds of numbers, the campaigners have their work cut out for them. YES! Senior Editor James Trimarco spoke with five of them.
Name: Maria Langholz
Age: 23
Hometown: St. Paul, Minnesota
What did you do today to get ready for Democracy Spring?
This morning I spent a lot of time nailing down the locations where folks will be rallying, where we'll eat, where we'll sleep. They're going to be sleeping on church floors, mostly. A lot of folks who live along the march route have offered their homes up and offered to prepare meals.
Why did you choose to focus on this issue?
I'm a climate organizer, but, for me, climate and environmental issues are really about who has power. Right now, we have corporations dictating how we get energy and how the health of our communities is determined. We need to regain that control, and that's why I'm supporting Democracy Spring.
What have you learned from Democracy Spring so far?
One of the biggest challenges is finding the balance between how much we talk about this overarching umbrella issue and how much we talk about the specific issues. One of the ways we've been able to do that is by having different themes on each day of the week.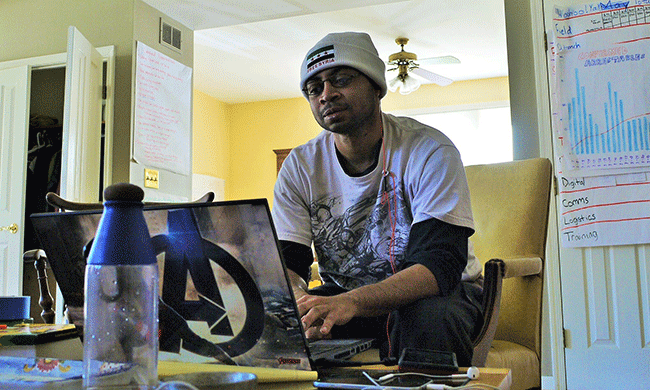 Name: Vince Wallace
Age: 35
Hometown: Chicago
What did you do today to prepare for Democracy Spring?
I've been talking to a lot of people about it, trying to get the word out. Also, just thinking about its nonviolence aspect. At the center of this action is the idea of making a space where democracy can be recreated.
I wonder how many people have been hiding from every election for the last 20 years. I want them to look at this action as a beacon of hope of how things can be—and how they should be.
What have you learned from your participation in this movement so far?
I've learned that there are people who have been waiting for something like this to happen. There are those of us who've been veterans in getting money out of politics for a couple years, but there are still people who are quiet, who want to restore our democracy but haven't joined the campaign yet.
How will risking arrest change the politics around this issue?
We realize that this is what it's going to take. That's what it took in Vietnam. That's what it took for the Civil Rights movement. I think that's what it takes now.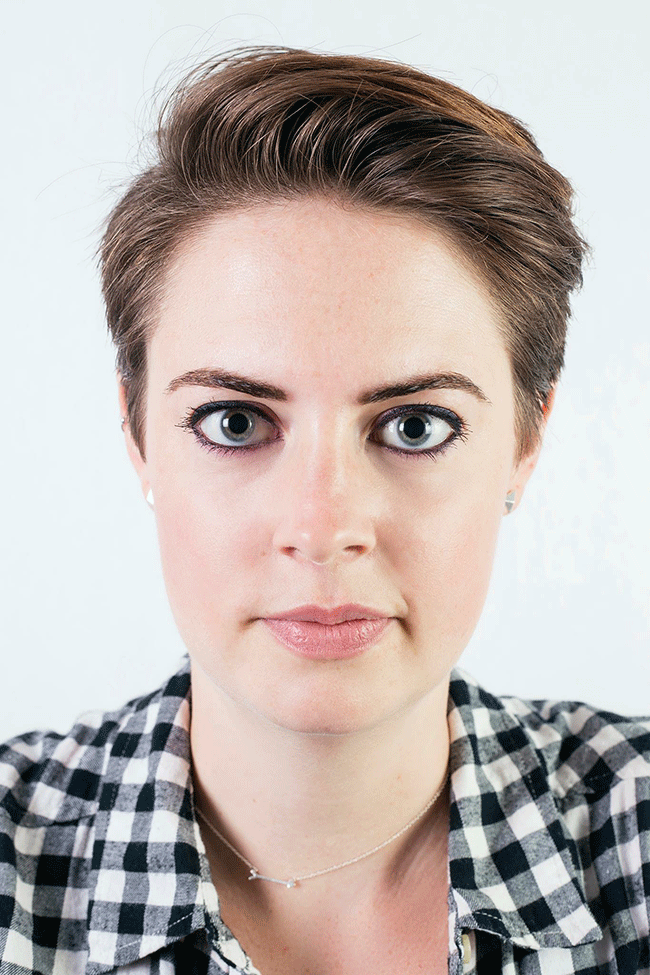 Name: Elise Whitaker
Age: 25
Hometown: Indianapolis, Indiana
Have you supported any other political causes in the past? Which ones?
I was really politicized by the Occupy movement. And I'm a co-founder of 99 Rise, which is one of the founding members of this coalition movement.
Why did you choose to focus on this issue?
In the Occupy movement, it was powerful to see the diversity of issues. There was this umbrella of Wall Street corruption, but there were also folks for racial justice and migrant justice and education reform and LGBTQ issues and this plethora of problems plaguing America.
The media kept asking, "What's your one demand?" and there wasn't going to be one thing that solved all those problems. Afterward, we realized that the best way to move forward was to tackle this big impediment first and fight to have a democracy that is actually responsive to the people. When we win that, we'll be able win the rest of these issues in a meaningful way.
How do you think risking arrest will change the politics around this issue?
It's fine and good to have rallies and demonstrations. But there's this energy around wanting to do more, something that's outside of institutions, something that feels a little more punk rock, honestly. This is how far we're willing to go. It matters that much to us.
That'll send a strong message to the American people in a way that hopefully helps galvanize support so we can make meaningful changes soon. We need to win on this issue soon so that we can push on other things like the dire straits that our climate situation is in and the threat to people's lives in terms of racial and migrant justice. We need to win on this, and we need to win soon.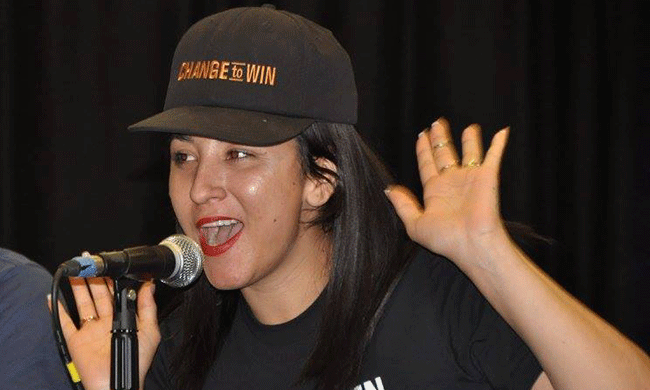 Name: Alejandra Pablos
Age: 30
Hometown: Tucson, Arizona
What political causes have you supported in the past?
My community in Arizona, we work hard to get the right people in position to advocate for folks at the local level. We're also working on a lot of things related to immigration reform and incarceration. I'm for attacking all the issues that hurt black and brown communities. Anything that's not for us, I'm against.
Why did you choose to focus on this issue?
When the big money is coming from corporations and they're making profit off of us and breaking up our families and locking people up, that's corruption. We need to make sure that we get those people out of here, that we make it impossible to buy elected officials and then make policies that devastate people's lives.
How will risking arrest fit into it?
This is an election year, and all eyes are on this conversation. We're not the only ones talking about this, but we want to use civil disobedience to give the issue a big platform. I have thousands of people pledged for sit-ins, and it'll be continuous for almost seven days. People really hear folks when they're doing something like that.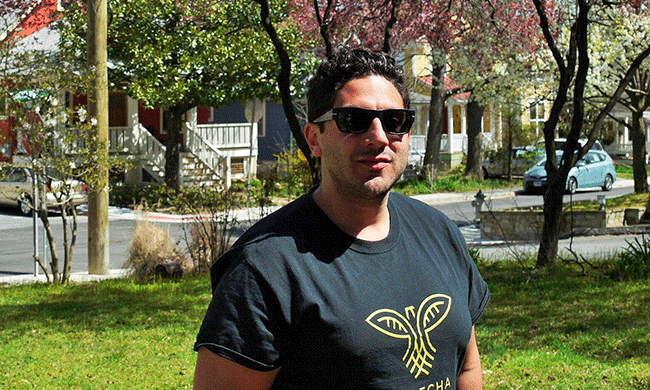 Name: Dylan Lazerow
Age: 27
Hometown: Boston
Have you supported any other political causes in the past?
I've been an organizer for about a decade now, mostly around issues like youth employment and the intersection with mass incarceration. I've worked with groups like PICO National Network and the Youth Jobs Coalition.
I saw a lot of success, and we built a lot of leadership, and we had a lot of wins. But the system didn't necessarily shift, and, legislatively, the conditions on the ground weren't matching up. We were still finding ourselves at funerals and talking to people through glass. That was heartbreaking for me.
I'm excited for what I'm embarking on now, which is working on an issue that's tying all of these movements together and asking, "How do we achieve political equality?" And I think that's at the core of this, in terms of whether the future of this country is a bright one or a dark one.
Are there people on the right who have been interested?
Yes, absolutely. That's part of what's beautiful about this campaign. As long as you buy into our basic principles—you want an end to big money and corruption in politics, you want voter suppression to end, and you're calling for free and fair elections—we're excited to have you.
It's been a long time coming: a sit-in to save democracy.