Still #FeeltheBern? You're Not Alone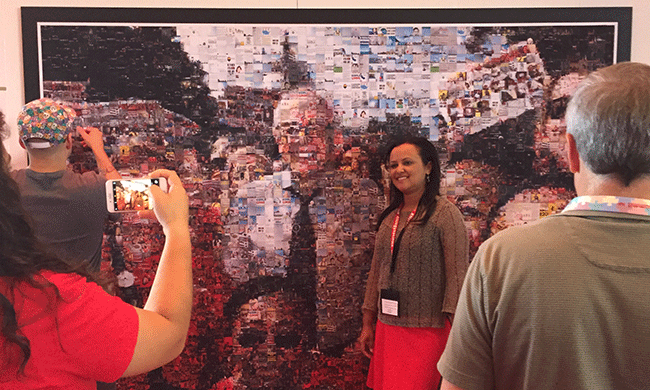 Half past noon on Sunday, June 19, the People's Summit ended. The Bernie Sanders photo collage was folded up, the round tables broken down, the hall cleared of the roughly 3,000 conference-goers—including nurses, social activists, and volunteers—who had just spent three jam-packed days networking and strategizing.
"No one came in here with a big ol' plan."
National Nurses United (NNU), a union of nearly 185,000 nurses that endorsed Bernie Sanders, hosted the People's Summit in Chicago, along with grassroots organizations like People for Bernie and the Democratic Socialists of America. Their goal was to facilitate connections between organizers, urge Sanders' supporters to answer his call that they run for office themselves, and to strategize for the Democratic National Convention in July and beyond.
Speakers like Rep. Tulsi Gabbard (D-Hawai'i) and author Naomi Klein addressed ways to capitalize on the momentum of Sanders' campaign, now that he no longer has a path to the nomination. It remains to be seen what concrete steps activists will take, but one thing's for sure: Bernie supporters aren't giving up.
As RoseAnn DeMoro, executive director of NNU, said in her closing speech: "No one came in here with a big ol' plan. The nurses, we're going the distance with Bernie. We're going to the DNC. We're going to fight on our issues. I don't care what they have to say, we're going in there together, right?"
Meet six people from the summit who are still feeling the Bern—even if that now means supporting the 74-year-old senator's ideas, rather than his campaign for president.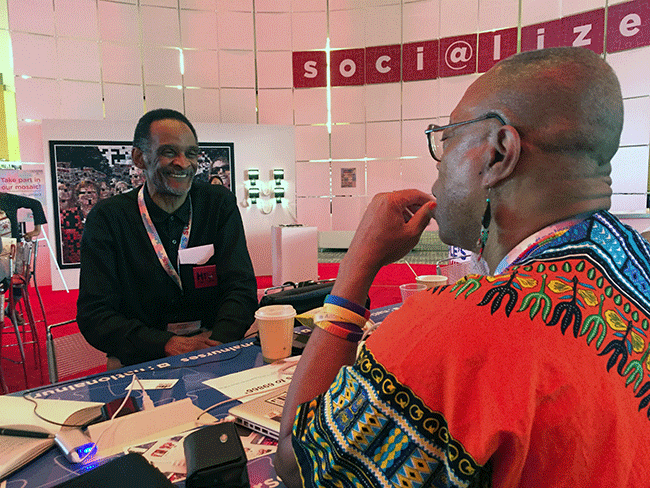 Name: Bobby Tolbert
Age: 64
Hometown: New York City
On Saturday morning, Bobby Tolbert was speaking to the crowd about the Robin Hood Tax—a proposed 0.05 percent tax on all Wall Street transactions—when a beat thumped from the sound system. Tolbert, 64, put on a green Robin Hood hat and started rapping. "We. Want. A Robin Hood Tax!" he called out to the crowd, pumping his fist.
Tolbert said he's been rapping about the Robin Hood Tax for decades, and was emboldened when Rep. Keith Ellison (D-Minn.) introduced legislation to enact one in 2013. HIV-positive since 1995, he is also an advocate for low-income housing for those with HIV and AIDs.
This year, Tolbert canvassed and phone-banked for Sanders in New York and Boston, and said he's in it for the long haul, even though Bernie probably won't be president. "We don't just drop him because he's out of the race. The ideal is what we're going to maintain; the vision is what we're going to maintain."
Name: Cokie Giles
Age: 60
Hometown: Brewer, Maine
Cokie Giles spent three weeks on the Bernie Bus this year. She went to seven different states, driving along interstates and inspiring drivers to honk their support. Giles, president of the Maine State Nurses Association, knew Sanders was a long shot. But she canvassed and phone-banked because the candidate drew attention to issues she and other nurses cared about deeply.
Giles argues that advocates for social change have never won big by giving up easily. "You had to demand it, you had to go out on the street, you had to get beat up, you had to get arrested," she said. "Bernie did not plan for this to be the end of it. He planned for this to be a political revolution."
Giles is heading to Philadelphia in July as a delegate to the Democratic Convention, and plans to cast her vote for Sanders. She's also working to get progressive candidates elected to Congress in Maine.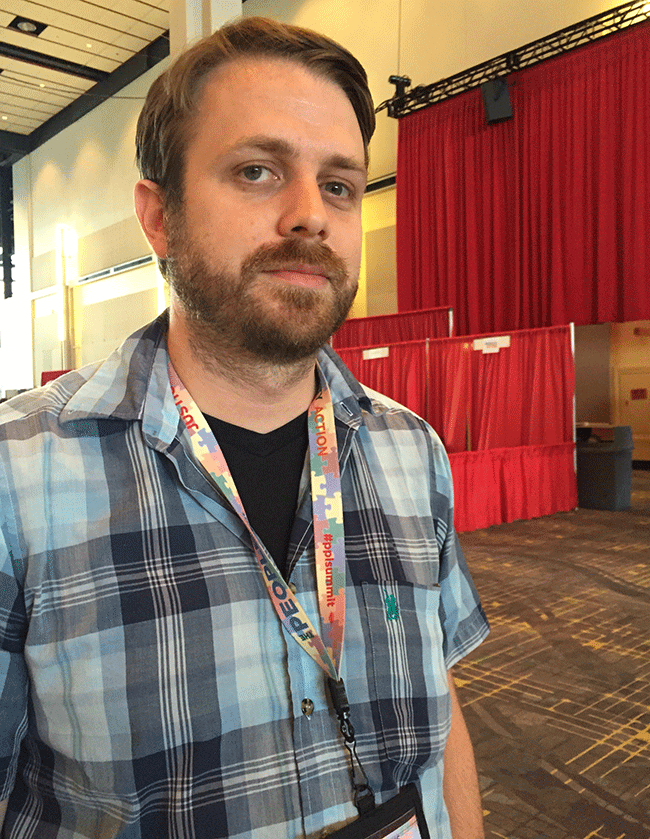 Name: Brett Gustafson
Age: 32
Hometown: Chicago
Brett Gustafson says he had tuned out politics for years. But when he stumbled upon Bernie Sanders on Reddit.com, he found himself falling down a rabbit hole of articles about the senator from Vermont. Before he knew it, Gustafson was volunteering for the campaign in a small town in Iowa, where Sanders supporters had to work out of a Holiday Inn because no one in the conservative town would rent space to them. Next up was Las Vegas, and then Illinois. Every week for nearly a month and a half, Gustafson worked 40 hours at his job in IT and another 40 hours for the campaign.
Now that the campaigning is over, Gustafson is urging fellow volunteers to join Brand New Congress, a movement begun by ex-Bernie staffers to get similarly minded candidates elected to the House of Representatives in 2018.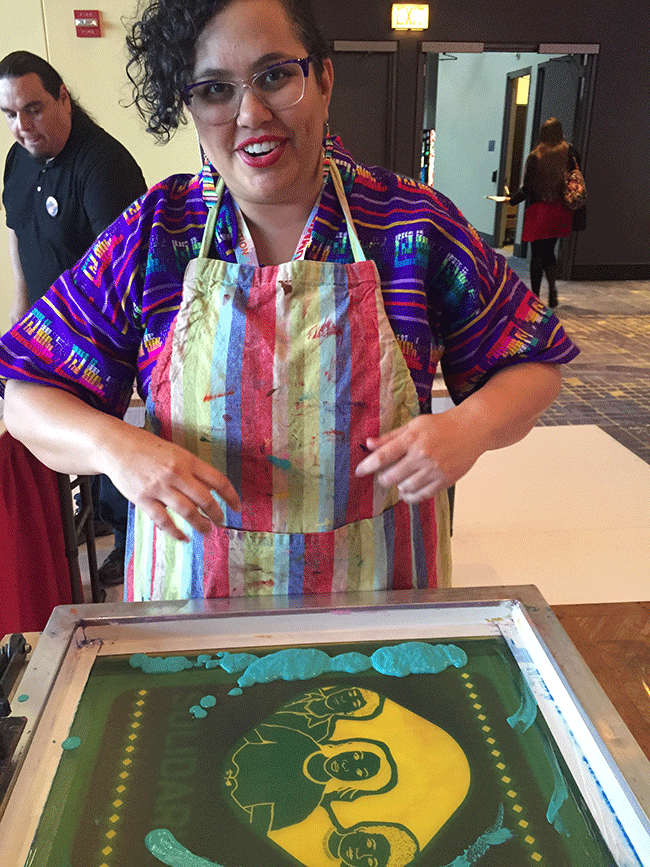 Name: Melanie Cervantes and Jesus Barraza
Age: 38, 39
Hometown: Oakland, California
Halfway through the conference, Melanie Cervantes splattered green paint onto a poster. She later pulled out a finished poster with an image of three women with linked arms and the word "SOLIDARITY" below them.
Melanie and her husband Jesus were invited by National Nurses United to do a screen-printing demonstration and a workshop on political art. The couple make graphics for grassroots organizations in the Bay Area, often portraying real activists in their community. Though the Sanders campaign appears to have run its course, Melanie and Jesus feel their role of inspiring and reflecting change is more important than ever.
"For us, the role is to make the movement as visually enticing as possible, and to make the possibilities somewhat tangible so that people feel like they can get involved," Cervantes said.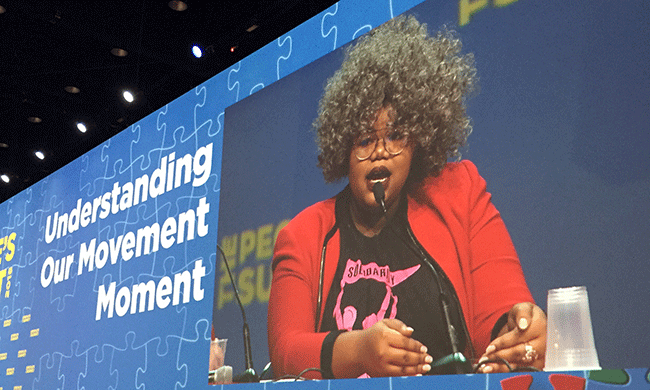 Name: Dominique Scott, regional organizer, United Students Against Sweatshops
Age: 21
Hometown: Oxford, Mississippi
Dominique Scott, a senior at the University of Mississippi, had just finished speaking about her successful efforts to have the state's controversial flag removed from campus, when, one by one, fellow conference-goers approached her.
"You're a celebrity!" one woman said. "You got the whole place fired up!" another said.
Scott laid her hand on her heart. "I wish people could feel the gratitude," she said. "I'm only 21!"
Scott is a regional organizer for United Students Against Sweatshops. Although she's a Bernie supporter and champions Sanders' call to revolutionize America—starting with her campus—she said the senator hasn't had a big impact on her own organizing. Scott is more committed at the local level than national one.
"We recognize that the student voice is really important to the people's movement and to all movements that are grassroots happening right now. So that's why I'm here," she said.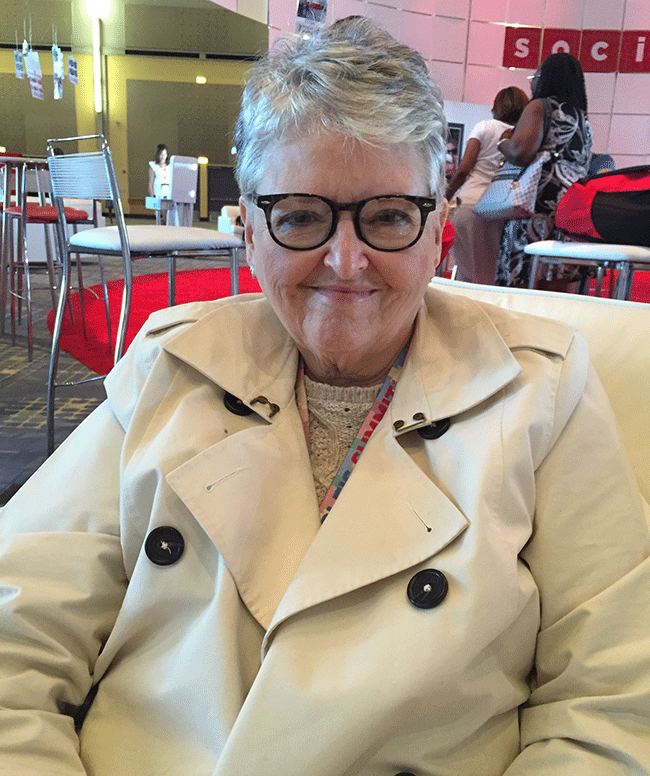 Name: Marilyn Albert
Age: 66
Hometown: Oakland, California
Marilyn Albert is a community liaison for the National Union of Healthcare Workers. She works to educate her union's members about single-payer health care and supports like-minded people running for the school board and other positions in Oakland. Marilyn is now focused on making sure her union's concerns are reflected in the Democratic Party's platform, as well as on pushing Hillary Clinton to support single-payer health care.
Albert says that the people at the summit are focused on the issues. "It's not 'Bernie, Bernie, Bernie,'" she said.
She added that she's not accepting the many calls for Sanders' supporters to get behind Hillary Clinton. "If people fold up their tents, the way a lot of people are calling for the Sanders' supporters to, then there will be a lower turnout [in the general election]."