In New York, Republicans and Democrats Join Forces to Overturn Citizens United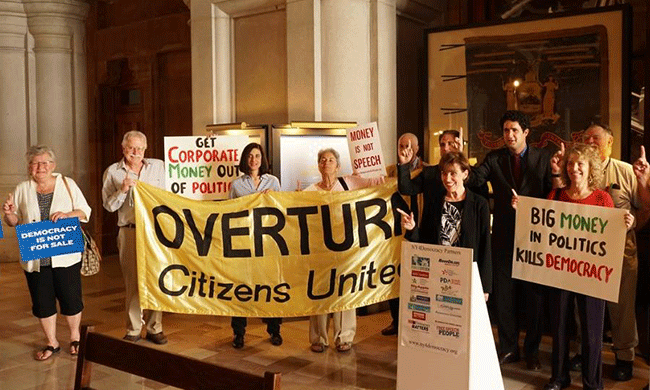 Earlier this month, the United States came one step closer to enacting its first constitutional amendment in 24 years.
A bipartisan majority of New York's Senate and Assembly issued letters to Congress on June 15 calling for a 28th amendment. Both Republican and Democratic versions of the letter demand the new amendment say that corporations "are not entitled to the same rights and protections as natural persons under the Constitution," which moves the country toward overturning the Supreme Court's 2010 decision in Citizens United.
In the four years since Citizens United, outside spending on Senate races nationwide more than doubled.
That decision has resulted in a great expansion of "outside spending," meaning spending by political action committees and nonprofits rather than by candidates' own campaigns. In the first four years after Citizens United was passed, outside spending on Senate races nationwide more than doubled to $486 million. Across all campaigns, super PACs have spent more than $1 billion on races since 2010, with more than 60 percent of that amount coming from fewer than 200 individuals and married couples.
This month's letters make New York the 17th state to call for a constitutional amendment on money in politics. The development comes after more than three years of grassroots campaigning, led by the consumer-rights advocacy nonprofit Public Citizen.
A constitutional amendment requires approval by a two-thirds majority in both the House and Senate, or a constitutional convention called by at least three-quarters of state legislatures. Both are daunting notions. But activists hope that if enough states show support for the amendment, Congress will answer the call of their constituents.
Nationwide, 80 percent of Republicans and 83 percent of Democrats oppose Citizens United, according to a 2015 Bloomberg poll.
"This continues to be an issue that cuts across the political spectrum," says John Bonifaz. He is president and co-founder of Free Speech for People, a group that advocates a 28th amendment and was founded the day of the Citizens United decision.
Nowhere has that bipartisan support been clearer than in New York. According to Bonifaz, it's the only state to date where a legislature not completely controlled by Democrats has supported overturning Citizens United.
Who will be next?
This fall, two more states will give their voters a chance to weigh in on money in politics: California and Washington.
California already passed a resolution calling for the reversal of Citizens United in 2012, but some residents want to go further. Voters will now decide on the Overturn Citizens United Act, which asks lawmakers to "use all of their constitutional authority … to overturn Citizens United v. FEC and other applicable judicial precedents."
Meanwhile, Washington could become the 18th state to join the call for an amendment. Initiative 735 will appear on the state's ballot in November, having received nearly 340,000 voter signatures.
80 percent of Republicans and 83 percent of Democrats oppose Citizens United.
Cindy Black, campaign chair of WAmend, the coalition promoting the initiative, explains how efforts to get the state Legislature to support a constitutional amendment became derailed. "Unfortunately, there were a lot of folks that didn't want to sign on, in particular on the Republican side, that were defending Citizens United."
About 93 percent of the signatures for I-735 were collected by volunteers.
"A lot of people thanked us for doing it because they realize that something needs to happen," Black says of the initiative's supporters. "Money does not equal speech. That is not the intention of the Constitution."
One goal, many roads
An amendment to the Constitution wouldn't in itself limit campaign contributions or wipe out corruption. Rather, it would provide a legal framework that would support any laws enacted by Congress, states, or local governments in the future.
And many advocates support multiple routes to reducing the influence of money in politics. For example, while Free Speech For People supports a 28th amendment, it also supports proposals that involve passing laws without changing the Constitution—such as public funding of elections and greater transparency in political spending.
The ballot initiative process helps to provide a base for future good-government campaigning.
That's the approach favored by Represent.us, a nonpartisan anti-corruption nonprofit. Executive Director Josh Silver notes that gay marriage and marijuana legalization achieved momentum through grassroots movements in individual states, not through Congress. And because overwhelming congressional support is the most likely path to a constitutional amendment, it's best to bypass the gridlock in the House.
"It's going to be incredibly difficult [to pass a constitutional amendment]," Silver says, noting that the United States could not pass the Equal Rights Amendment in the '70s and '80s, which simply called for equal rights between men and women. However, he adds, "It's a tremendous vehicle for grassroots engagement."
Silver is eyeing two accountability initiatives in the fall. One is Washington state's I-1464, which would require disclosure on who funds political ads and reduce the amount of money lobbyists can give to politicians, among other measures aimed at transparency. It would also give voters up to three $50 "democracy credits," which voters can use to donate to the political campaigns of their choice. The latter provision is similar to a policy approved in Seattle last year.
Silver's also pulling for South Dakota's Anti-Corruption Act, which voters will decide on this fall. The act would crack down on PACs, require the disclosure of large donors, and limit who can work as lobbyists. It would also grant two "democracy vouchers" to each registered voter.
In the end, Silver supports any approach that attacks political corruption.
"Let's shoot as many arrows at this problem as we can," he says. "There's no reason to write off any approach."
Black says WAmend will galvanize Initiative 735 supporters to push for other pro-democracy measures in the future, including expansion of voting rights and automatic voter registration.
"What we're trying to do is build a movement to make this happen," she says. She says that the ballot initiative process helps to provide a base for future good-government campaigning, as well as making voters' voices heard.
She says she anticipates pushback on her mission from moneyed interests, but also expects voters to stand their ground.
"This isn't about corporate rights," she says. "It's about human rights."
Editor's note: An earlier version of this article claimed, incorrectly, that a majority of both Republican and Democratic state legislators in New York had supported overturning Citizens United. The text has been corrected.